Best Easy Chile Relleno Casserole
Best Easy Chile Relleno Casserole is perfect for breakfast, lunch or dinner with just 5 simple ingredients: Green Chilies, Monterey Jack Cheese, Eggs, Flour & Milk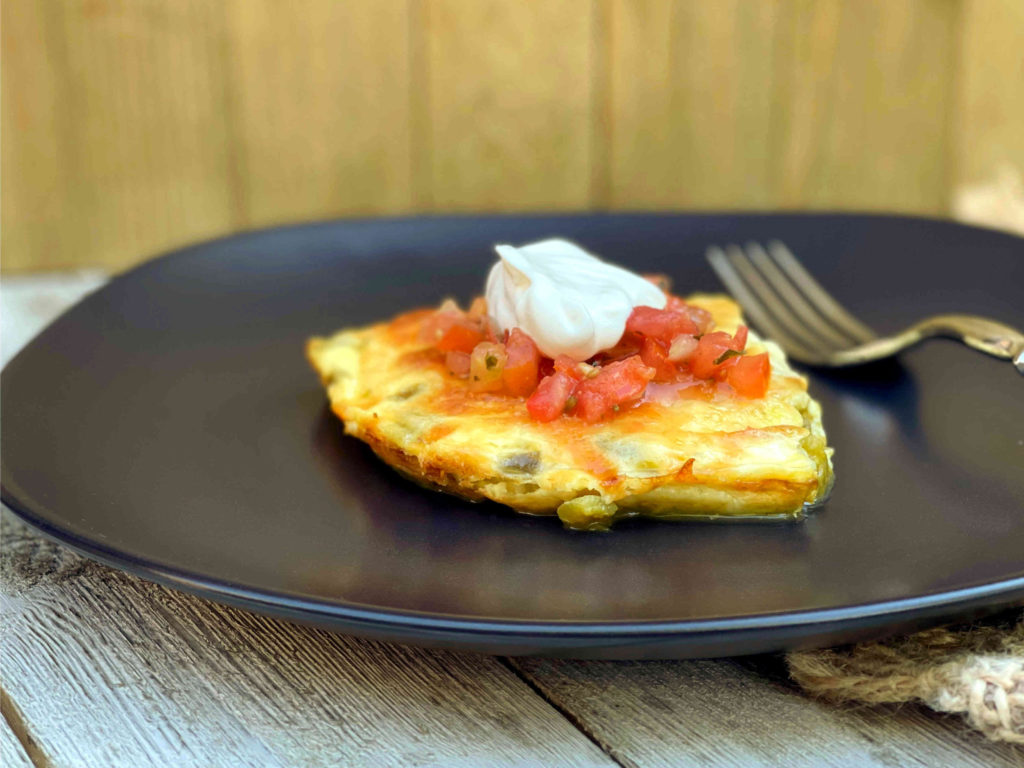 Best Easy Chile Relleno Casserole is an ANYTIME recipe that will indulge your Mexican food craving with just 5 simple ingredients! If your in a hurry for the Chile Relleno Casserole recipe, you can just scroll on to the bottom! Or keep reading for some more of our favorites!!!

HELLO & Welcome to Freaky Friday: Spring 2021! This group is the brainchild of my friend, Michaela's and it is SO MUCH FUN! For those of you that aren't familiar with Freaky Friday, it is a group of food bloggers that get assigned a secret blog and we get to choose any recipe we want to make from it for our own blogs. Then all of the recipes are revealed at the exact same time and we get to see who had our page and which recipe they selected! It has been a great way for me and my readers to find new blogs to follow, and I feel honored to be a part of it!
Check out my past Freaky Friday Recipes here:
Three Cheese Roast Beef Sliders
Slow Cooker Ranch Chicken Tacos
P.F. Chang's Lettuce Wrap Salad
Bacon-Cheeseburger Potato Soup
Cookies and Cream Ice cream Cake
10 Minute Chicken Ramen Stir Fry
Bacon Cheeseburger Mini Meatloaf Patties
PB & J Bar Cookies with Strawberry Jam
Creamy Gorgonzola Pasta with Steak
Greek Chicken Salad with Lemon Oregano Dressing
For this edition of Freaky Friday, I was assigned Kathleen's blog, The Fresh Cooky. Kathleen is a self described 'MESSY COOK, RECIPE CREATOR, PHOTOGRAPHER, COOKIE SNOB, WIFE & MOM' She shares healthy, mostly from scratch, family-friendly recipes and encourages her readers to 'make it yours'. I love that!
Kathleen has been married for 20 years and has 2 teenage boys. She loves Jesus, her family, making homemade meals, photography, walking (she says its her therapy!), and entertaining! I love how down to earth she comes across when I was reading her blog. She calls herself a regular, normal and occasionally hormonal mom, not a super mom that gets cranky, snaps at her kids, and husband & needs to ask for forgiveness….A LOT! (I can totally relate to this 100% and think we would be BFFs LOL)
Her website is gorgeous. The recipes are the type of food we love to eat and her photos are simply stunning. The recipes that immediately caught my eye were her Best Cheesesteak Sandwich, Easy Creamy Chicken Poblano Soup, and her S'mores Chocolate Chip Cookies! Those recipes are on my TO MAKE list!
But when I saw her Best Easy Chile Relleno Casserole I KNEW thats what I was making from her website first! I used to always order fajitas whenever I went out for dinner at a Mexican restaurant. Over the past couple of years though, my go to order has been Chile Rellenos and a guacamole salad. I never dreamed I could have all the deliciousness of Chile Rellenos in an easy 5 ingredient casserole!
We actually loved the Chile Relleno Casserole so much that my family requested I make it again for Cinco de Mayo and we had that with my favorite guacamole salad, grilled fajita chicken, cheese enchiladas & Easy Dump Salsa. Basically the perfect Cinco de Mayo fiesta. The star of the show was the Chile Relleno Casserole and boy was I happy to have the last small slice for breakfast the next day! It really is the perfect meal for breakfast, lunch or dinner. I'm so happy I can get my Mexican restaurant craving fix anytime now!
I hope your family loves this recipe as much as mine did!
Best Easy Chile Relleno Casserole
Ingredients
3 (4 oz) cans chopped green chiles, drained
8 oz Monterey jack cheese cut into cubes (plus more, shredded for the topping!)
2 eggs
1/2 cup all purpose flour
1 tsp salt
1 cup milk
extra cheese for the topping
Instructions
Preheat oven to 350 degrees
Place green chiles and cubed cheese in the bottom of a greased 9 x 9 or 8 X 11 pan.
Beat eggs in a bowl.
Gradually add the flour, salt and milk and whisk until smooth.
Pour over the chiles and sprinkle with extra grated cheese.
Bake for 1 - 1.5 hours or until browned and firm. Serve immediately
7.8.1.2
273
https://auntbeesrecipes.com/2021/05/best-easy-chile-relleno-casserole.html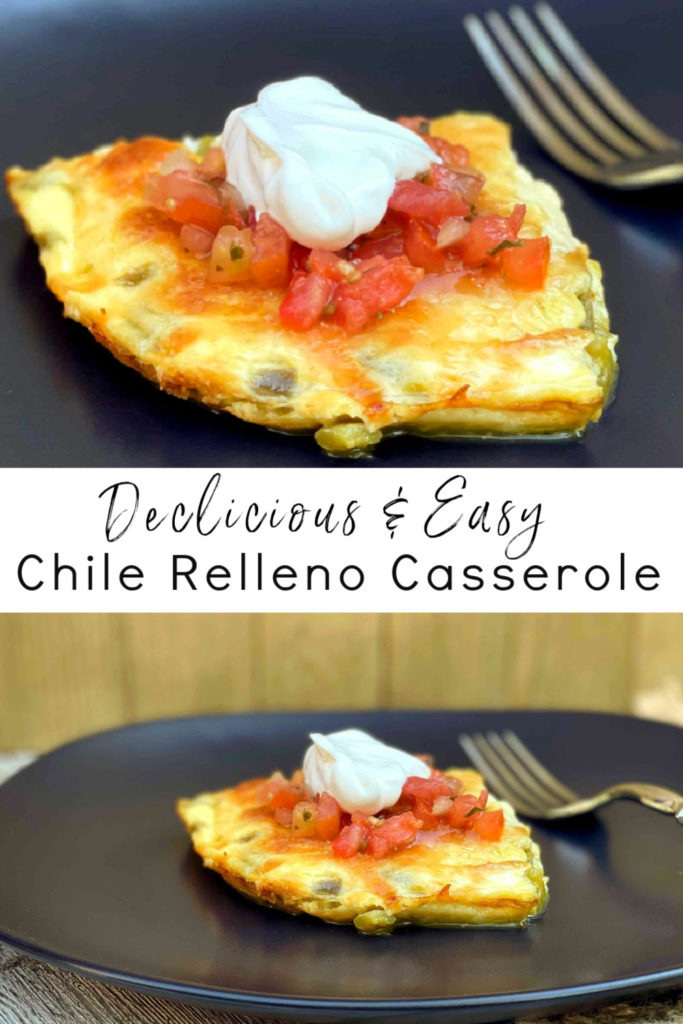 Take a look at all of our 2021 Freaky Friday Spring Edition Recipes: