Pecan Pie Cheesecake Bars
Pecan Pie Cheesecake Bars are your NEW FAVORITE DESSERT! Graham Cracker Crust, Creamy Cheesecake and Pecan Pie Topping in a handheld, deliciously layered dessert bar.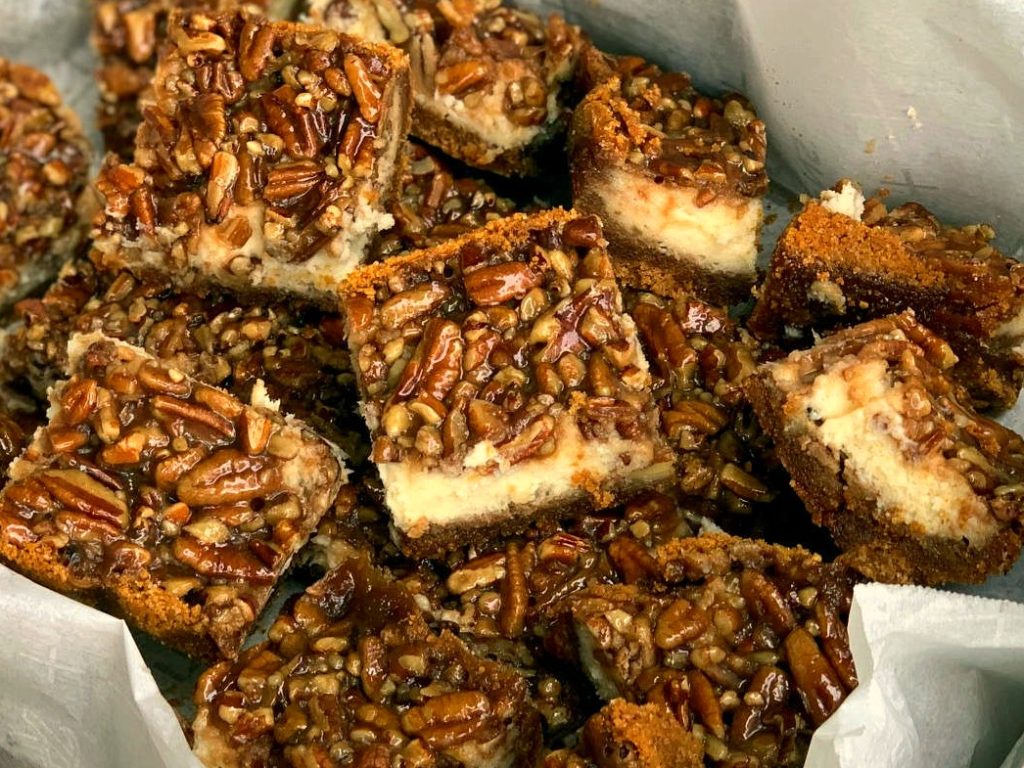 I am SO EXCITED to share these Pecan Pie Cheesecake Bars with you guys! IT IS UNANIMOUS! Everyone in our family each said they are their FAVORITE new dessert!! Scroll to the bottom for the AMAZING recipe!

Welcome to Freaky Friday: Fall 2020! This group is the brainchild of my friend, Michaela's and it is SO MUCH FUN! For those of you that aren't familiar with Freaky Friday, it is a group of food bloggers that get assigned a secret blog and we get to choose any recipe we want to make from it for our own blogs. Then all of the recipes are revealed at the exact same time and we get to see who had our page and which recipe they selected! It has been a great way for me and my readers to find new blogs to follow, and I feel honored to be a part of it!
Check out my past Freaky Friday Recipes here:
Three Cheese Roast Beef Sliders
Slow Cooker Ranch Chicken Tacos
P.F. Chang's Lettuce Wrap Salad
Bacon-Cheeseburger Potato Soup
Cookies and Cream Ice cream Cake
10 Minute Chicken Ramen Stir Fry
Bacon Cheeseburger Mini Meatloaf Patties
PB & J Bar Cookies with Strawberry Jam
Creamy Gorgonzola Pasta with Steak
Greek Chicken Salad with Lemon Oregano Dressing
The blog I was assigned to cook from for today's event was Amy's over at House of Nash Eats! Amy was a litigation attorney before her 2 ADORABLE girls came along. She loves to travel and is always dreaming of her next big adventure. I love how she said she likes to cook healthy meals with not so healthy desserts LOL!
I can not say enough good things about her delicious looking food on her website. These photos of hers on my 'to make' list speak for themselves: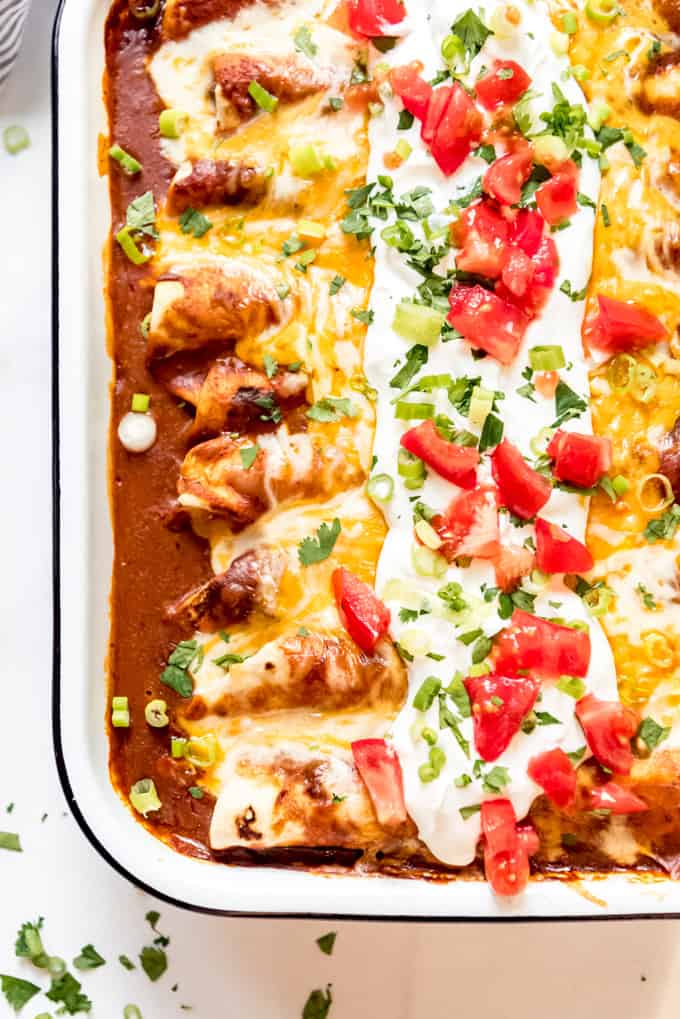 These saucy, cheesy Ground Beef Enchiladas are made with a rich homemade enchilada sauce that is like a Tex-Mex gravy. They are savory, hearty, and supremely satisfying.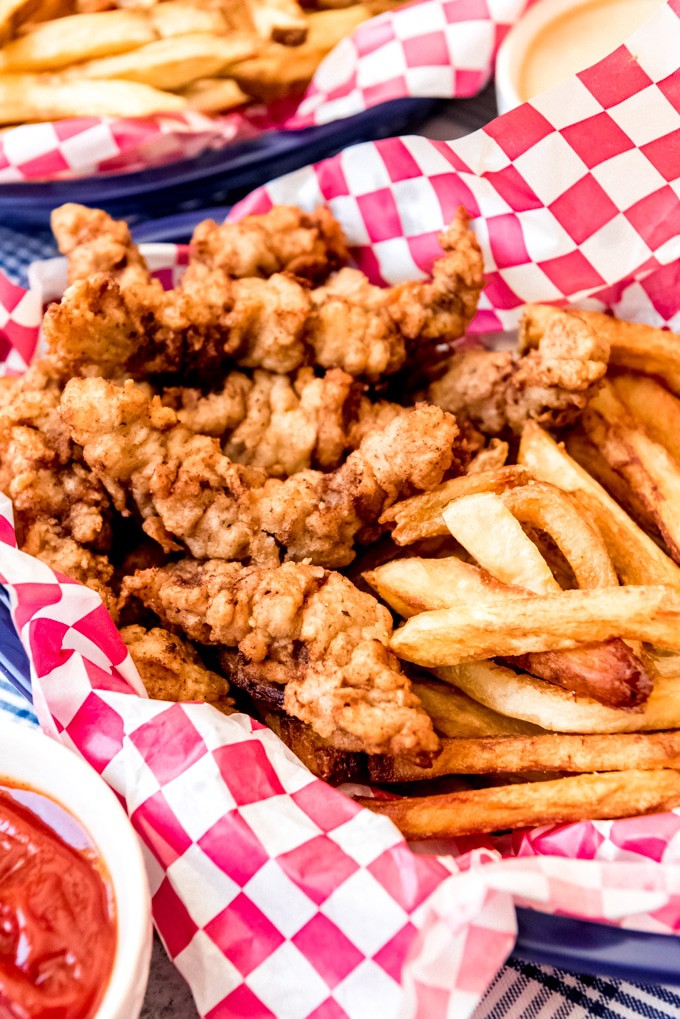 These Idaho Finger Steaks are irresistible bites of beef that first get marinated in seasoned buttermilk, then dipped in seasoned flour before being fried up to perfection.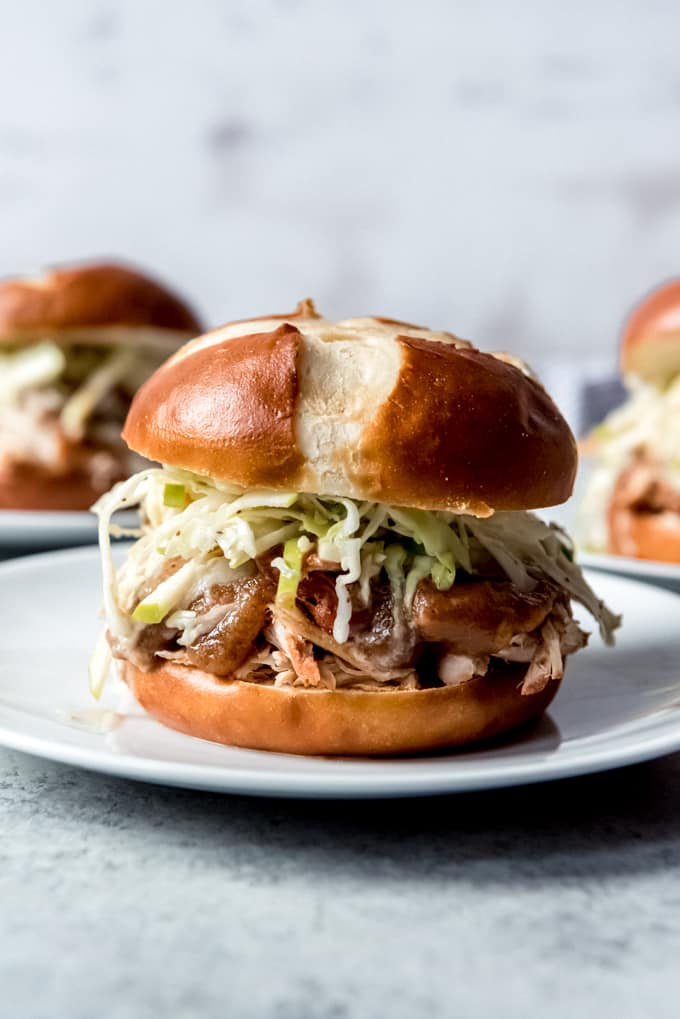 Tender, fall-apart chicken with a warm, spiced applesauce barbecue sauce and crispy apple cabbage slaw on soft pretzel buns make these Slow Cooker Applesauce Pulled Chicken Sandwiches THE sandwich for fall!
All 3 of the above recipes are going on our FALL menu for this month. But for some reason, I was REALLY craving sweets this past weekend & I decided to go with a dessert. I ACTUALLY made TWO different desserts because we couldn't pick just one. They both turned out amazing and I will be sharing the other one with you guys VERY SOON…
Lets talk about these Pecan Pie Cheesecake Bars. LORD HAVE MERCY! Amy has an AMAZING series called American Eats and these Pecan Pie Cheesecake Bars are in her Alabama section because Pecans are the state nut of Alabama. Seeing as though I am from Alabama, I thought it was the perfect dessert recipe for me to try out!!!!
Like I said before, these Pecan Pie Cheesecake Bars are our family's new favorite dessert.
There is a graham cracker crust layer, a cheesecake layer in the middle and the perfect sweet pecan pie topping. It's literally everything you could ever want in a satisfying dessert. These would be amazing to take to any Fall gathering, football party, tailgating, Thanksgiving or Christmas. They really aren't hard at all. I'm not much of a baker, if I can do it, anyone can lol
Pecan Pie Cheesecake Bars
Ingredients
CRUST

2 1/2 cups graham cracker crumbs (about 18 full sheets)
1/4 cup granulated sugar
1/2 cup butter, melted

CHEESECAKE LAYER

2 (8 ounce) packages cream cheese, softened
3/4 cup granulated sugar
2 large eggs
1 teaspoon vanilla

PECAN PIE LAYER

1 cup light brown sugar, packed
1/2 cup light corn syrup
1/2 cup heavy cream
1/4 cup butter
1/2 teaspoon salt
2 cups pecans, chopped
1 teaspoon vanilla
Instructions
Heat oven to 350 degrees F. Prepare a 9x13-inch baking pan by lining with a parchment paper sling.
CRUST
In a food processor, pulse the graham crackers with the sugar until combined into fine crumbs. Drizzle in the melted butter and pulse again until combined. Transfer to the baking dish and press into an even, flat layer using the flat bottom of a measuring cup.
CHEESECAKE LAYER
In a large bowl, beat the cream cheese with an electric mixer until completely smooth. Add the sugar, eggs, and vanilla, and beat again until smooth. Pour over the graham cracker crust.
PECAN PIE LAYER
In a medium saucepan, heat the brown sugar, corn syrup, cream, butter, and salt over medium heat until the butter is melted an the mixture comes to a boil. Boil for 1 minute, stirring constantly, then remove from the heat and immediately add the chopped pecans and vanilla.
Let the pecan pie filling cool slightly, then spoon gently over the cheesecake layer so it doesn't sink to the bottom.
Transfer the pan to the oven and bake for 35-40 minutes, until just set, then remove from the oven and cool completely before slicing. It is easiest to slice the bars when completely chilled, loosening the bars from the sides of the pan and transferring the entire thing to a cutting board using the parchment paper sling, then peeling that away and slicing into individual bars.
7.8.1.2
268
https://auntbeesrecipes.com/2020/10/pecan-pie-cheesecake-bars.html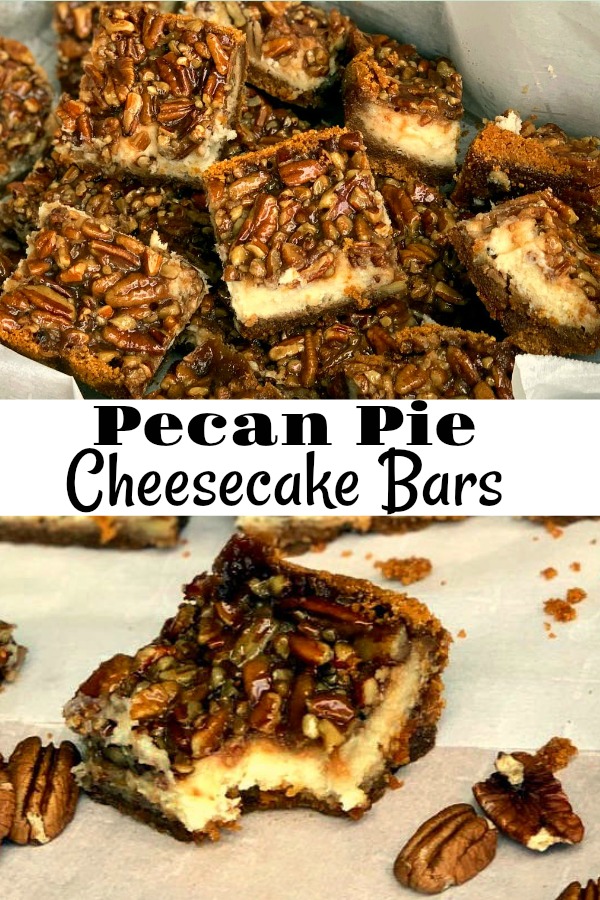 Take a look at all of our 2020 Freaky Friday Fall Edition Recipes: