Greek Chicken Salad with Lemon Oregano Dressing
Light, fresh and tangy with the Mediterranean flavor we all LOVE! This Greek Chicken Salad with Lemon Oregano Dressing can be prepped ahead for weekday lunches or an easy light dinner perfect for hot Summer months!
Hello and HAPPY FRIDAY!!  It is actually a FREAKY FRIDAY over here!  One of my favorite days!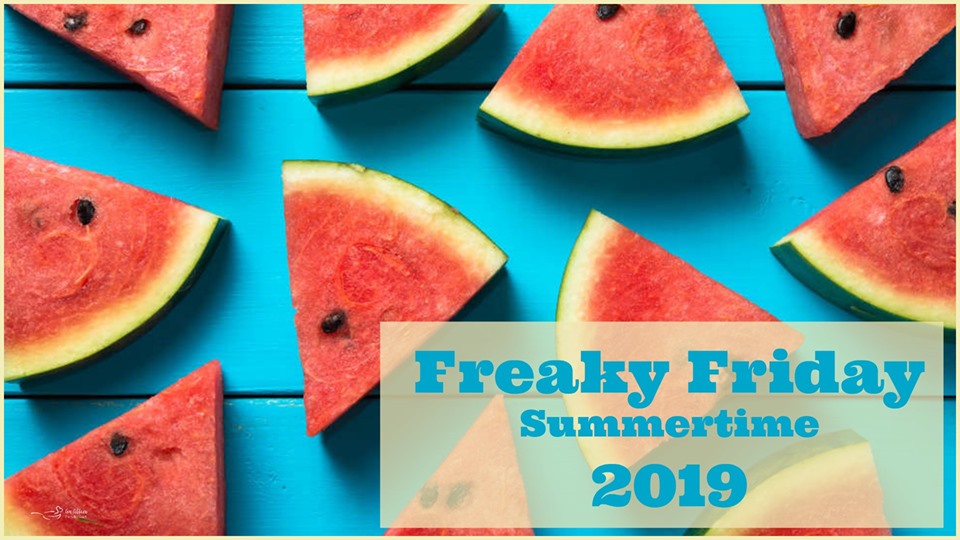 I am so excited to be participating in this year's Freaky Friday Blog Hop: Spring Edition! This group is the brainchild of my friend, Michaela's and it is SO MUCH FUN! For those of you that aren't familiar with Freaky Friday, it is a group of food bloggers that get assigned a secret blog and we get to choose any recipe we want to make from it for our own blogs. Then all of the recipes are revealed at the exact same time and we get to see who had our page and which recipe they selected! It has been a great way for me and my readers to find new blogs to follow, and I feel honored to be a part of it!
Check out my past Freaky Friday Recipes here:
P.F. Chang's Lettuce Wrap Salad
Bacon-Cheeseburger Potato Soup
Cookies and Cream Ice cream Cake
10 Minute Chicken Ramen Stir Fry
Bacon Cheeseburger Mini Meatloaf Patties
PB & J Bar Cookies with Strawberry Jam
Creamy Gorgonzola Pasta with Steak
The blog that I was assigned for this edition of Freaky Friday was LeMoine Family Kitchen!  I have known Angela for a while now and our blogs both were started the same year (2012).  You never would guess we started at the same time, though, because her photos are so much better than mine. Ha!  She is married to her high school sweetheart and a stay at home mom to 2 super handsome boys.  She describes herself as a Jersey girl with deep Italian roots.  Her grandparents all immigrated from Italy so delicious food was a huge part of growing up and family gatherings.
I can honestly say I had the hardest time EVER narrowing it down to ONE recipe to make from her blog because of all the blogs I have cooked from, hers had more of the type food our family eats on a regular basis (fresh and healthy) and also the homemade family favorite comfort food recipes we LOVE for special occasions (OMG AT THE PASTA!)  Since it is Summer, I stuck with something light and healthy but I have bookmarked SEVERAL of her more heartier fare for Fall and Winter if I can wait that long LOL
Like THIS Chicken & Bacon Penne Alfredo Casserole:

"Chicken & Bacon Penne Alfredo Casserole comes together so quickly and can be made a day or two ahead of time making it the PERFECT dinner for any night of the week. Plus- BACON- period."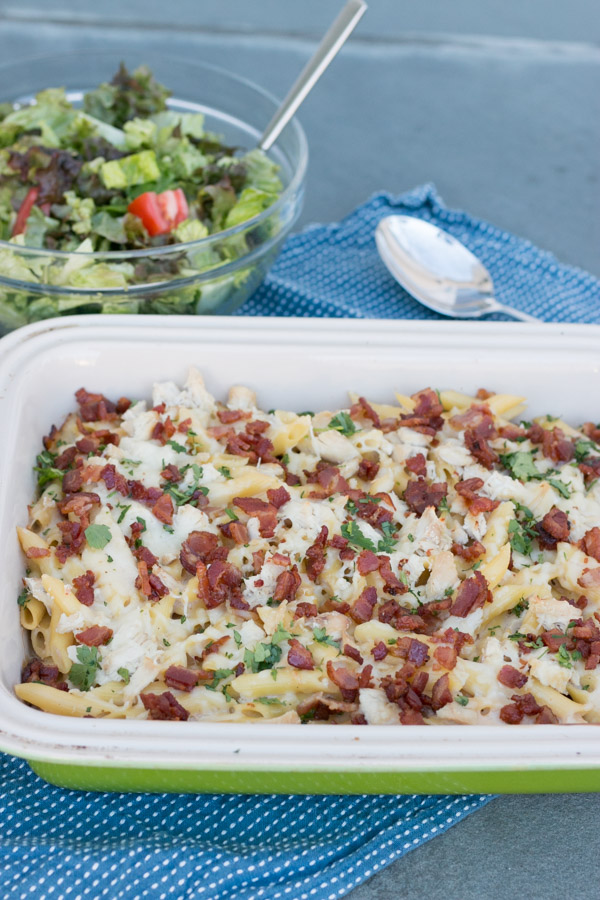 and THIS Classic Spaghetti and Meatballs:
"If there is one meal that everyone should learn to make it is definitely the Classic Spaghetti & Meatballs. This classic Italian Sunday dinner is perfection."
 And last but certainly not least, THIS Classic Chicken Marsala is what DREAMS are made of:
"The chicken is so tender and that sauce is absolutely luscious with its rich flavors from the Marsala wine."

Now you see why it was so hard to narrow it down!!!

 After much deliberation, I finally decided on her amazing Greek Chicken Salad with Lemon Oregano Dressing.  I absolutely positively am obsessed with Greek Salads.  I love everything about them.  The Kalamata Olives, feta cheese, tomatoes, red onion and homemade dressing.  It may be my favorite salad on the planet!

The first day I made it as is and the next day we stuffed some warm pitas with the leftover Greek Salad ingredients and it was heaven on earth!  The ingredients are simple and ones I almost always have on hand.  My favorite part of this version of Greek Salad is dicing the chicken before marinating it for a few hours in the fridge so that even more of the flavor gets infused.

And that Lemon Oregano Dressing is fresh, bright, flavorful and nothing short of amazing!!! I will have some of it on hand in my fridge at ALL TIMES! You MUST put this Greek Salad with Lemon Oregano Dressing in your warm weather meal rotation! It's perfect for prepping ahead for weekday lunches or an easy light dinner perfect for hot Summer months!

Greek Chicken Salad with Lemon Oregano Dressing

Ingredients

For the Chicken

4 chicken breasts, diced
¼ cup olive oil
zest of 1 lemon
1 tsp salt
½ tsp dried oregano
½ tsp garlic powder
black pepper

For the Salad

romaine lettuce
diced tomatoes
sliced cucumber
thinly sliced red onion
kalamata olive
feta cheese

For the dressing:

½ cup olive oil
1/3 cup lemon juice
½ tsp oregano
1 tsp salt
pinch of garlic powder
pepper

Instructions

Mix together the olive oil, lemon zest, salt, oregano, garlic power and pepper. Add in the diced chicken and toss to coat. Refrigerate for several hours.

In a mason jar mix the ingredients for the dressing and set aside.

In a heavy skillet, brown the chicken in a few batches until cooked through.

Serve with the amounts you like: chopped romaine, chicken, tomato, cucumber, red onion, feta, olives and the dressing.

7.8.1.2

250

https://auntbeesrecipes.com/2019/07/greek-chicken-salad-with-lemon-oregano-dressing.html
Take a look at all of our Summer 2019 Freaky Friday Recipes: