Creamy Gorgonzola Pasta with Steak
Creamy Gorgonzola Pasta with Steak is an easy 30 minute meal that is budget friendly and still a special & delicious dinner!

Hello and happy FRIDAY!!!! It's actually a FREAKY FRIDAY over here.  One of my favorite days lol.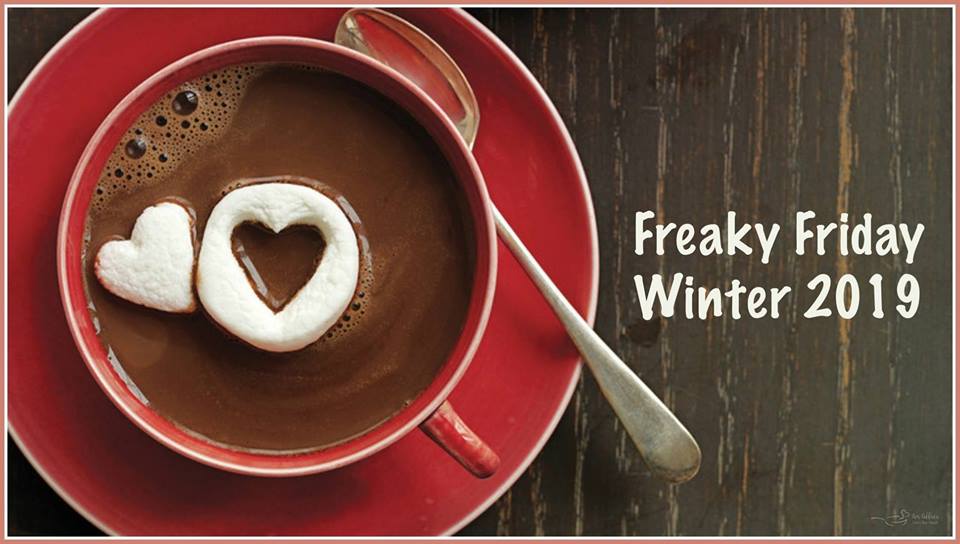 I am so excited to be participating in this year's Freaky Friday Blog Hop: Winter Edition!  This group is the brainchild of my friend, Michaela's and it is SO MUCH FUN!  For those of you that aren't familiar with Freaky Friday, it is a group of food bloggers that get assigned a secret blog and we get to choose any recipe we want to make from it for our own blogs.  Then all of the recipes are revealed at the exact same time and we get to see who had our page and which recipe they selected!  It has been a great way for me and my readers to find new blogs to follow, and I feel honored to be a part of it!
Check out my past Freaky Friday Recipes here:
P.F. Chang's Lettuce Wrap Salad
Bacon-Cheeseburger Potato Soup
Cookies and Cream Ice cream Cake
10 Minute Chicken Ramen Stir Fry
Bacon Cheeseburger Mini Meatloaf Patties
PB & J Bar Cookies with Strawberry Jam
I was super excited when I got assigned Michelle's blog, West Via Midwest.  Michelle believes that '…no matter how busy you are, you can entertain without stress while making great tasting food that people will rave about.'  I absolutely love that!!!!
I am just a home cook that has done a lot of experimenting, but Michelle has gone to culinary school and also she received her Sommelier Certification from American Sommelier Association, so she could understand how to pair the perfect wine/cocktail/beer with every meal.
Clearly, she is next level!
And one look at the amazing recipes and photos on her website will tell you that!  See for yourself below.  These recipes are all on my family's menu the next couple of weeks:
So you can see why I had a hard time narrowing down to one recipe LOL.  After MUCH deliberation, I ended up choosing her Creamy Gorgonzola Pasta with Steak.  Because unlike the rest of my family, I am OBSESSED with Gorgonzola cheese.  I ended up making it for myself to have for my lunches this past week.   I savored every last bite of it!!!  I paired it with steamed broccoli and felt like I was having a gourmet meal for lunch every day!  Probably because I was 😉
We don't eat a lot of pasta at all and steak for my lunch is a rarity.  I texted one of my friends after I made it and was like 'OMG THIS IS SO GOOD!  And I can't remember the last time I had real pasta LOL'.  I was in a happy, pasta induced coma all week!
This meal is very economical for a steak recipe!  You definitely fill up on all the creamy, cheesy, pasta goodness which makes a little bit of steak is able to stretch a lot further!  You also serve it right out of the pan you make your sauce in so clean up is a breeze!
This is a great recipe for entertaining & since Michelle is a wine pairing expert, I also should add that she says this recipe is great served with a red or white wine! According to Michelle:
Cabernet or Pinot Noir pair well with the red meat  and hearty cheese in the gorgonzola sauce.  But a nice riesling works very well with the gorgonzola too!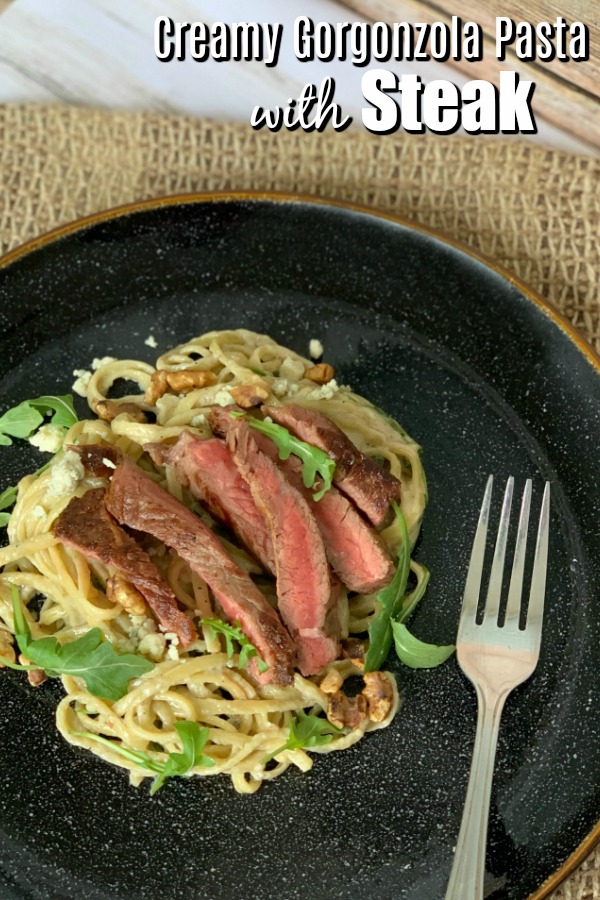 If you love Gorgonzola cheese as much as I do, YOU MUST make this recipe!!!!
Creamy Gorgonzola Pasta with Steak
Ingredients
12 ounces pasta
12 ounces steak
salt and pepper to taste
2 Tablespoon Butter
1 Tablespoon Flour
1 tablespoon onion minced
3/4 cup half & half
6 ounces Gorgonzola cheese

OPTIONAL TOPPINGS

1/4 cup gorgonzola crumbles
1 cup arugula (you can stir this in when adding the cheese sauce too if you wish)
1/4 cup toasted walnuts
Instructions
Cook pasta according to directions on package you purchased.
When finished, drain and set aside.
While pasta is cooking heat a large skillet to medium high.
Season both sides of steak with salt and pepper.
When pan is hot, place steaks in pan and cook to your desired doneness.
Remove from the pan and allow to rest while you make the Gorgonzola sauce.
Place skillet back on stove top and add butter and onion to the pan.
Melt butter and continue to stir while the onion softens, about 3 minutes.
Add flour to pan, stirring to combine and continue to to cook for 2 minutes.
Add half and half in 1/3 cup increments whisking rapidly to fully incorporate flour.
Repeat until all half and half is mixed in and flour has dissolved into the liquid.
Continue to cook for 10 minutes or until liquid has thickened and is no longer watery.
Add Gorgonzola and stir until all melted, about 5 minutes. Turn off heat.
Once cheese sauce is done, place drained pasta back in the skillet and stir to mix evenly.
Slice the steak across the grain at an angle to 1/4 inch slices.
Lay steak atop cheese coated pasta in the pan.
Serve with your choice of add ins.
7.8.1.2
243
https://auntbeesrecipes.com/2019/02/creamy-gorgonzola-pasta-with-steak.html
Take a look at all of our Winter Freaky Friday Recipes: