Homemade Loaded Queso
Homemade Loaded Queso is EVERYONE's favorite chip dip with none of the processed fake cheese ingredients! Ground Beef, 3 types of cheeses, peppers, onions & seasonings make this hearty from scratch dip a meal on it's own!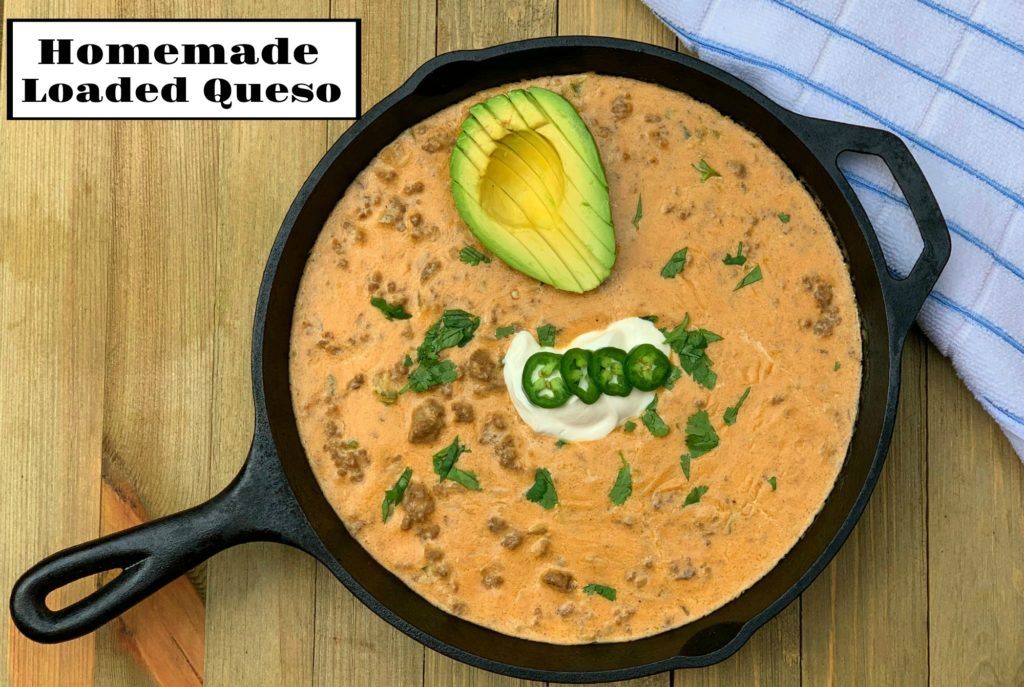 Homemade Loaded Queso is TO DIE FOR, Y'all!!!!! Scroll to the bottom for the recipe <3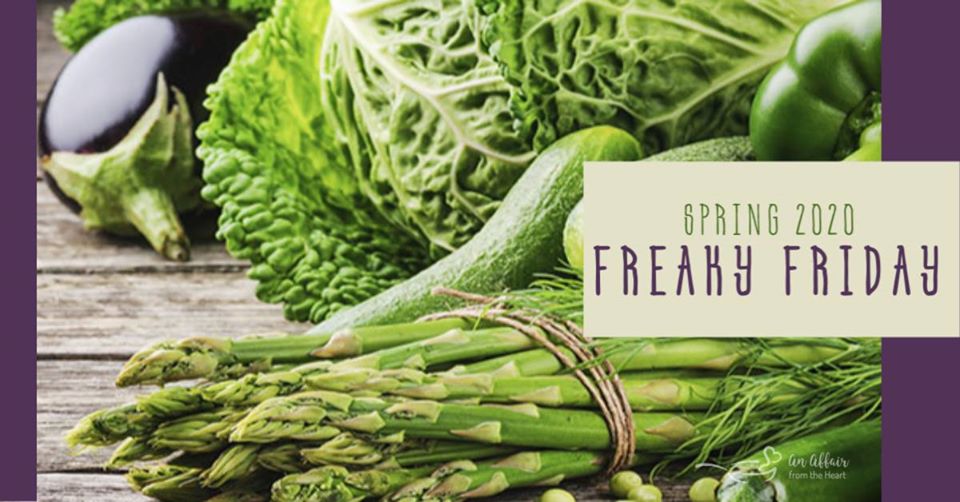 I am so excited to be participating in this edition of Freaky Friday: Spring 2020! This group is the brainchild of my friend, Michaela's and it is SO MUCH FUN! For those of you that aren't familiar with Freaky Friday, it is a group of food bloggers that get assigned a secret blog and we get to choose any recipe we want to make from it for our own blogs. Then all of the recipes are revealed at the exact same time and we get to see who had our page and which recipe they selected! It has been a great way for me and my readers to find new blogs to follow, and I feel honored to be a part of it!
Check out my past Freaky Friday Recipes here:
Three Cheese Roast Beef Sliders
Slow Cooker Ranch Chicken Tacos
P.F. Chang's Lettuce Wrap Salad
Bacon-Cheeseburger Potato Soup
Cookies and Cream Ice cream Cake
10 Minute Chicken Ramen Stir Fry
Bacon Cheeseburger Mini Meatloaf Patties
PB & J Bar Cookies with Strawberry Jam
Creamy Gorgonzola Pasta with Steak
Greek Chicken Salad with Lemon Oregano Dressing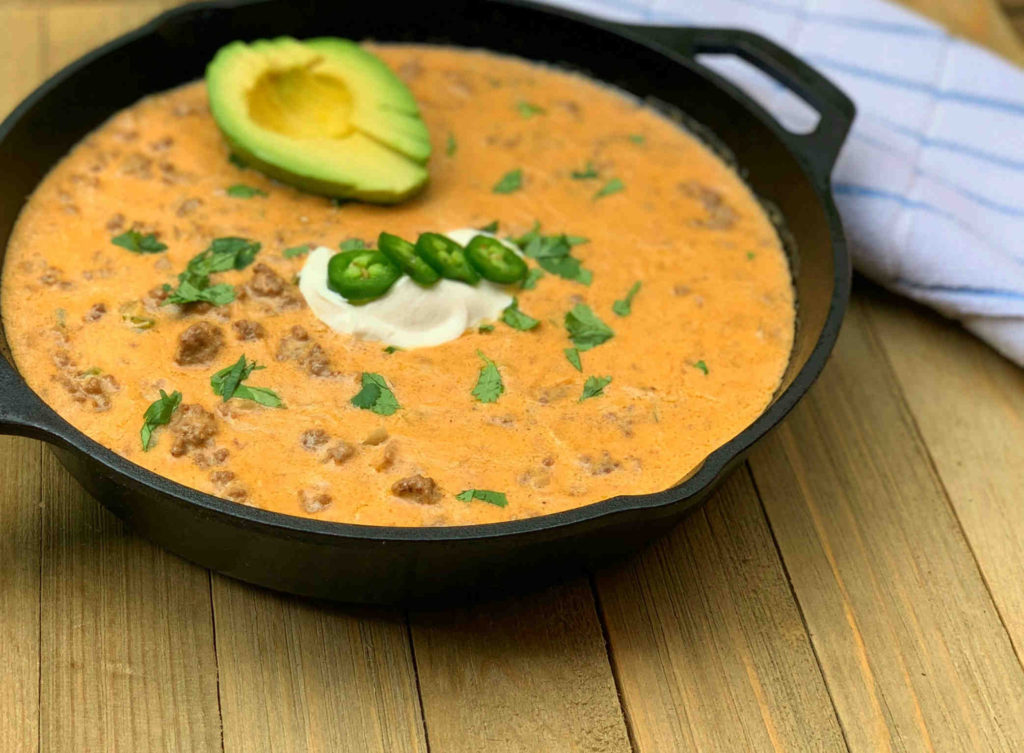 I was over the moon thrilled when I found out the blog I got to choose a recipe from was Erin's over at The Speckled Palate. She is an ADORABLE Southern gal living in Texas with her family. She has always loved to cook and bake but really fell in love with entertaining in college.
I am TERRIBLE at entertaining because I make such a fuss wanting things to be 'perfect' that I can't even enjoy myself! I envy people that can entertain effortlessly! Erin has this huge list of recipes perfect for entertaining! Her website is all out GORGEOUS and her recipes are all photographed so beautifully!
It didn't take me long at all to find SEVERAL recipes to add to our meal rotation:
Instant Pot + Slow Cooker Apple Cider Pulled Pork with Apple Cabbage Slaw
Steak Bruschetta with French Onion Marmalade
My husband and kiddos are OBSESSED with queso dip (I mean WHO ISNT?) so I wanted to try her homemade version (with NO VELVEETA! WHAT?) We have our family recipe for Chili Con Queso that we all love but it uses a huge amount of the processed stuff, so I was excited to give the homemade, from scratch version a try.
We absolutely LOVED this dip. I think it tastes every bit as good as the kind with Velveeta and I honestly wasn't expecting that! Because we grew up on the Velveeta kind, I figured we would be partial to it. We actually doubled the recipe and my husband was so glad because he requested it for his work lunch lol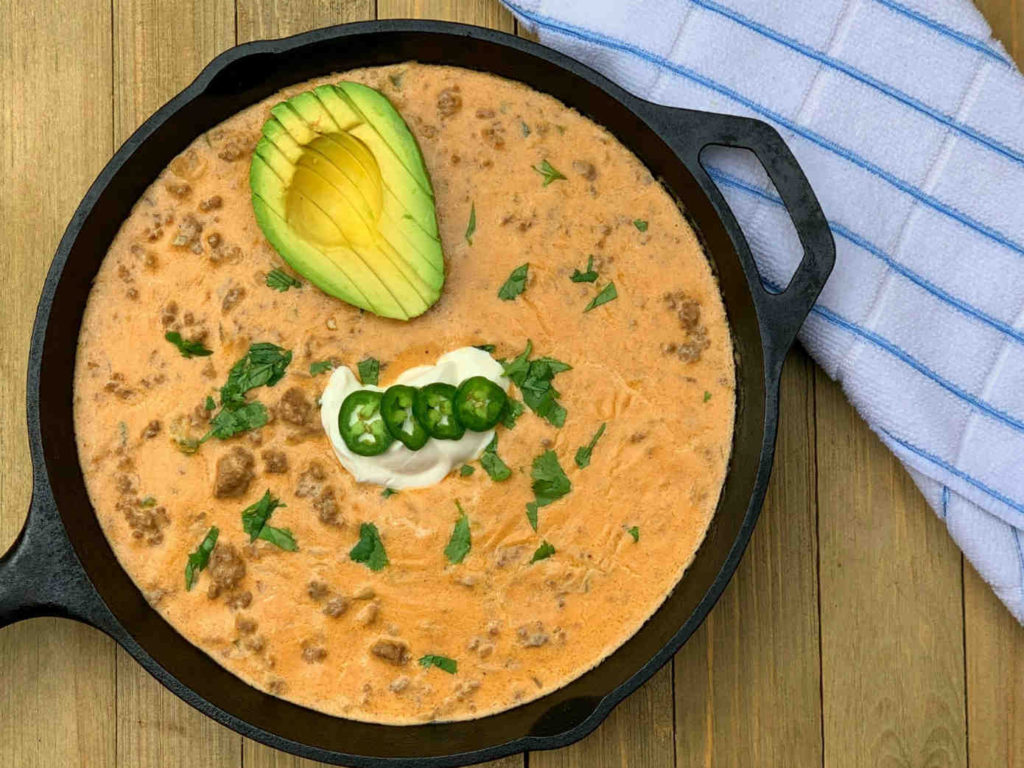 A few notes about the recipe!
Be sure to wear gloves when you chop your jalapeno
Let your cream cheese soften so it melts faster in your dip
Do NOT use the pre shredded cheese! Use freshly shredded!
You can use white or sharp yellow for the cheddar, I used half of each
When you reheat the queso, stir in a few tablespoons of milk before you microwave it in 30 second increments.
I hope you try this from scratch Homemade Loaded Queso Dip for your next fiesta and your family loves it as much as we did!!!
Take a look at all of our 2020 Freaky Friday Spring Edition Recipes: