Three Cheese Jalapeno Poppers
Three Cheese Jalapeno Poppers are packed full of flavor and ALL the cheesy goodness! They are low carb, keto and the PERFECT game-day snack! Prep this appetizer ahead of time and just throw in the oven when you are ready to entertain!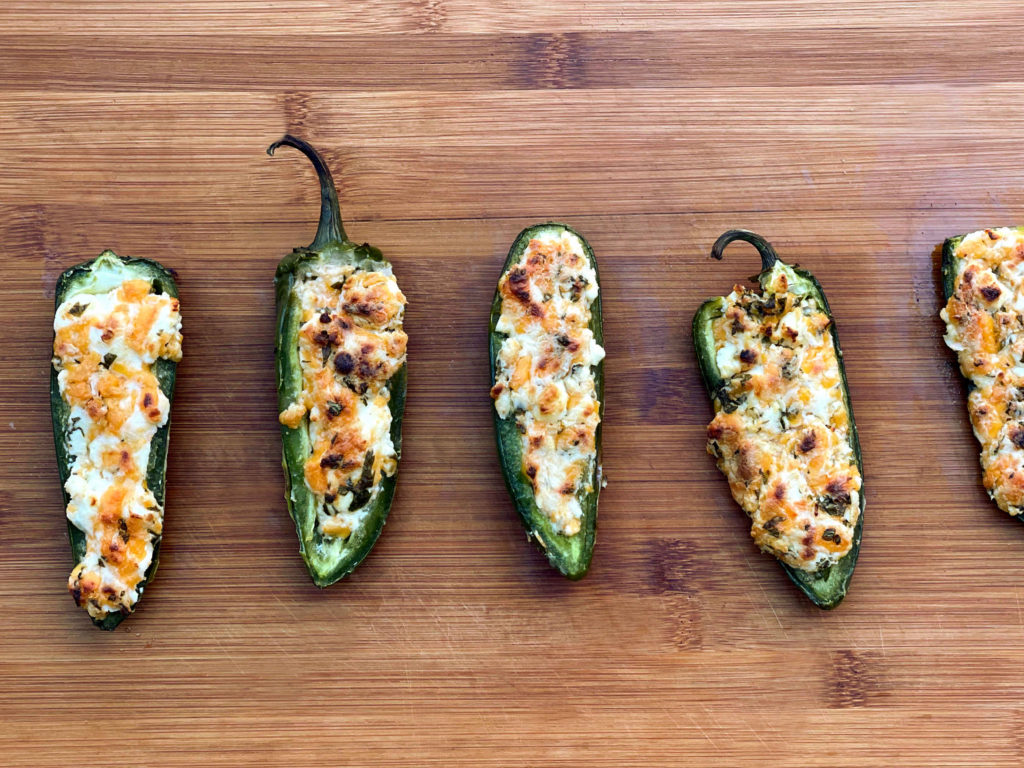 Jalapeno Poppers are one of my favorite foods on EARTH and these are honestly the best ones I have ever had! The secret is in the feta cheese. It just gives it such a depth of flavor you can't get with just plain ol' cheddar cheese!
But don't let me get ahead of myself. (And you can always scroll to the bottom if you are in a hurry for this awesome recipe!)

First of all HELLO & Welcome to Freaky Friday: Winter 2020! This group is the brainchild of my friend, Michaela's and it is SO MUCH FUN! For those of you that aren't familiar with Freaky Friday, it is a group of food bloggers that get assigned a secret blog and we get to choose any recipe we want to make from it for our own blogs. Then all of the recipes are revealed at the exact same time and we get to see who had our page and which recipe they selected! It has been a great way for me and my readers to find new blogs to follow, and I feel honored to be a part of it!
Check out my past Freaky Friday Recipes here:
Three Cheese Roast Beef Sliders
Slow Cooker Ranch Chicken Tacos
P.F. Chang's Lettuce Wrap Salad
Bacon-Cheeseburger Potato Soup
Cookies and Cream Ice cream Cake
10 Minute Chicken Ramen Stir Fry
Bacon Cheeseburger Mini Meatloaf Patties
PB & J Bar Cookies with Strawberry Jam
Creamy Gorgonzola Pasta with Steak
Greek Chicken Salad with Lemon Oregano Dressing
My Freaky Friday Blog Assignment was Chrissie's blog over at Off The Eaten Path. She is new to our little group and I was SO excited to get to know her through her blog. I am CRAZY jealous because she lives in one of my BUCKET LIST cities: Charlotte, North Carolina…. basically foodie heaven.
Chrissie is a public defender by day and a blogger by night. She was new to Charlotte and started her blog as a way to explore and blog about all the yummy food in her new city! She also had her first cookbook released last year:
Stunning Spreads: Easy Entertaining with Cheese, Charcuterie, Fondue and Other Shared Fareby Chrissie Nelson Rotko is now available for pre-order! Filled with 75 recipes for approachable appetizers and simple, seasonal cocktails that are sure to be showstoppers at your next gathering, this book is a must-have for any home library.
Some of the recipes on her site that immediately caught my eye were her Brat Burgers with Beer Cheese Sauce, Aunt Julie's Pepperoni Bread, and S'mores Fondue for Two. Those. Are. Happening.
Ultimately I saw her Roasted Jalapeno Poppers stuffed with 3 different cheeses and picked them to make because I COULD NOT GET THEM OUT OF MY MIND. With the Super Bowl coming up, you know I am thinking about appetizers and party foods because my favorite part of football is the snacks of course lol
You can prep these a day or 2 ahead of time. Making them such an easy appetizer for entertaining. Just pop them in the oven when you are ready to serve them. I would NOT bake these ahead of time though. They will get soggy. In fact, after you get them out of the oven, I would use a spatula to move them onto a paper towel to help absorb moisture….. if they last long enough. These are naturally low carb and keto so if you are looking for a lot of flavor with no carbs this is a great option!
I have loved jalapeno poppers for as long as I can remember and I can honestly say these are the best I have ever had! The secret is definitely the feta. It also has just the right combination of herbs and spices. I hope you make and enjoy these as much as we did!
Three Cheese Jalapeno Poppers
Ingredients
12 jalapeno peppers
4 ounces shredded sharp cheddar cheese
4 ounces feta cheese
4 ounces cream cheese, softened
1 teaspoon onion powder
1 teaspoon garlic powder
2 tablespoons fresh cilantro, chopped
Instructions
Preheat the oven to 400 degrees F.
Line a baking sheet with foil and spray with nonstick spray
Cut the peppers in half and scoop out the seeds, membranes and other insides.
Add cheeses, onion powder, garlic powder and cilantro and combine well
Add cheese mixture into each pepper half. Make sure you do not overstuff the peppers.
Place peppers close together on a baking sheet. This will help keep them from rolling around.
Roast for 15 to 20 minutes, or until the peppers are tender and the cheese bubbly.
Broil the tops for a couple minutes watching to make sure they dont burn.
Use spatula to take them off the pan carefully and place them on a paper towel to absorb moisture and keep them from getting soggy. Serve immediately!
7.8.1.2
269
https://auntbeesrecipes.com/2021/02/three-cheese-jalapeno-poppers.html
Take a look at all of our 2021 Freaky Friday Winter Edition Recipes: