The Best EVER Chicken Gyros
This BEST EVER CHICKEN GYROS is a healthy and delicious, light meal perfect for warmer weather. We love it in the Pita but it also makes an AMAZING Greek Salad!! This is great for lunch or dinner. The easy Greek marinade/dressing is TO DIE FOR. You will have this recipe on repeat!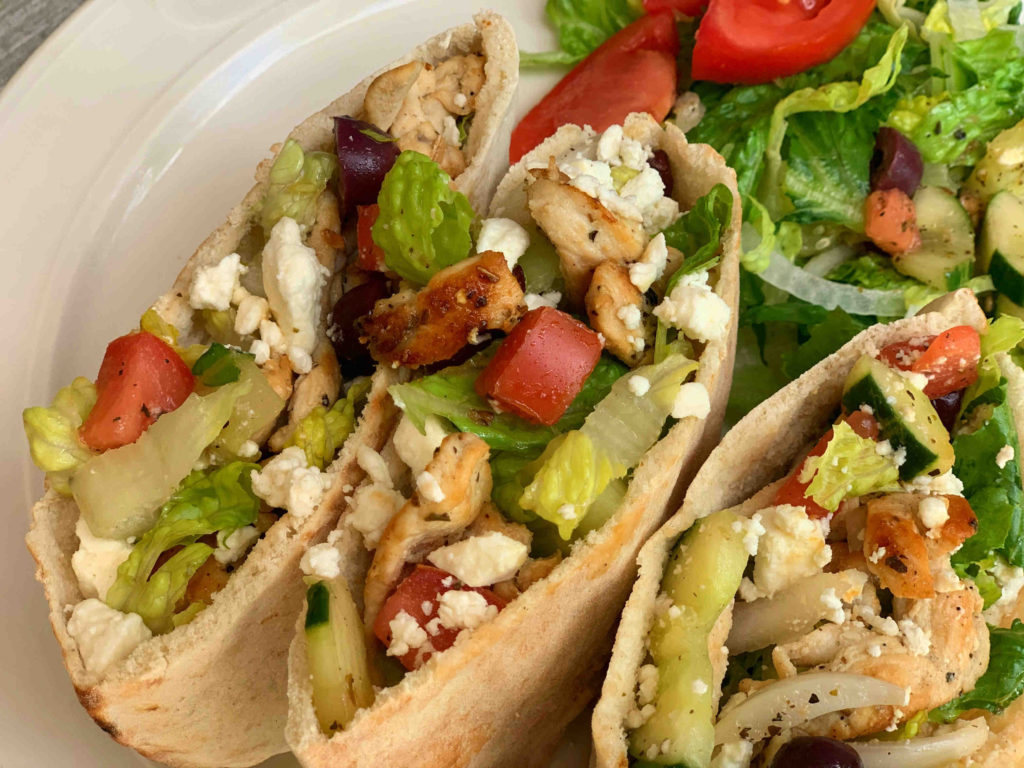 I am so excited to share The Best EVER Chicken Gyros with you guys!!!! Keep scrolling for the recipe <3
Welcome to Freaky Friday: Summer 2020! This group is the brainchild of my friend, Michaela's and it is SO MUCH FUN! For those of you that aren't familiar with Freaky Friday, it is a group of food bloggers that get assigned a secret blog and we get to choose any recipe we want to make from it for our own blogs. Then all of the recipes are revealed at the exact same time and we get to see who had our page and which recipe they selected! It has been a great way for me and my readers to find new blogs to follow, and I feel honored to be a part of it!

Check out my past Freaky Friday Recipes here:
Three Cheese Roast Beef Sliders
Slow Cooker Ranch Chicken Tacos
P.F. Chang's Lettuce Wrap Salad
Bacon-Cheeseburger Potato Soup
Cookies and Cream Ice cream Cake
10 Minute Chicken Ramen Stir Fry
Bacon Cheeseburger Mini Meatloaf Patties
PB & J Bar Cookies with Strawberry Jam
Creamy Gorgonzola Pasta with Steak
Greek Chicken Salad with Lemon Oregano Dressing
The blog that I got to choose a recipe from was Julie's over at Hostess at Heart. Julie has been a blogger friend for a WHILE! I love her recipes and photos. She is from Nebraska and married to her college sweetheart. She started cooking for her father and siblings when she was 12 years old!!! Since then she has been in charge of cooking for 150 people at a senior care center and also gone to culinary school! Basically, we can learn a WHOLE lot from Julie!
I love that she uses simple and readily available ingredients and provides step by step instructions and videos. Also love when she gives tips to help simplify entertaining!
I love SO many of Julie's recipes! Some of my old favorites and ones on my to make list are: Overnight Sourdough Bread, Easy Chocolate Trifle Dessert, The BEST Cuban Sandwich and the Hatch Green Chile & Bacon Mac and Cheese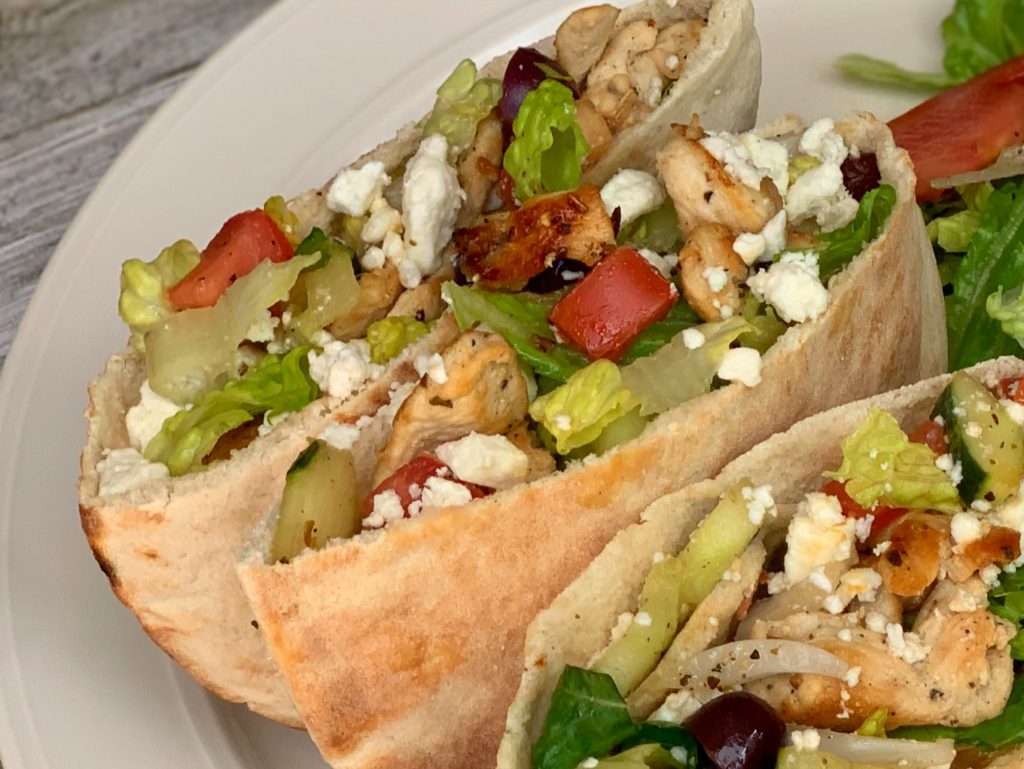 The recipe we chose was her amazing Chicken Gyros. My daughter and I were looking for something for a light & healthy lunch and they were the perfect thing. We already had everything we needed on hand except for the pita bread and feta cheese, even for the dressing! Love the simple ingredients list.
I can not say enough good things about this recipe. We tasted the Greek dressing as we were preparing it and we both were sold instantly. My daughter said, Mama this is gonna be amazing! LOL. We usually buy the Newman's own Greek dressing which is really good for store bought, but we will be making it ourselves from now own. Its just so good and easy! The dressing also doubles as a quick marinade for the chicken. This is also a great way to use up leftover grilled chicken!
If you are looking for a low carb or keto option, just leave the pita off and make a salad instead. You won't miss the carbs at all!
These Best Ever Greek Chicken Gyros are out of this world delicious. If you are looking for a light and healthy lunch or dinner that's absolutely PACKED with flavor, you will LOVE these!
The Best EVER Chicken Gyros
Ingredients
1 skinless boneless chicken breast sliced thin
1 cup cherry tomatoes quartered
1 cucumber diced
1/4 sweet onion sliced thinly
12 Kalamata olives halved
2 cups lettuce shredded
4 pieces of Pita Bread sliced in half
Feta cheese crumbled

Greek Dressing

1/2 cup olive oil
1/4 cup red wine vinegar
1-1/4 tsp dried oregano
1-1/4 tsp dried basil
1-1/4 tsp garlic powder
1 tsp salt
1 tsp pepper
1 tsp dijon mustard
Instructions
Prepare the dressing by combining all ingredients into a jar or salad cruet. Shake to combine.
Place sliced chicken in another ziplock bag and drizzle with 3 Tbsps of the Greek dressing. Refrigerate 30 minutes or longer.
Combine tomatoes, cucumber, onion and olives in a ziplock bag and drizzle lightly with the remaining Greek dressing. Refrigerate 30 minutes or longer.
Heat 1 tablespoon of olive oil in a heavy skillet. Add chicken and cook 4 minutes on each side or until done. Set aside and keep warm.
Scoop vegetables out of dressing and toss the marinated veggies with the lettuce.
Build Gyro by placing marinated vegetable lettuce mixture in the pita bread. Add chicken and top with Feta cheese.
Drizzle with some of the reserved dressing from the veggies if desired.
Serve immediately.
7.8.1.2
265
https://auntbeesrecipes.com/2020/07/the-best-ever-chicken-gyros.html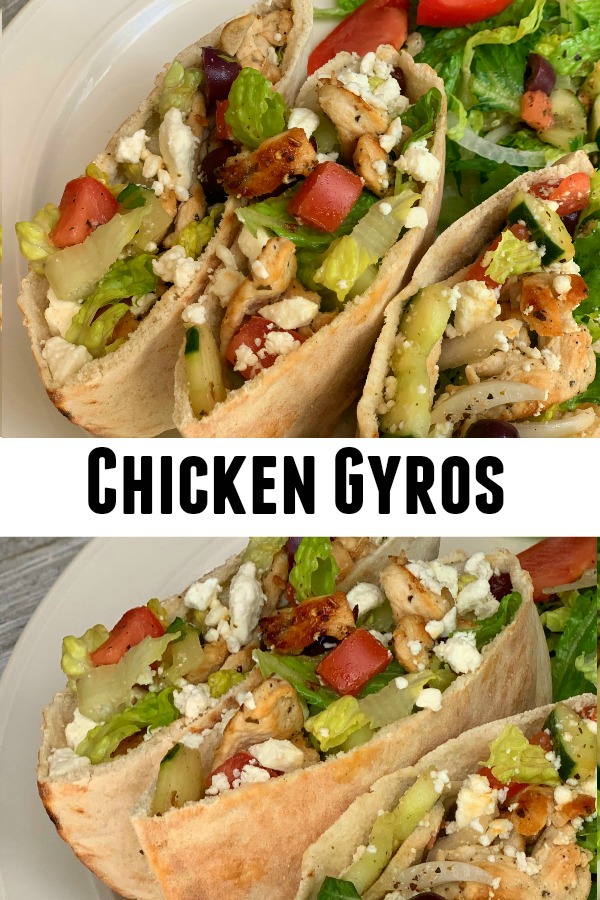 Take a look at all of our 2020 Freaky Friday Summer Edition Recipes: