Instant Pot Spicy Sweet & Sour Chicken
This Instant Pot Spicy Sweet & Sour Chicken has unreal flavor with all the convenience of using FROZEN chicken breast! Forget your favorite Chinese Take out! Just set it and forget it!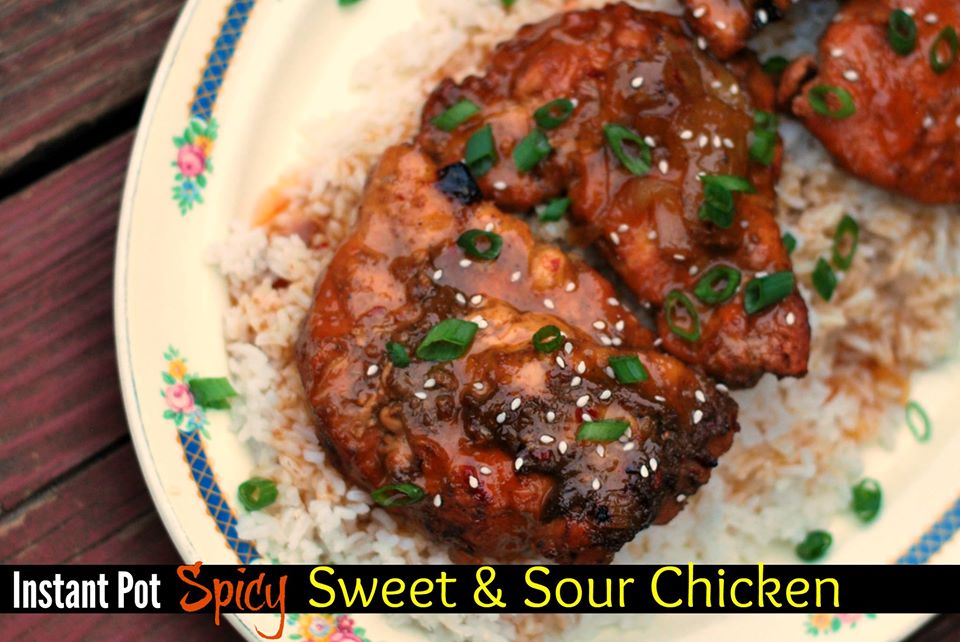 Good morning! We are still LOVING and using our instant pot.
I don't know if I have mentioned this here before, but we cancelled our cable over a year ago and we haven't missed it at all! The kiddos hardly ever watched tv anyway so it has been a great way to save money and keep the electronics to a minimum. My kids spend so much time playing outside with friends, with the pups, and team sports, it was really a seamless transition for our family. We do have a netflix account and amazon prime for watching shows on a rainy day, but those are used very little as well.
The biggest different for me is, I used to have food network on in the background while I worked on the computer for an hour or 2 a day and while I clean in the mornings after the kids leave for school. Instead, now I listen to music on pandora while I clean and I have found a new habit to replace food network: YOUTUBE RECIPE VIDEOS!
In fact, a youtube video is where I found the inspiration for this Instant Pot Spicy Sweet & Sour Chicken! I was watching/listening to instant pot recipe videos when I came across one for the instant pot that used FROZEN CHICKEN BREAST. WHAT???? I couldn't even remember the last time I had bought frozen chicken breast. I don't know why? They are super convenient, with no having to worry about chicken spoiling. The recipe was on a video by Noreen's Kitchen and it looked DELICIOUS and had very good reviews. I immediately put it on our menu for the next week!
It turned out CRAZY good! We served it with our favorite fried rice (even though there is white rice in the pics. I had to hurry and take the pics before I fried the rice because it was getting dark) I did make a couple of changes based on our preferences, for instance, she used 1 TABLESPOON of red pepper flakes and I cut that back to a teaspoon and that was plenty spicy for us. But feel free to adjust to your tastes! This was so good and so easy and I can not believe I was able to cook frozen chicken that tender in 40 minutes! Mind>Blown
Check out our other favorite instant pot recipes:
Instant Pot Spicy Sweet & Sour Chicken
Ingredients
2 1/2 pounds FROZEN boneless chicken breast
1 medium onion quartered and sliced
1 cup brown sugar
2/3 cup apple cider vinegar
1/4 cup soy sauce
2 Tbsp lemon or lime juice
1 teaspoon toasted sesame oil
2 tablespoons minced fresh ginger
3-4 cloves garlic, minced
1/2 tsp black pepper
1 tsp crushed red pepper flakes (or more to taste)
2 Tbsp corn starch
2 Tbsp cold water
sesame seeds and green onions for garnish if desired
Instructions
Place chicken in pressure cooker along with the sliced onion.
Stir together vinegar, brown sugar, soy sauce, lime (or lime) juice, sesame oil, black pepper, ginger, garlic and chili flakes.
Pour mixture over the chicken and onions.
Place lid on your pressure cooker and make sure your pressure release valve is set to closed.
Press manual and adjust the time for 40 minutes. Allow to complete cycle and pressure release naturally.
Remove lid and turn pressure cooker off.
Remove chicken from the juices.
Combine cornstarch and water and stir into pot to thicken.
Turn instant pot on to saute and stir until thickened.
Serve sauce over chicken and enjoy over rice or noodles. We love this over fried rice!
*optional, after I thickened my sauce, I brushed some of it over the chicken and stuck it under the broiler for a minute or 2.
*I have not tried this with fresh chicken breast but have heard mixed reviews. If you try it, the recommended cook time is 20 minutes. Let me know how it turns out for you!
7.8.1.2
200
https://auntbeesrecipes.com/2017/02/instant-pot-spicy-sweet-sour-chicken.html