Instant Pot White Chicken Chili
Instant Pot White Chicken Chili is one of our family's FAVORITE soups! So easy and delicious, and filling. Pure Tex-Mex comfort food!
Happy Sunday & happy SEPTEMBER! Things have been a little quieter than usual over here on the blog. School starting back meant the beginning of Fall sports which keeps us pretty busy. April, my 12 year old, started middle school and is on the middle school volleyball and basketball team and Landon, age 7, started football! We have practices and games 6 days a week! (A group of 7 & 8 year olds in football uniforms is pretty much the cutest thing ever!)
Another thing that has kept us busy this past week is my husband and son both had ENT surgery. (on the same day!) The jury is still out on whether it was brilliant or crazy of me to schedule it that way. My son, just had tubes put in and his adenoids taken out. The DR had told me that since he didn't need his tonsils out as well, that his recovery time would be REALLY short. I was still surprised at how absolutely fine he seemed after surgery! His recover was pretty much instant. I think he could have even gone to school the next day.
My husband's surgery was a lot more intense. He had to have his eardrum and several ear bones reconstructed, a cyst removed AND tubes put in. His surgery took nearly 4 hours as opposed to the 15 minutes it took for my son's. This was the first time for me to have a child have surgery (SO incredibly thankful for 2 healthy kiddos!). I was nervous of course, but after tons and tons of research and asking around, we found the absolute BEST ENT's ever! For local (North Alabama peeps) We used Dr. Mcfadden for my son and Dr. Mcfeely for my husband both from North Alabama ENT. I can not recommend them enough!!! I am so thankful that the surgeries went great and both their recoveries also! <3
You guys KNOW I have been an instant pot fan since I first got mine, but I can honestly say now that we have gotten SO incredibly busy with Fall sports, I am using mine at LEAST twice a week!! When I was making my menu for last week, knowing they were having surgery, I asked them what soups they wanted me to make. They both said Nana's Ground Beef & Vegetable Soup and White Chicken Chili. I had already made the veggie soup in the instant pot before so I knew it turns out great, but I was really excited to try the white chicken chili in the pressure cooker as well! (If you are interested in the original, slow cooker version, click here!)
We ALL agreed this Instant Pot White Chicken Chili turned out AMAZING! Maybe our favorite soup recipe in the instant pot so far! I knew with the surgeries and my daughter's weekend tournament schedule that we were going to be CRAZY busy, so I am VERY glad I planned ahead and had some delicious soup favorites on hand for the patient's to eat!!
Instant Pot White Chicken Chili
Ingredients
2 TBSP oil
2 lbs chicken thighs
1 onion, diced
3 cloves garlic, minced
1 cup chicken broth
2 (15oz) cans great northern beans, undrained
1 (15oz) can white corn, drained
1 packet of taco seasoning
1 (4.5 oz) can of chopped green chilies, undrained
1 (10 3/4oz) can condensed cream of chicken soup
1 cup sour cream
shredded monterey jack cheese for topping
fresh jalapeno for topping for the ones that like a little more heat
Instructions
Set instant pot to saute mode on high and allow it to get very hot.
Add oil and brown the chicken thighs on both sides (I did this in 2 batches)
Place chicken back in pot and add onions, garlic, chicken broth, undrained beans, drained corn, taco seasoning, undrained green chilies, and chicken soup.
Place lid on the pot and make sure the valve is set to closed.
Press the Bean/Chili button and make sure the time is set to 30 minutes.
Once it is done, let the pressure release naturally for 15 minutes, before carefully releasing any remaining steam.
Remove chicken from pot and shred with 2 forks.
Add the chicken back to the pot and stir in 1 cup of sour cream.
Enjoy topped with lots of monterey jack cheese and jalapeno peppers for those that like a little more heat
7.8.1.2
239
https://auntbeesrecipes.com/2017/09/instant-pot-white-chicken-chili.html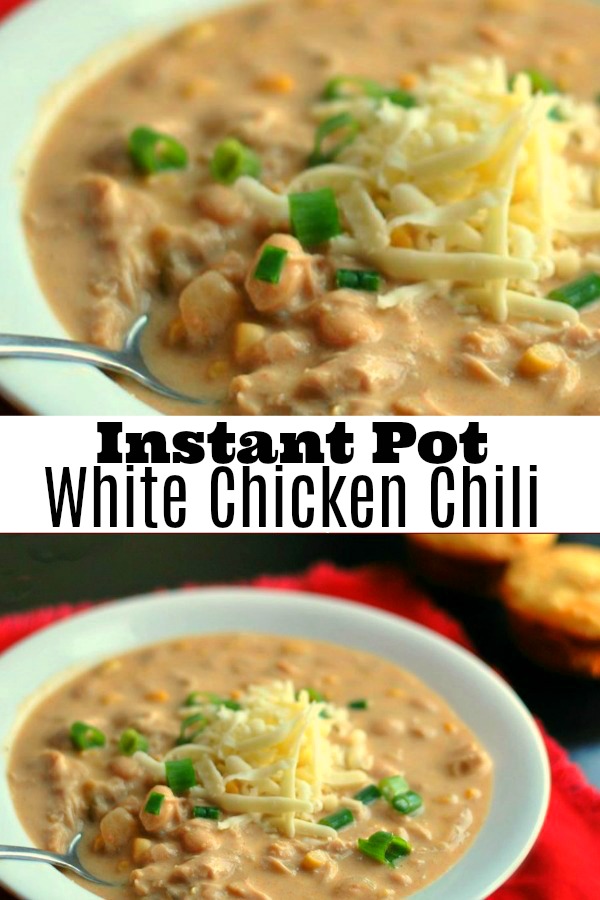 This post contains affiliate links. I only post links for products I personally use and believe in. If you make a purchase on