Tamale Pie
Tamale Pie is our FAVORITE Mexican casserole! The combination of the sweet cornbread crust and the savory beef, cheese and enchilada sauce is a match made it heaven!!!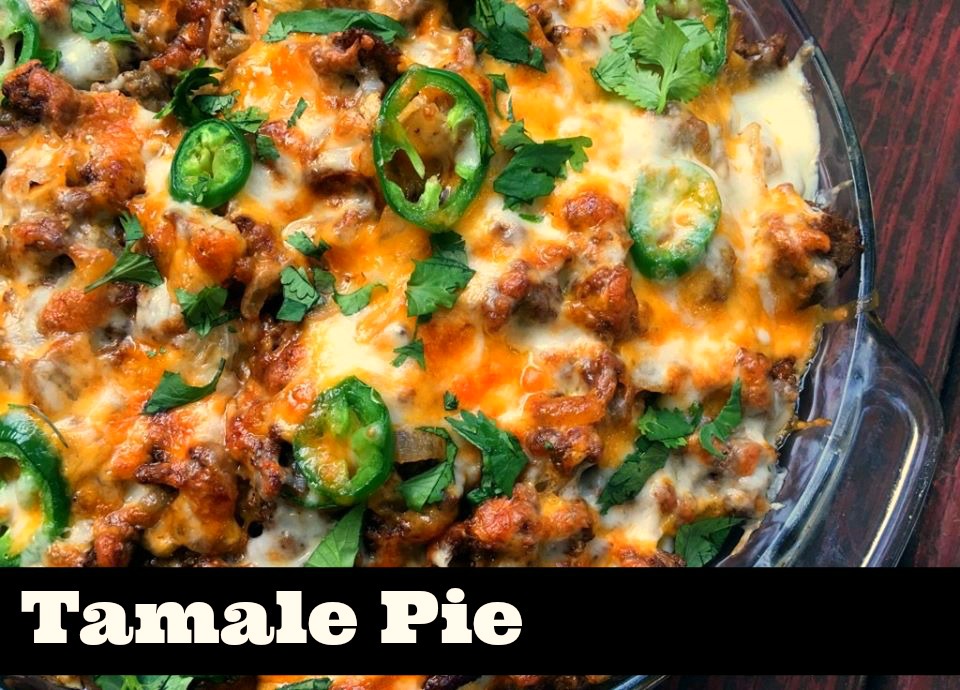 I snagged this recipe from my Aunt Susan and boy am I glad I did! Seriously, you guys, stop what you are doing RIGHT NOW and jot down the ingredients to make this Tamale Pie. This is my absolute favorite Mexican casserole to date and y'all KNOW how much we love us some Mexican casseroles around here!
This casserole was crazy easy and next time, I am doubling it and making it in a 13×9 pan because I know the leftovers would have been even better and we didn't have a single bite left. 😉
I especially love reading your amazing reviews, comments and tweaks for my recipes! Check out some of my faves:
Made this tonight…Some of the softest cornbread ever!! and used diced green chiles instead of jalapenos…Amazing little dish!!!
Made it using my cast iron skillet. Came out beautiful. My picky as all get out 16 year old son ate more than half of it. So finally something else that can successfully be put into our rotation. Thank you so very much!!
Loved this and so did the family! Thanks for posting! It's always good to have a new recipe to add to the rotation!
This is the third time that I have made this recipe. My family requests it! I add a can of Hatch chopped green chilis, sliced black olives and extra chili powder, cumin and salt. and I use a 9 X 12 glass dish. I also use the large can of enchilada sauce It all works out so well. I think it is the fabulous cornbread mix on the bottom….usually on top, of course. We love this recipe!!!!
This is an awesome recipe! I made it with the beef and one with just straight vegetables using squash, zucchini, red onion, broccoli, cauliflower, carrots, corn and black beans followed all the instructions and same ingredients and seasonings with no meat and it went over bigger and better than the beef !!! We love both Thx Jim
Check out more of my most popular casserole recipes, or keep scrolling for the Tamale Pie Recipe you came for:
I hope your family tries and loves this Tamale Pie as much as we do!
Ingredients
1 box JIFFY corn muffin mix
1 egg
1/2 cup sour cream
1/2 cup creamed corn
1 lb ground beef
1 onion, chopped
3 cloves garlic, minced
1/2 tsp salt
1 tsp. cumin
1 tsp. chili powder
10 oz can red enchiladas sauce (divided)
cheddar cheese, shredded
Monterey jack cheese, shredded
small handful cilantro leaves, chopped
Fresh jalapeño, chopped (optional)
Sour cream
Instructions
Preheat oven to 400 degrees. Grease an 8X8* pyrex casserole pan. Combine egg, sour cream, creamed corn & jiffy mix and bake in casserole dish for 20 minutes or until golden brown. Remove from oven and set aside.
Meanwhile brown ground beef & onion. Add the garlic the last minute. Drain grease and add salt, cumin & chili powder.
Poke holes all in the cornbread. Pour 1/2 cup enchilada sauce all over the cornbread. (Save the remainder for serving) Then spoon the meat mixture over the cornbread and top with lots of cheese. Bake for 20 minutes or until brown and bubble. Top with chopped cilantro & (optional) jalapeños and serve drizzled with the leftover enchilada sauce and sour cream 🙂
***I broke my 8×8 pan last week so I had to use a pie pan, it fit (barely) but I wasn't able to put as much cheese as I would have liked. Next time, I will use an 8×8 because Mama likes a lot of cheese
7.8.1.2
124
https://auntbeesrecipes.com/2016/08/tamale-pie.html