Easy Chicken Parmesan Casserole
Easy Chicken Parmesan Casserole is a one-dish dinner that's easy to prepare and incredibly family-friendly! Everything you love about Chicken Parmesan you will find in this belly warming 'dump and go' casserole.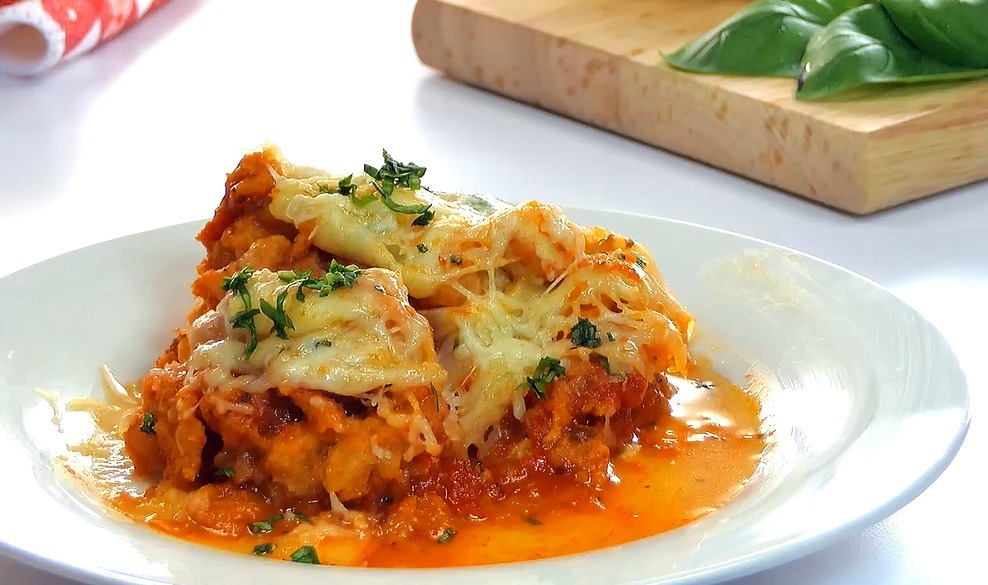 My sister has been making this casserole for the past couple of years and just raves about it every time. I figured it was about time I made it myself and shared the recipe with you guys 😉
This is such an easy recipe. There is no precooking involved. You just cut the raw chicken into bite size pieces and the chicken cooks right in the casserole! You could serve this over buttered spaghetti noodles, some fettuccine alfredo, on toasted subs to make a KILLER chicken Parmesan sandwich or just with a side salad and garlic bread. The possibilities are endless!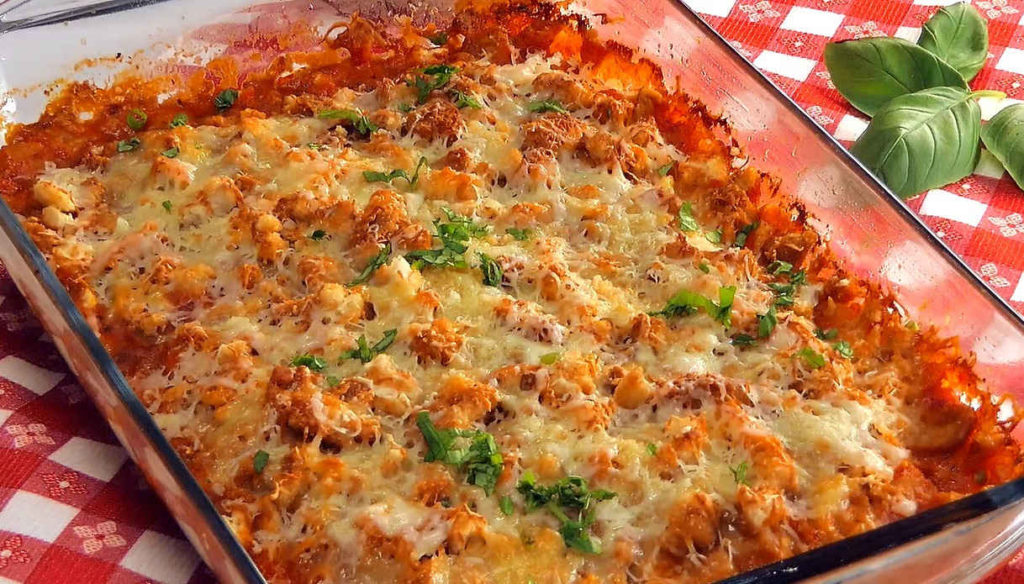 This is a great one to prep ahead of time and then just pop in the oven an hour before dinner. The croutons in this recipe give you the crunch of chicken Parmesan without having to batter and fry the chicken. LOVE this one! One more thing: I don't always use fresh herbs, but the fresh basil in this recipe REALLY makes this dish! Don't skimp on it this time!
Check out more of my most popular casserole recipes, or keep scrolling for the Easy Chicken Parmesan Casserole Recipe you came for:
Easy Chicken Parmesan Casserole
Ingredients
2 lbs raw chicken breasts, cubed into bite size pieces
3 cloves garlic, minced
1/4 tsp crushed red pepper flakes
1/4 cup finely chopped fresh basil
25 oz jar marinara sauce
3 cups shredded mozzarella, divided
1/2 cup shredded Parmesan cheese, divided
5 oz bag garlic croutons roughly crushed (leaving some bigger pieces)
Instructions
Preheat oven to 350 degrees. Generously butter a 9×13 casserole dish. Spread cubed raw chicken in the bottom of the dish. Sprinkle minced garlic, red pepper flakes, and basil evenly over chicken. Pour sauce evenly over the top. Combine the cheeses and sprinkle half over the top of the sauce. Top with crushed croutons and then the rest of the cheese mixture.
Cover loosely with foil and bake for 45 minutes. Remove foil and bake 15 minutes more. If the top starts to get too brown, cover loosely with foil. Allow to rest for 10 minutes before serving. Enjoy!
7.8.1.2
128
https://auntbeesrecipes.com/2015/10/easy-chicken-parmesan-casserole.html