Instant Pot Mississippi Coke Roast
Instant Pot Mississippi Coke Roast could not be any easier and more delicious! The Insta Pot has this chuck roast fall apart tender in under 1 hour! Absolutely AMAZING! My family LOVES this Roast!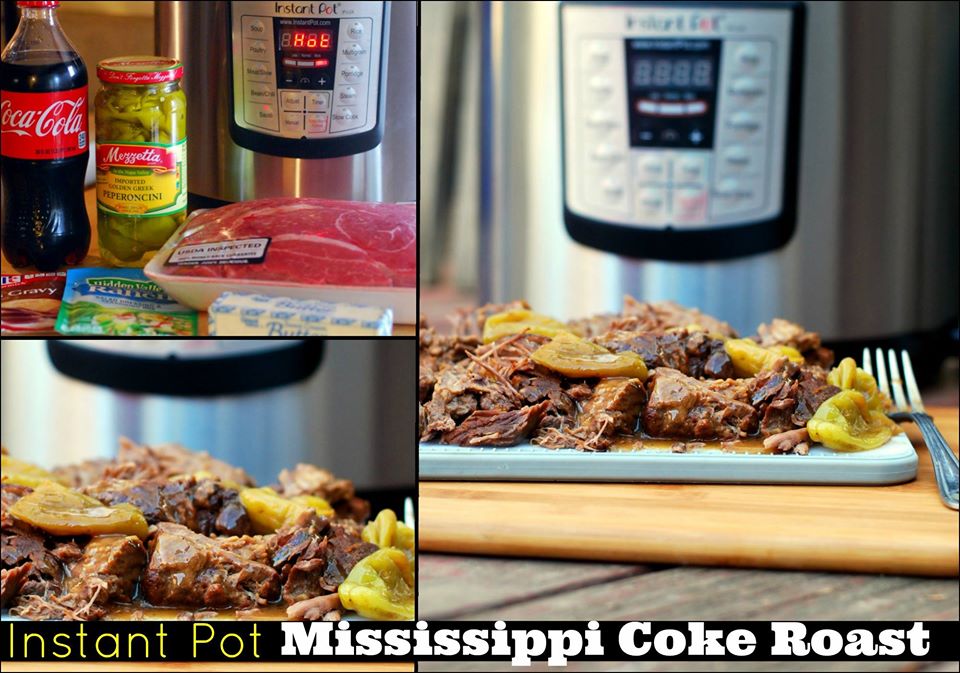 Good morning!!!  Can you believe Christmas is only 3 days away?  I got my Christmas present a week early and have had so much fun playing with my new toy!!!  I am now the proud Owner/Mommy/Girlfriend/Slave to an INSTANT POT!!!
        I have been a member of several instant pot facebook groups for months so I have about 50 recipes already bookmarked to try as well as old favorite recipes of ours I want to adapt for the pressure cooker.  But, the first recipe I made, I wanted it to be VERY SIMPLE, TRIED & TRUE, and DELICIOUS!  Basically newbie proof.  LOL!
I decided to go with a variation of that infamous Mississippi Roast that everyone just raves about.  The Instant Pot was absolutely MADE for cooking a chuck roast.  The only difference in how I make my Mississippi roast and everyone else's, is I prefer to use a soda (coke) as my liquid instead of the pepper juice.
         The sweetness of the coke really balances the tangy-ness from the other ingredients.  I got the coke substitution idea from my friend, Mary, over at Deep South Dish years ago, and have never looked back!!!
So the instant pot is just as magical and amazing as everyone has been raving about.  I took a 3.5 lb chuck roast from raw to fall apart tender in about an hour.  Mind>Blown.
I am so looking forward to sharing more instant pot recipes with you guys!  Click here to order an instant pot of your very own!
Instant Pot Mississippi Coke Roast
Ingredients
3-4 lb Chuck Roast
2 Tbsp oil
1 packet Ranch Dressing Powder
1 packet Au Jus Gravy Mix
1 cup coca cola
5 or 6 Pepperoncini Peppers from a jar
4 Tbsp butter

For Gravy

2 Tbsp cornstarch
2 Tbsp milk
Instructions
Turn the Instant Pot to the Saute function and adjust to the HOT setting. While it is heating, cut roast in half or 4 pieces. Once pot is hot, add 2 Tbsp oil and brown roast on all sides. (You can do this in 2 batches if need be)
After the roast has browned, place all of roast pieces back in the pot and sprinkle with ranch and au jus powder. Pour coke over and top with 6 peppers and the butter.
.
Close the lid, making sure the pressure release valve is closed. Press the Meat program button, and adjust the time to 40 minutes. The pot should reach pressure within 10-15 minutes.
Once the pot reaches pressure, it will begin counting down. Once it has finished it's cooking program, it will beep, then allow roast to remain in pot for 20 minutes NPR, for a natural pressure release. Release any pressure left at that time, removing roast to a platter and covering with foil.
For the gravy: Combine cornstarch and cold milk and stir until smooth. Turn the instant pot to the saute fun. Stir the smoothed cornstarch mixture into the pan juices in the instant pot. Stir until thickened and serve over mashed potatoes! ENJOY!
7.8.1.2
165
https://auntbeesrecipes.com/2016/12/instant-pot-mississippi-coke-roast.html
*I am not affiliated with Instant Pot in any way.  I am an amazon affiliate so if you do order one from the link provided, a small percentage goes towards the blog!  Thank you for your support!