Easy BBQ Pulled Pork 'for a crowd'
If you're looking for the absolute tastiest, easiest BBQ pulled pork recipe 'for a crowd'  look no further!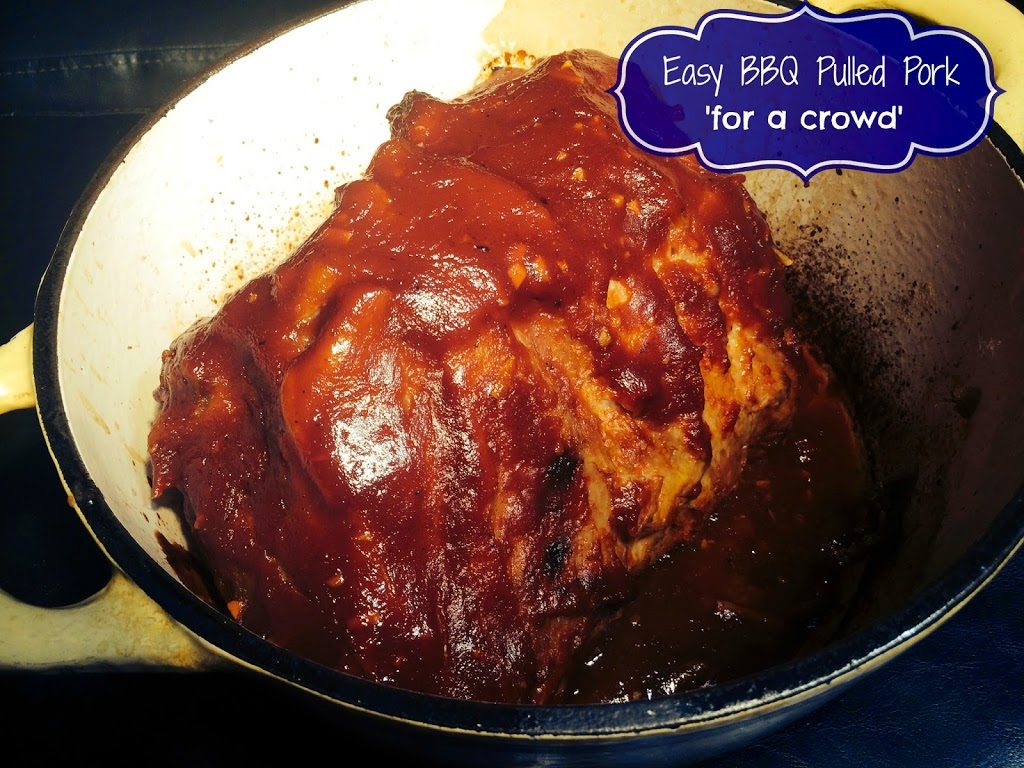 My mama used to make this pork roast when we were growing up and it is still one of my all time favorite recipes.  It takes a little bit of time, but it isn't difficult at all.  I do make a rather large pork roast when I do prepare it because it freezes beautifully! I freeze extra in 1 lb packages to make quick weeknight meals of bbq stuffed baked potatoes, bbq salad, bbq nachos, bbq pizza or bbq sandwiches (just some some of our favorites!)  
This recipes calls for a 10 lb boston butt but you can easily modify it to fit a smaller one if  you wanted!  
Easy BBQ Pulled Pork 'for a crowd'
Ingredients
10 lb Boston Butt Pork Roast
1 cup vinegar
1 Tbsp salt
1 cup of your favorite bbq sauce (for this recipe with love kraft original)
2 cups ketchup
2 Tbsp vinegar
4 cloves garlic, minced
Instructions
Place roast in a large stock pot.
Add vinegar and salt to the pot then cover the roast completely with water.
Bring to a boil over medium high heat and boil for 1 hour.
Reserve some of the cooking liquid.
Carefully remove roast to a roasting pan or dutch oven with a lid.
Add about 1 inch of cooking liquid to the bottom of the pan.
Cover and cook for about 3 1/2 hours at 350 degrees.
Carefully ladle out any excess liquid that has pooled in the bottom of the pan, leaving only about 1 inch.
Mix together ketchup, bbq sauce, minced garlic and vinegar.
Pour half of the bbq sauce mixture over the roast and cover and cook for 20 more minutes.
Remove lid and cook for 10 more minutes.
Allow to rest and cool slightly before shredding.
After shredding, pour the remaining bbq sauce mixture over the top.
7.8.1.2
246
https://auntbeesrecipes.com/2015/02/easy-bbq-pulled-pork-for-crowd.html