Easy Provolone Chicken Bake
Easy Provolone Chicken Bake is a great weeknight casserole. Creamy, cheesy, tender chicken, perfect over noodles or rice!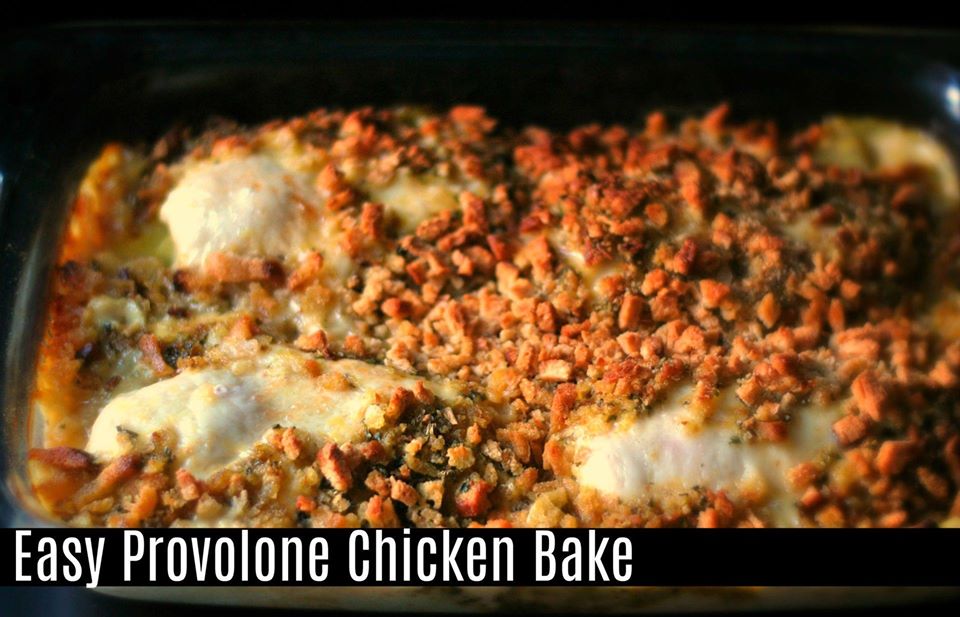 Edited to add: This has officially became the most popular casserole recipe on my site! Thank y'all for all of the amazing feedback and I am so glad you and your families are loving this easy recipe as much as we do!
Check out this amazing review:
I made this for supper tonight.. OMG!! this was so amazing. I did make a few changes to it. I used soy milk instead of regular milk and colby jack cheese instead of provolone, cause thats what I had in my fridge and it tasted GREAT! The only thing I would do different is maybe find some way to get the butter to be poured over all of the stuffing, because the stuffing that didn't get butter on it was really hard when it came out of the oven. I put it over plain white rice and that made the dish. It helped balance out the saltiness of the butter and seasonings from the stuffing.
It's easy and delicious, we have been having it almost once a week and serve it with rice. Have substituted cream of mushroom soup and just as good.
I don't remember where I first saw this recipe, but I made it years ago as written with Swiss cheese as the original recipe called for. My hubby and kids aren't huge Swiss cheese fans so it just got a 'meh' out of them. I saw the recipe again last week and decided to try it with their fave cheese (provolone!) and it got rave reviews! #winning It is seriously one of the easiest meals I have ever put together. We served it over white rice with steamed broccoli as a side and everyone was super happy!
I do have to add that this meal is a lot higher in sodium that what we are used to. Please make sure to use unsalted butter in the recipe and do not season the rice or noodles you serve it over. There will be plenty of salt in this dish without it from the stuffing, soup and cheese!
Easy Provolone Chicken Bake
Ingredients
4 boneless, skinless chicken breast
sliced provolone cheese (I used 2 slices per breast because we
1 (10.75 oz) can cream of chicken soup
1/4 cup milk
6 oz package of stovetop chicken flavor stuffing mix
1/2 cup UNSALTED butter, melted
Cooked rice or egg noodles for serving
Instructions
Place chicken breast in a greased 13×9 baking dish. Top each breast with 2 slices provolone cheese. Combine milk and cream of chicken soup and spread over top of cheese. Sprinkle stuffing mix all over the top of the dish. Drizzle melted butter over stuffing mix. Cover with foil and bake in a 350 degree oven for 45 minutes. Remove foil and bake for 15 more minutes to crisp up the stuffing topping. Serve over rice or noodles
7.8.1.2
6
https://auntbeesrecipes.com/2015/01/easy-provolone-chicken-bake.html