Chicken Cordon Bleu with Parmesan Cream Sauce
This Chicken Cordon Bleu with Parmesan Cream Sauce is one of our family's favorite celebration meals! We also love it for a date night in or a delicious Sunday Supper! SO GOOD!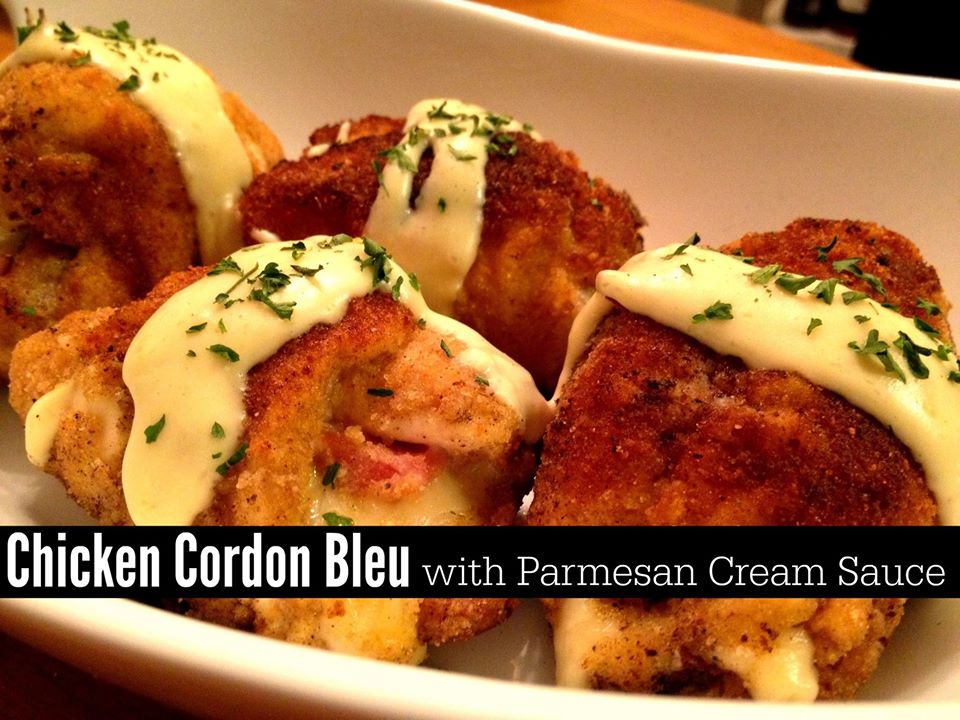 This is a 'fancier' version of one of our favorite meals: Chicken Cordon Bleu. It gets rave reviews from everyone!! And gosh, it sure turns out pretty! We serve it with a green veggie like green beans or
lemon roasted asparagus
and the extra Parmesan Cream sauce is SO GOOD over some leftover mashed potatoes!
Check out some of the most recent recipes reviews for the Chicken Cordon Blue with Parmesan Cream Sauce:
I love to cook and I am always looking for new recipes for my daily menu, which is interesting for my work. Today is my lucky day, Chicken Cordon Bleu with Parmesan Cream Sauce is great, just follow the instructions and everything is easy, I like it. Thanks for your sharing!
Your chicken cordon bleu with parmesan cream is really delicious and looks so amazing. My son loves to eat so much. Thank you a lot for your creative and sharing.
Made this last night and it was so good my son was speechless. Besides the fact that this was the first time I made chicken cordon bleu or any of us have had it . thank you for the recipe I paired it with some green beans and mashed loaded cauliflower and everyone was quiet at the table .
I made this twice a few months ago. It is delicious!! I'm cooking for my father tomorrow and when discussing with my husband what we should serve he reminded me about this recipe. So glad I added it to my favorites. Cant wait to cook this for Dad.
I can't wait for YOUR family to try this favorite recipe of ours!!!
Here are a couple more of my most viral, popular 'fan favorite' chicken recipes, or keep scrolling for the Chicken Cordon Bleu with Parmesan Cream Sauce recipe you came for!
Chicken Cordon Bleu with Parmesan Cream Sauce
Ingredients
For the Chicken

2 Chicken Breast, halved and pounded thin (So 4 total pieces of meat)
leftover baked ham or your favorite good quality ham deli meat
Swiss Cheese
3/4 cup all purpose flour
1 tsp Lawry's seasoning salt
1/2 tsp black pepper
1 egg
2 TBSP milk
1 cup Bread Crumbs
2 TBSP Vegetable oil
2 TBSP butter

For the Parmesan Cream Sauce

2 TBSP butter
2 TBSP all purpose flour
1 cup milk
1 tsp Garlic Powder
1 chicken flavored Bouillon cube, crushed
1 TBSP Dijon mustard
1 tsp Worcestershire sauce
1/2 cup grated Parmesan
Instructions
Preheat oven to 350 degrees. Slice both chicken breast in half lengthwise, making 4 thinner cutlets. Put each cutlet inside a freezer bag and flatten with a meat pounder or rolling pin until they are approximately 1/4? thick. Top each cutlet with a slice of ham and cheese – then roll up tightly, tuck in the ends and secure with toothpicks. In a shallow bowl, mix the flour, Lawry's, and pepper together and set aside. Whisk the egg and milk together in another small bowl and set aside as well. Place the bread crumbs in a third bowl. Dip the rolled cutlets in the flour first, then the egg wash and then roll in the bread crumbs and set on a plate. Heat the oil and butter in a small skillet over medium heat and brown the chicken on all sides before transferring to a greased baking dish. Bake in the oven at 350 degrees for about 20 – 25 minutes, or until no longer pink.
While the chicken is baking, make the cream sauce: Melt the butter in a medium saucepan over medium heat. Whisk in the flour, and continue to whisk constantly for about 1 – 2 minutes. Slowly pour in the milk, then stir in the garlic powder and chicken boullion, whisking constantly over medium heat until it begins to simmer and thicken – about 5 minutes. Remove from heat and stir in the mustard, worcestershire sauce, and parmesan until well combined and the cheese has melted. When the chicken is cooked, remove from oven and serve drizzled with the sauce. Enjoy!!!
7.8.1.2
29
https://auntbeesrecipes.com/2013/12/chicken-cordon-bleu-with-parmesan-cream-sauce.html