Baked Asparagus with Parmesan
Baked Asparagus with Parmesan is the perfect side to just about anything! It is absolutely bursting with flavor and couldn't be any simpler to prepare!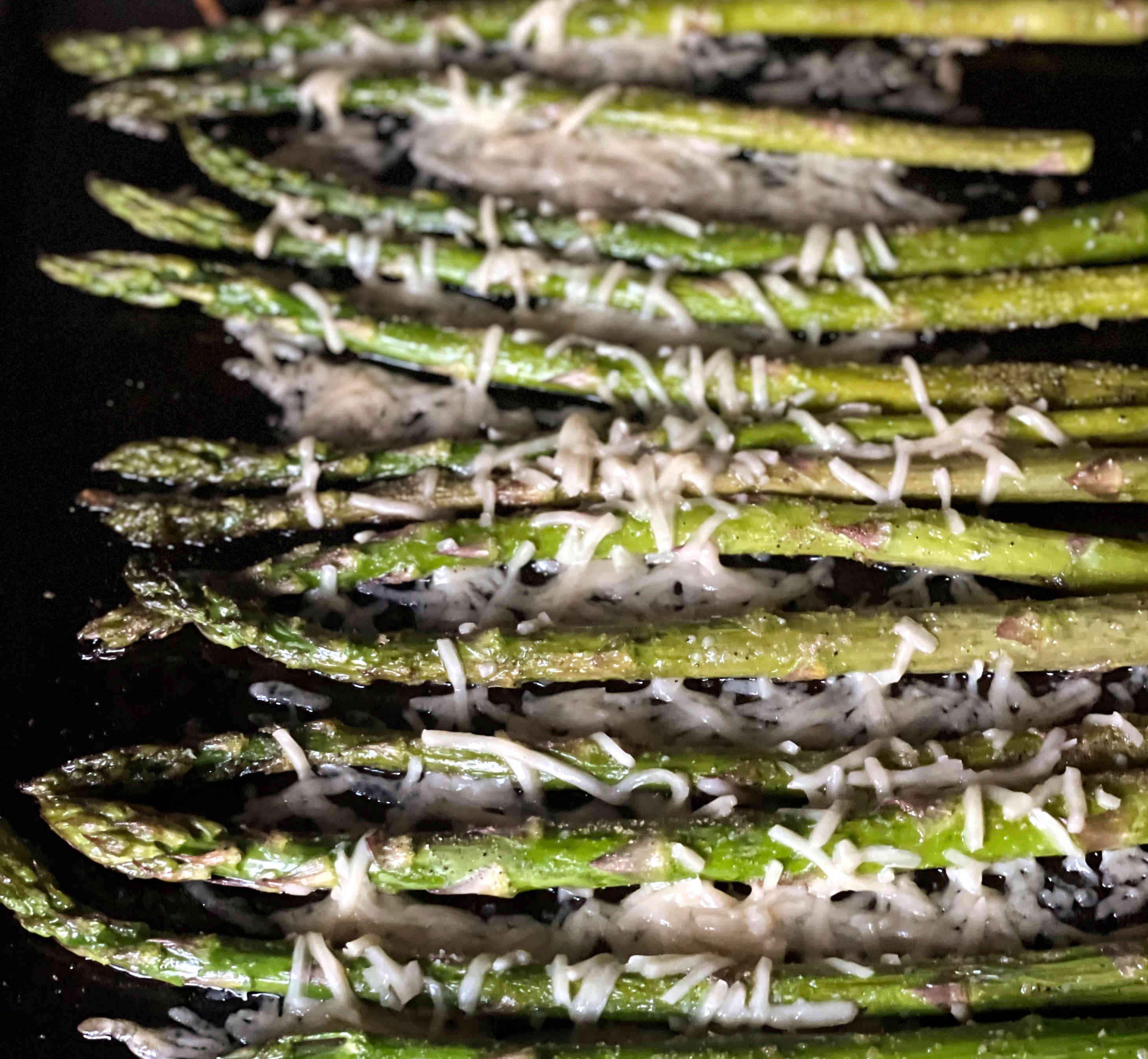 Asparagus is one of our favorite veggies! And all veggies taste best roasted and covered with Parmesan cheese! FYI: Asparagus is at the peak of its season in April so its the cheapest and best tasting right now! This Baked Asparagus with Parmesan is a simple & delicious dish that pairs with just about everything. It has the perfect balance of saltiness from the parmesan cheese and acidity from the lemon juice.
We absolutely LOVE this simple and easy recipe. It only takes 10 minutes to cook so its literally the perfect Spring or Summer side. Scroll to the bottom for the Baked Asparagus with Parmesan recipe!

Welcome to Freaky Friday: Spring 2022! This group is the brainchild of my friend, Michaela's and it is SO MUCH FUN! For those of you that aren't familiar with Freaky Friday, it is a group of food bloggers that get assigned a secret blog and we get to choose any recipe we want to make from it for our own blogs. Then all of the recipes are revealed at the exact same time and we get to see who had our page and which recipe they selected! It has been a great way for me and my readers to find new blogs to follow, and I feel honored to be a part of it!
My absolute favorite part about being in this group is finding new to me bloggers I may not have otherwise. (I dont do as much recipe searching or trying new to me recipes as I used to in this busy season of our lives.) The blog I was assigned this go 'round was Tristin from Home Cooked Harvest.
I loved looking over her blog! She has so many recipes I am excited to try. She has a LOT of DELICIOUS looking air fryer recipes. I got an air fryer for Christmas that I have wanted FOREVER and it's still in the box because that's just the type of human I am…. so whenever I do get around to trying out the air fryer, Tristin's blog is going to be my go to for recipes!!!!!
Tristin makes healthy, family friendly meals perfect for busy families. She also loves dessert because #balance! 🙂 She loves naps and animals so we are obviously meant to be besties. I was so excited when I found out that she is from California, but moved to North Alabama, which is where we live, so we are actual neighbors!
Other than all of her delicious air fryer recipes, and I plan to make them ALL, I also am going to make her Easy Cheese Enchiladas and her Stuffed Poblano Peppers. (They look seriously DELICOUS!) And these Mexican Candy Shots? YES PLEASE!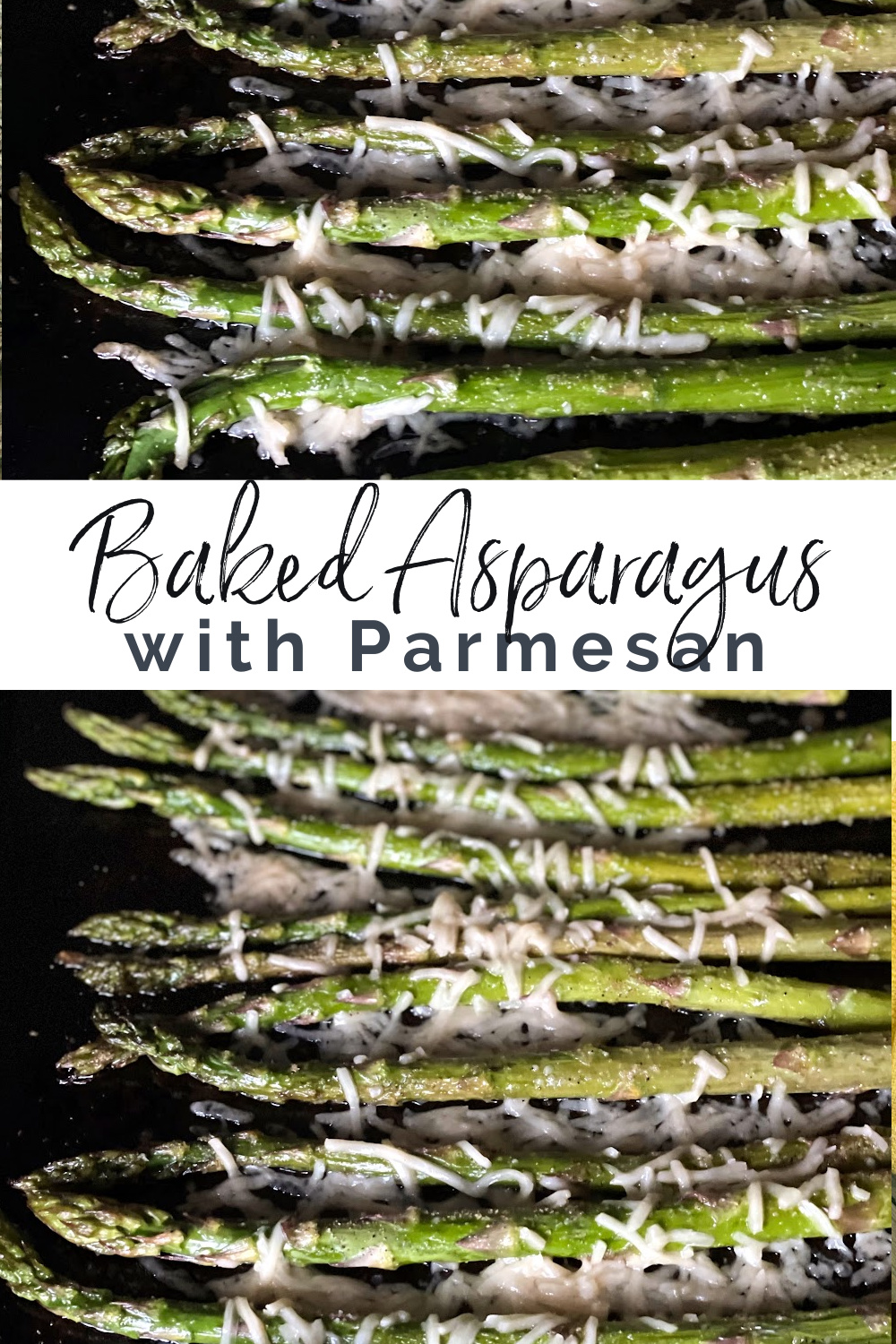 Now on the the DELICIOUS Baked Asparagus with Parmesan. I think my 12 year old son could eat his actual weight in asparagus. (and sauteed spinach too for that matter. He actually really likes a lot of healthy foods but will literally gag if he tries to eat eggs, so dont congratulate me TOO MUCH just yet!)
I love a simple quick veggie side. Makes weeknight dinners a breeze. We are on the low carb train again so this Asparagus has turned into a staple at our house. It pairs well with literally any meat! I hope you try it and love it as much as we do!
Baked Asparagus with Parmesan
Ingredients
1 pound asparagus or 1 bunch
2 teaspoons extra virgin olive oil
1 tablespoon lemon juice
1/2 teaspoon garlic powder
1/4 teaspoon salt
1/8 teaspoon freshly ground pepper
Instructions
Rinse the asparagus and pat dry.
Trim off the ends and lay them out in a single layer on a baking sheet. Coat with olive oil, then squeeze on lemon juice.
Sprinkle with salt, pepper, garlic powder, and top with parmesan cheese down the center of the asparagus.
Bake for 10 minutes.
7.8.1.2
277
https://auntbeesrecipes.com/2022/04/baked-asparagus-with-parmesan.html
See all of our 2022 Freaky Friday Spring Edition Recipes
Hosted by – An Affair from the Heart