Easiest Ever Chicken Marinade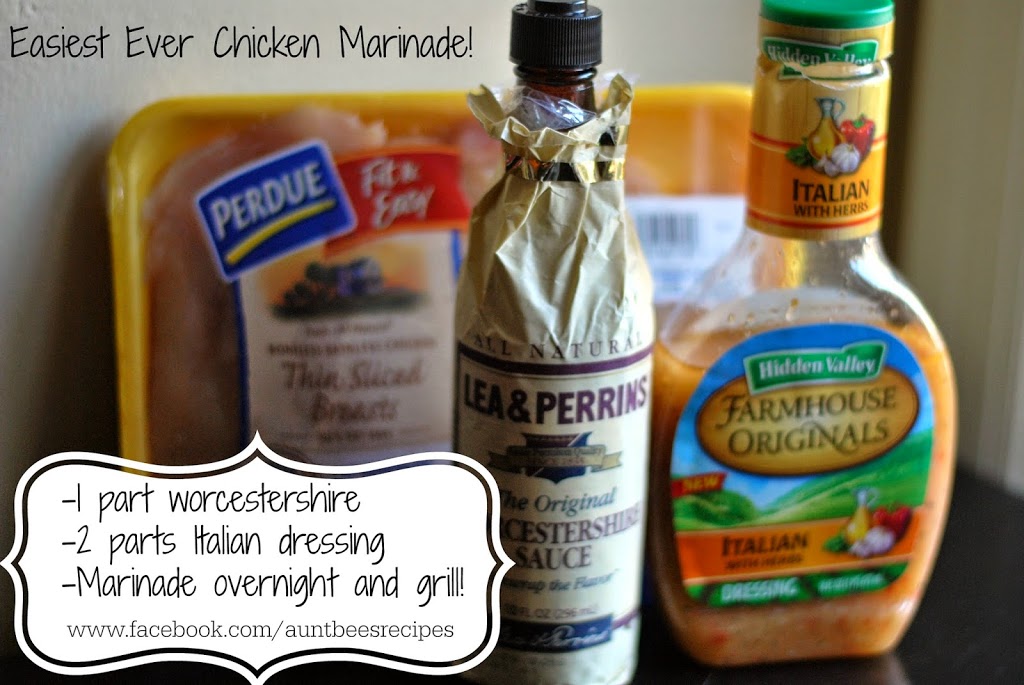 .
Confession time: When Uncle Bee and I first got married…. I didn't know how to cook. At all. Nothing. I finally figured out how to make spaghetti, hamburger helper, tacos and manwiches from the boxed mixes and cans. We lived off that for a few months. Uncle Bee wouldn't have hurt my feelings for anything. He happily ate the same thing week after week. He offered to make me some of his marinated grilled chicken (maybe he had finally gotten a little tired of hamburger helper….) It was DELICIOUS! Turns out he is QUITE the grill master! A whole new world opened up to me! I could make SO MANY THINGS with this delicious chicken!!!! We had fajitas, salads, sandwiches, all kinds of meals with fresh ingredients! To this day, his 'secret' family recipe marinade is still my favorite and reminds me of those newlywed days! Now if you will go excuse me, I am going to marinade some chicken and send Uncle Bee a sweet text 🙂
Easiest Ever Chicken Marinade
Boneless Skinless Chicken Breast
1 part Worcestershire sauce
We like to slice our chicken through the middle to make thinner cutlets. It is easier to grill and more marinade gets through the chicken. Combine Italian dressing and Worcestershire in a ziplock bag. Enough to cover the chicken completely. Add chicken and put bag in a bowl to protect from leaks. Refrigerate overnight and grill the next day! Enjoy!
*If using a gas grill, I add a Tbsp or so of liquid smoke to the marinade