PB & J Bar Cookies with Strawberry Jam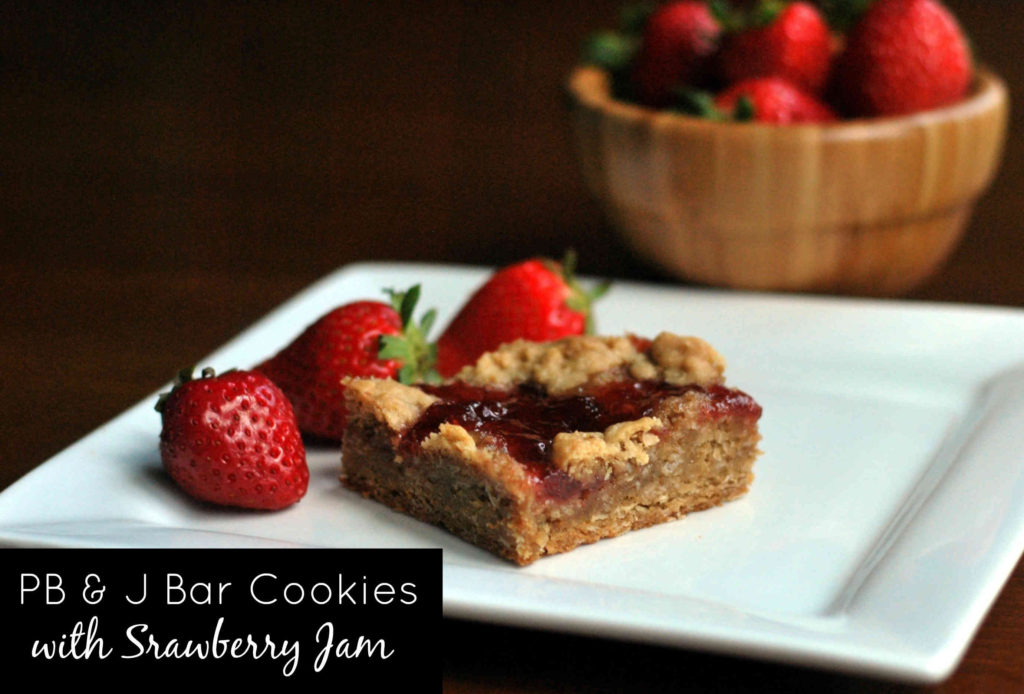 I am so excited to be participating in my 3rd Freaky Friday event! Freaky Friday is a recipe swap that I did with some of my blogger friends. We all were assigned a blog to make a recipe from and today we are ALL sharing our posts, and who we had! It's been TOP SECRET for a month! A huge thank you to my buddy, Michaela, from An Affair From The Heart, for putting this all together! To see my other Freaky Friday recipe picks, click here and here.

I was SO excited when I got my blog assignment for this post! Michelle from A Dish of Daily Life has some of the most beautifully photographed recipes I have ever seen. I spent HOURS looking over her blog and admiring photo after photo of delicious dishes! Pasta with her Lightened Up Pink Vodka Sauce, Ham Bone Soup with Great Northern Beans and Kale, and Homemade Hummus with Garlic Scapes are just a few that quickly caught my eye.
But seeing as my kids were out of school this past week for Fall break, I thought it would be fun to let THEM pick a recipe from her blog for us to make together. Y'all already know I don't do a whole lot of baking. At all. So needless to say my kiddos eyes went straight to her GORGEOUS PB & J Bar Cookies with Strawberry Jam. I started to tell them to pick something besides a dessert, but then I got to looking at them. Man oh man did they look scrumptious. And this WAS a school break. And Freaky Friday IS a special occasion. Ok. I was sold. We were going to make the cookie bars. I was more than sold. I was craving them. Haha!
Like I said, I don't consider myself much of a baker, but these were so easy to make! These would make SUCH a fun after school treat. We absolutely DEVOURED them! My hubby loved them so much, he asked me to bake him another batch with blackberry preserves. Ha! If you like peanut butter cookies or peanut butter and jelly sandwiches, you are going to love these!!!
PB & J Bar Cookies with Strawberry Jam
Ingredients
2 sticks of salted butter, softened
1½ cups of light brown sugar, packed
½ cup creamy peanut butter
2 teaspoons baking soda
1 teaspoon vanilla
1 egg
2 cups all purpose flour
2 cups of oats
1 cup strawberry jam or preserves
Instructions
Preheat oven to 350 degrees.  
Line a 13 x 9 glass baking dish with foil and grease with butter.
Using a stand mixer, beat butter until smooth.  
Add brown sugar, peanut butter and baking soda and beat until combined.
Add vanilla and egg and continue to combine.
Add flour to mixture slowly, continue to beat until well mixed.
Remove bowl from mixer and fold in oats with a spoon.
Set aside 1/2 cup of dough and press the rest of the dough into the greased, foil lined baking dish.
Spread jam or preserves across the entire top of the dough.  
Sprinkle pieces of reserved dough across the entire top.
Bake for approximately 35 minutes or until you can insert a toothpick cleanly.
Remove from oven and allow to cool completely.  
Once cool, remove from pan using the foil and cut into bars or squares.
7.8.1.2
266
https://auntbeesrecipes.com/2015/10/pb-j-bar-cookies-with-strawberry-jam.html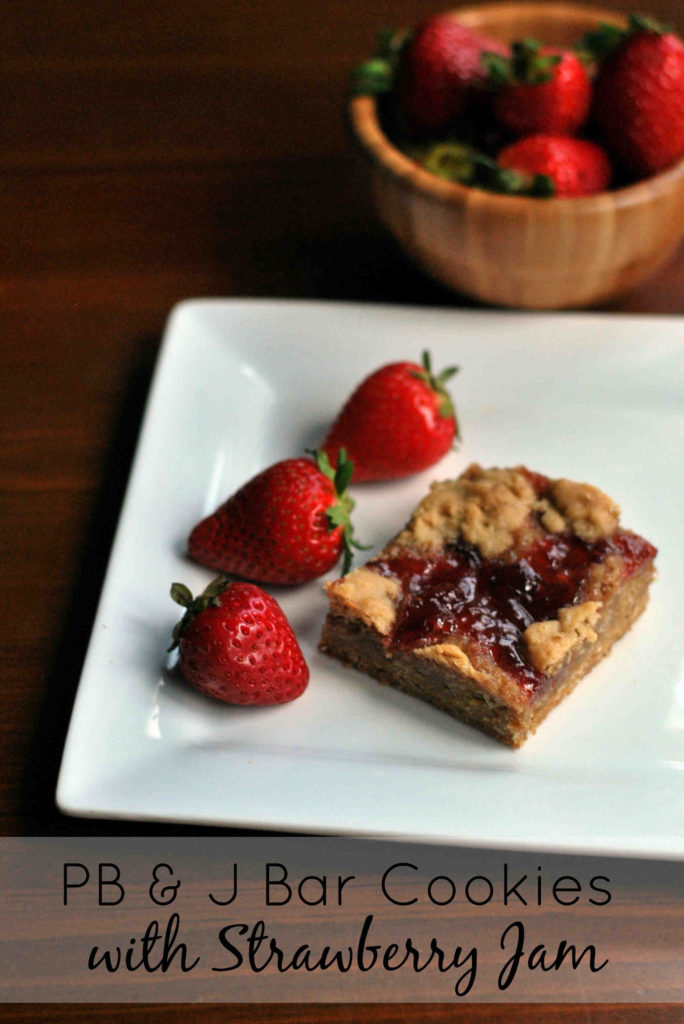 Other participating bloggers in our #freakyfriday group!
A Dish Of Daily Life || A Kitchen Hoor's Adventures || An Affair from the Heart || Aunt Bee's Recipes || Belle of the Kitchen || Cooking on a Budget || Full Belly Sisters || Honey and Birch || LeMoine Family Kitchen || Pic-Nic || The Flavor Bender || The Foodie Affair || The Magical Slow Cooker || Who Needs A Cape || Wildflour's Cottage Kitchen