Southern Fried Cabbage
Southern Fried Cabbage is so simple yet absolutely ADDICTING!!! Bacon gives it the smoky flavor that is put over the top by a little bit of brown sugar and apple cider vinegar!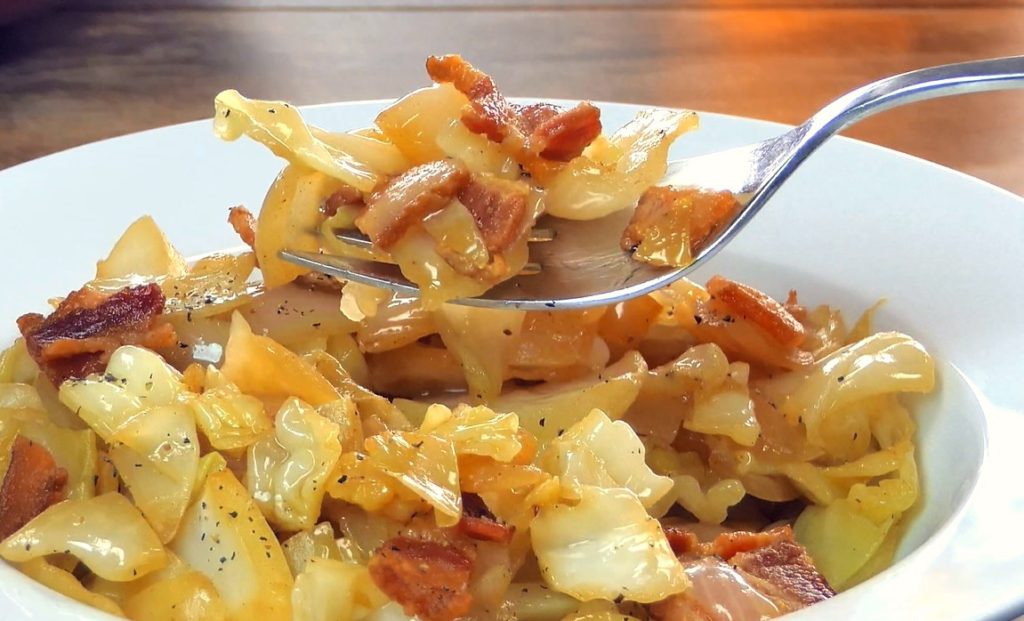 Edited to add:
Thank you guys for the incredible feedback for this recipe! Y'all have made it the all time number 1 vegetable side dish on my site! This is one of my favorite things to make in my dutch oven. Well, this and soup 😉 I am so glad you all are loving it! Here are just a few of the sweet messages and comments I have gotten over the years: (keep scrolling towards the bottom for the recipe and original post)
I personally love cabbage but I have been making this recipe for the past few months. It has become my go to recipe. Thank you so much for sharing it. #stapledish

I admit to being a cabbage junkie. I've tried other similar fried cabbage dishes over the years but last week I stumbled upon your version and had to give it a try….I'm hooked. My husband is hooked. My son is coming over later this week…I'm sure he will be hooked. Thank you so much for sharing such a wonderful dish!!

Thank you!! I did not like cabbage as a kid, however as an adult I love it. Tonight I decided to try another way of cooking it. This was wonderful. I haven't even completed the rest of my meal and I'm already eating this. Haven't decided if I will share this with my mom, and I'm sure you can figure out why… Lol. Thanks again.
Awww shucks you guys! You make me blush! Here was my original recipe post:
I can't believe after nearly 2 years of blogging, I am just now putting my fried cabbage on here. But the truth is, I had never even measured how much of anything goes in it. It was one of THOSE recipes. The other day, I am finally here today to remedy that.
Cabbage is one of my ABSOLUTE favorite veggies. It is SO versatile and I honestly could eat it every single night!! It really is the WORLD's BEST Southern Fried Cabbage! You will never make fried cabbage any other way again!
Ingredients
12 oz bacon, diced raw
1 head cabbage, chopped
1 onion, diced
2 Tbsp Worcestershire
1 Tbsp apple cider vinegar
2 Tbsp brown sugar
1 tsp garlic powder
black pepper to taste
Instructions
Add chopped bacon to a large pot.
Cook over medium heat until extra crispy.
Remove bacon from pot, leaving the grease.
Add cabbage to pot and cook over medium high heat for 10 minutes, Stirring every minute or so.
Add onion and continue cooking 5 more minutes, still stirring every minute.
Add Worcestershire, apple cider vinegar, garlic powder, & brown sugar.
Reduce heat to medium and continue cooking for 20 – 30 minutes, stirring occasionally, until cabbage is cooked through.
Add cooked bacon to cabbage and taste to adjust seasoning and serve.
7.8.1.2
5
https://auntbeesrecipes.com/2015/02/southern-fried-cabbage.html