Lemonade Pie
       When my friend Dan, from Platter Talk, offered to put together a guest post together for the blog while I am recovering, I knew we were in for a treat and boy did he deliver!  Y'all are going to love this!  The only thing I like more than lemon desserts, are 'no bake' lemon desserts and friends like Dan!  

Here is Dan with his Lemonade Pie:
We've all had unexpected turns in our paths where for one reason or another it was necessary to put life on hold.  Illnesses, deaths, natural disasters and other accidents – no one likes any of these things but they are as much a part of life as the events that bring us joy.  In real life when calamity strikes, friends often pitch in.  Farmers help their neighbors with crops and chores, town folk might take care of their neighbor's pets or mow their yard.  Often times people will drop off food of for families experiencing a stressful event.   Strange as it may sound, the same thing happens in the virtual world of food blogging.  When my friend Brandi from Aunt Bee's Recipes returned from the hospital after a serious illness, I asked if there was anything I could do for her and I threw out the suggestion of doing a guest post for her as it was just a month or so ago when I made some Lemon Bars for her site.  Her reply was, "I'd love a guest post!"  Well, Brandi, I'm not sure if a slice of lemonade pie will help to speed your recovery or not but I figured that it sure can't hurt.
Scott brought this recipe home from work, maybe a week or so ago, explaining to me that someone had brought in a very tasty pie, a Lemonade Pie.  "That's about the silliest thing I've ever heard of," I thought to myself.  How could you possibly make a pie out of lemonade?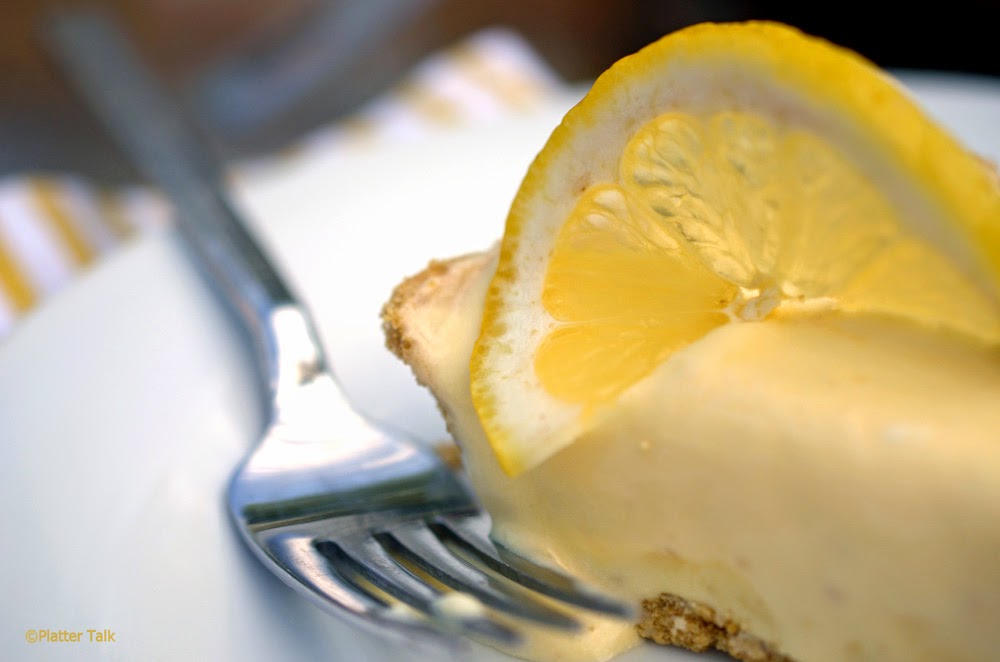 Pies are baked, right?  And besides, you can't put lemonade in a pie.  Right?  Wrong.   Way wrong.   I'm at the point in my culinary life where I have made scores of pies.  I've gotten pretty good at the crusts and have started to work with some new ideas for fillings that go between the crusts.   I have yet to make a frozen pie but after seeing Scott put this together last night, I realized how easy it is.
After allowing it to freeze over night and then putting this post together, I realized how delicious it is.  True, it's the middle of July.  Any kind of pie is going to taste pretty good right now but I found out that a frozen lemonade pie is going to taste especially good.   Friends, you have to try this one.  There is no crust making involved, there is no baking involved and there is very little mess involved.   It's light, it's creamy, it is lemonade pie and it is what we call double D:  Darn Delicious.   I hope you will try this and most of all I hope our friend Brandi is back on her feet, very soon.
Be Sure and Follow Platter Talk on Facebook and Never Miss  A Great Recipe!
    Recipe   
Ingredients
1 3/4 cups 2% milk

1 large box vanilla instant pudding

1 small box French vanilla instant pudding

1 (12 oz) can frozen lemonade concentrate (thawed)

1 8 oz. container Cool Whip (unthawed)

1 graham cracker crust 
Instructions
Pour milk into large mixing bowl.

Whisk

in puddings until smooth.
Add lemonade concentrate and stir.
Fold in entire container of cool whip.
Pour into graham cracker pie crust and freeze overnight.
Garnish with lemons if desired.