20 Minute Chicken Fajita Skillet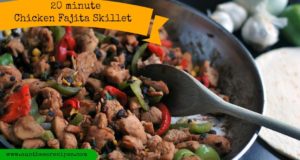 Hello there! This recipe is one of our favorite SUPER flavorful 1 skillet meals! It comes together in less than 20 minutes and you can use it to top a salad, serve it in warm tortillas or as a topping for nachos!!! The possibilities are endless really!
20 Minute Chicken Fajita Skillet
Ingredients
1.5 lbs Chicken Breast, raw, chopped into bite sized pieces
1/4 cup reduced sodium soy sauce
1 red bell pepper, sliced
1 green bell pepper sliced
3 cloves garlic, finely chopped (fresh is BEST)
1 can black beans, drained
Directions
In a large skillet, melt butter and add bite sized chicken pieces over medium high heat. Brown for 8 – 10 minutes. Add bell peppers and onions. Cook for 5 more minutes. Add the garlic and cook for 1 minute, stirring constantly. Add lime juice, soy sauce, and brown sugar, corn and black beans. Continue simmering on low for 5 more minutes. Taste to check seasonings and add salt and pepper if desired. Serve over warm tortillas, as a nacho topping or on top of salad greens with your favorite dressing!
*********NEW********* Never miss another recipe! Sign up to receive my daily recipe in your email inbox! All you have to do is enter your email address at the upper right corner of my website! Thank you for being here! <3 Aunt Bee
These are recipes from my friends and other blogs that I found around the internet this week that I thought y'all might like!