Stuffed Bell Peppers
These Stuffed Bell Peppers are one of our favorite comfort food meals and a meal planning staple at our house! All you need are a few pantry ingredients, bell peppers, ground beef and the secret ingredient: Tony Chachere's Creole Seasoning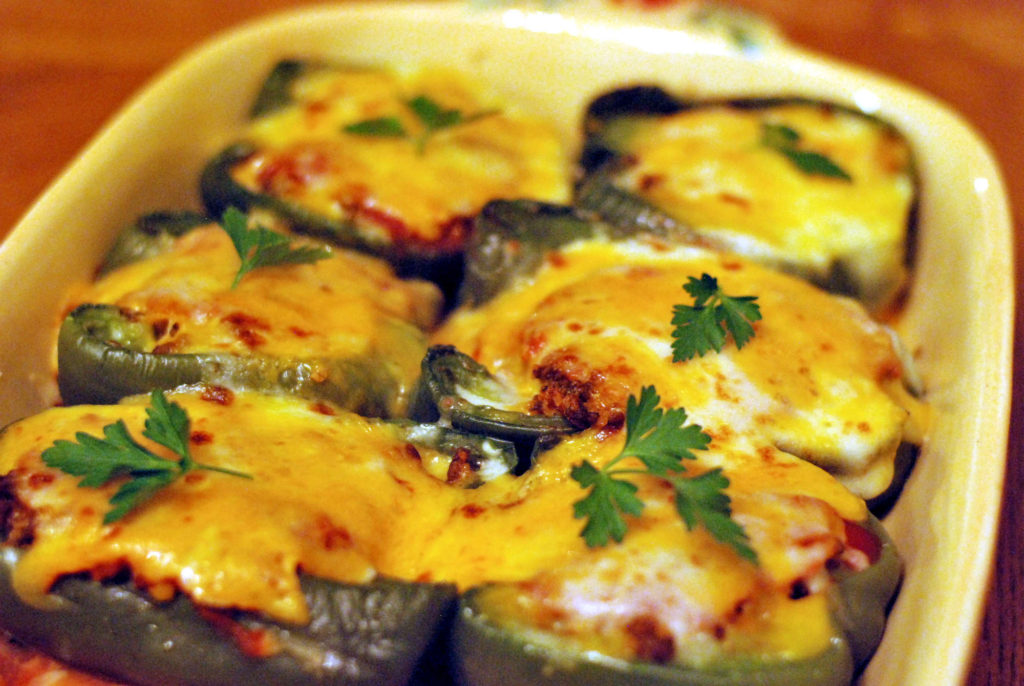 Stuffed Bell Peppers are one of my all time favorite comfort food meals. It's definitely one that any leftovers makes a great lunch the next day. I think the leftovers taste even better! This is one of our very favorite make ahead meals! You can prep it in the morning or even a day or 2 before and just pop it in the oven 40 minutes before dinner time! It also happens to be just about the tastiest thing I have ever put in my mouth!!!!
I got this recipe from a friend of mine years ago. She brought it to work and it smelled so good when she warmed it up. Of course I had to try a bite and then immediately asked her for the recipe. Tony Chachere's Creole Seasoning is the secret ingredient and absolutely takes these stuffed peppers to the next level.
Ingredients
4 Bell Peppers
1 lb ground beef
1 small onion, finely diced
1 tsp minced garlic
1/2 tsp salt
1/4 tsp black pepper
1 tsp Tony Chachere's creole seasoning
1 egg
1/3 cup quick cooking oats
1 TBSP Worcestershire
15 oz can tomato sauce (divided)
shredded cheese of your choice
Instructions
Slice bell peppers in half from stem to end and put in a large pot of boiling, salted water for 5 minutes,
Drain peppers and place on paper towel, set aside
In a skillet, brown the hamburger with the onion. Add minced garlic the last minute. Drain off excess grease.
In a large bowl, add in the meat mixture, salt, black pepper, creole seasoning, oats, Worcestershire.
Mix half the tomato sauce with the egg in a small bowl to temper it. (Set aside the other half the tomato sauce for topping.)
Add the egg and tomato sauce mixture to the meat mixture. Mix thoroughly.
Lay the bell pepper halves side by side in a casserole dish & spoon the meat mixture inside.
Top with the remaining tomato sauce.
Bake at 350 degrees for 30 minutes.
Top with cheese and bake for 5 minutes more.
7.8.1.2
101
https://auntbeesrecipes.com/2014/04/stuffed-bell-peppers-featuring-tony.html