Balsamic Roast Beef and Cilantro Almond Rice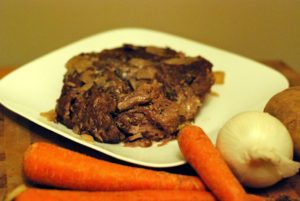 Hello everyone!  I am checking in with day 4 of our eMeals week!  Our dinner was Balsamic Roast Beef and Cilantro Almond Rice.  Normally when recipes call for wine, I cut it with a little bit of broth because we don't like a strong wine taste.  What I mean by that is: if a recipe calls for 1 cup of red wine, I use 1/2 cup Red Wine and 1/2 Cup Beef Broth, or if a recipe calls for 1 cup of white wine, I use 1/2 cup white wine and 1/2 cup Chicken Broth.  This gives it a good flavor without the wine being too overpowering.  I decided to go ahead and make this recipe as written in order to be able to give it a complete review.  As soon as I took the lid off the crock pot, it gave off an overwhelming wine smell.  At this point, I started searching the freezer for pizza rolls.  Then I tried the broth.  Other than tasting a little too wine-y, it was GOOD!!!!  Like, REALLY good!  So I did what any southern lady would do.  I grabbed a carton of sour cream and stirred it into the broth and the Angels in heaven started singing.  (Cream of mushroom would also be great stirred in, instead of sour cream) MAN it was SO GOOD!  I did add 1 tsp of salt to the roast after it was cooked, but y'all already knew that   😉  
Balsamic Roast Beef (
Recipe Courtesy eMeals
)
1 teaspoon kosher salt,½ teaspoon pepper
1 cup red wine (I would substitute 1/2 cup red wine and 1/2 Beef Broth instead)
*At the end, I added 1 tsp Salt to the roast and stirred in 1 cup sour cream or cream of mushroom soup into the juices
Heat oil in a skillet over medium-high heat; rub beef with garlic, salt, and pepper. Cook beef 2 minutes per side or until browned. Transfer to a 5- to 7-quart slow cooker. Stir in broth, wine, vinegar, and onion. Cover, and cook on Low 6 to 8 hours or until meat is tender. Remove Roast from slow cooker and set aside.  Sprinkle Roast with additional salt.  Stir 1 up Sour Cream or Cream of mushroom into the juices to thicken the gravy and make it creamy.  Serve over Cilantro Almond Rice.
 Yummy!!!!  This was SO good and so versatile.  I can think of SO many meals that this rice would be great in!  The only problem I had, was in the ingredients list, it had 1/4 cup Chicken Broth listed, but didn't tell me when to add that in the recipe instructions?  I could have emailed and asked eMeals, who has amazing customer service, but  I was in a bit of a rush so I just winged it and I guess I did it right because it turned out SOOOO yummy!  
Cilantro Almond Rice (
Recipe Courtesy eMeals
)
4 teaspoons chopped fresh cilantro
Cook rice as directed on package. Melt butter in a large skillet over medium-high heat; add onion, almonds, garlic salt, and lemon pepper.  Cook 5 minutes or until onions are tender. Stir in the cooked rice. Remove from heat; add cilantro before serving. 
(It didn't tell me when to add the 1/4 cup chicken broth, so I added it when I added the cooked rice.  It turned out great)


Check out my top 20 favorite slow cooker recipes here!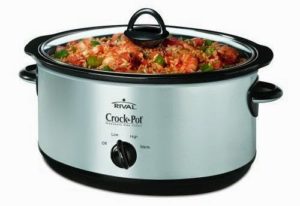 I love to hear from you!  Email me at AuntBeesRecipes@gmail.com
<3 Aunt Bee
*emeals has graciously offered me a 1 year membership in exchange of a review here for y'all on the blog.  All opinions are my own.