Dilled Ranch Potato Wedges
Dilled Ranch Potato Wedges are your NEW FAVORITE way to roast potatoes! The dill absolutely MAKES this yummy side dish!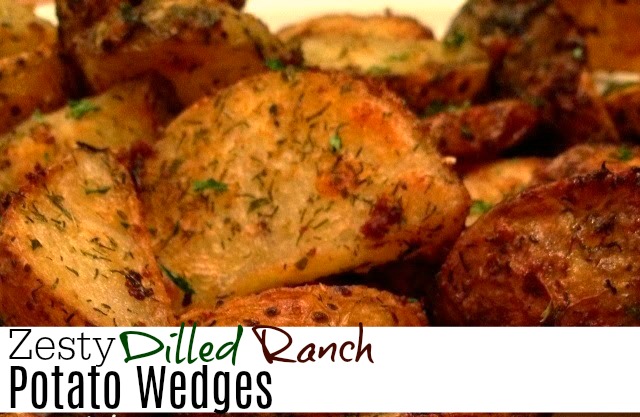 These potato wedges make an excellent side dish! We especially love to have them with any kind of grilled meat!  Whatever you do, don't figure up the nutritional value, and if you do, don't tell me the numbers 😉


Dilled Ranch Potato Wedges
Ingredients
2 lbs potatoes, cut into wedges
1/4 cup bacon grease (us southerners have a container of this stashed away, if you dont and you must, you can sub vegetable oil)
1 packet ranch seasoning mix
1 Tablespoon dried dill seasoning
2 teaspoons garlic powder
ground black pepper to taste
Instructions
Wash and cut potatoes into wedges, pat dry in a large bowl.
Pour bacon grease over them and add all of the seasonings.
Mix well with your hands.
Lay potato wedges onto a pam sprayed cookie sheet. I like to turn them all the same way and place larger sized wedges around the outside so they cook more evenly.
Bake for 20 minutes and then carefully turn the potato wedges onto the other side with a fork.
Bake for 20 more minutes or until nice and crispy.
Allow to cool for a couple of minutes and then check seasonings and enjoy!
7.8.1.2
248
https://auntbeesrecipes.com/2013/10/dilled-ranch-potato-wedges.html
Other side dishes you may like: