Chicken Cordon Bleu Pasta
If you are a Chicken Cordon Bleu fan, you're going to LOVE this creamy & delicious Chicken Cordon Bleu Pasta Bake! A casserole lover's dream come true!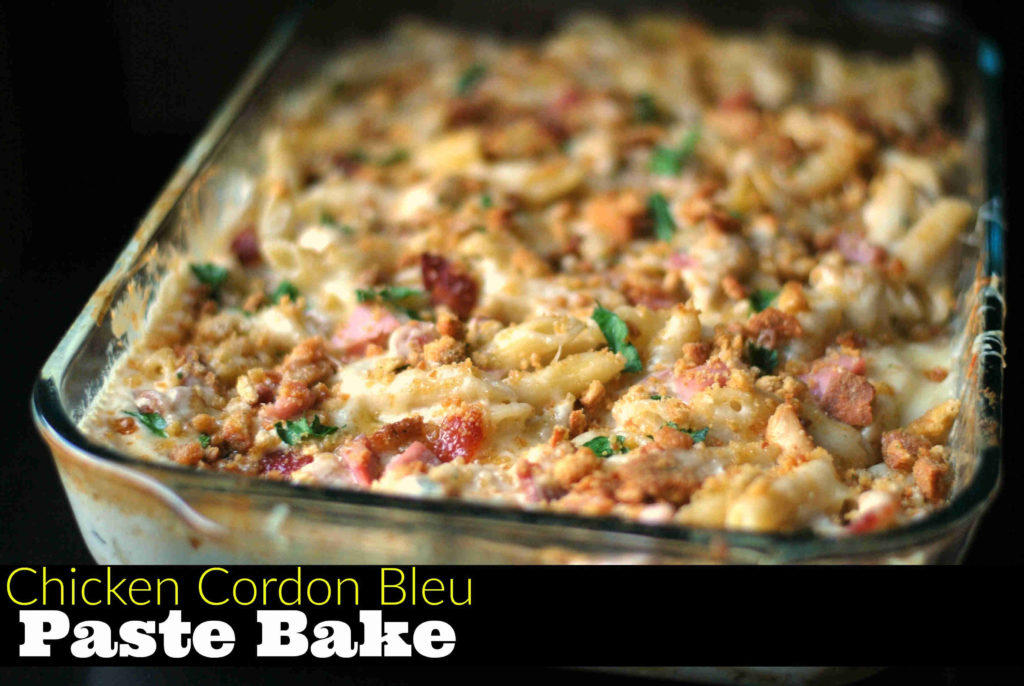 My kids and I spent a few days in Birmingham with my sister and her family for my nephew's 3rd birthday, while my hubby stayed behind for work and school.  It was a blast!  I am happy to be back home with Uncle Bee and our normal routine, but I miss them so much already!  Friday night my sister made this phenomenal Chicken Cordon Bleu Pasta and it was SO DELICIOUS!  I took one bite and knew, I HAD to make it for Uncle Bee when we got home and so I did 😉
I fried 2 diced chicken breast in a little bit of butter for this recipe, but feel free to use leftover chicken!  (leftover grilled chicken would be AMAZING!) If you love chicken cordon bleu, you gotta try this one!
Chicken Cordon Bleu is one of my hubby's FAVORITE meals so I surprised him with this recipe and it BLEW HIM AWAY! This casserole is absolutely delicious, family friendly and SO EASY! A keeper for sure!
Chicken Cordon Bleu Pasta
Ingredients
12 oz penne noodles, cooked al dente (reserve 1/2 cup of the pasta water to mix in the cheese sauce)
8 oz cream cheese
2 cups heavy whipping cream
1/2 tsp onion powder
1/2 tsp garlic salt
2 cups shredded swiss cheese, divided
2 cooked chicken breast, diced
3/4 cup ham, diced
3/4 cup cooked bacon, diced
1/2 cup finely crushed croutons
1 tbsp butter, finely chopped
Italian parsley for garnish
Instructions
Cook pasta to al dente and reserve 1/2 cup of the starchy pasta water.
Combine cream cheese and heavy cream in a sauce pan over medium heat.
Add onion powder and garlic salt.
Whisk until cream cheese is melted.
Stir in 1 cup of the Swiss cheese and continue stirring until smooth and set aside.
Combine noodles, bacon, ham, chicken, cheese sauce and reserved starchy water in a large bowl.
Taste to check and adjust seasonings.
Pour mixture in a greased 9×13 pan.
Add remaining cup of cheese and crushed croutons.
Top with pieces of butter.
Bake at 350 degrees for 15 minutes.
Garnish with parsley.
7.8.1.2
25
https://auntbeesrecipes.com/2015/06/chicken-cordon-bleu-pasta.html