Italian Sausage & 5 Cheese Baked Ziti
We were in the mood for some cheesy Italian comfort food and boy did this HIT. THE. SPOT. My mom had told me about a 5 Cheese Baked Ziti she loves from Olive Garden and I knew I had to try to recreate it. I added the Italian Sausage because Uncle Bee is a Carnivore and would have been looking for the entree for his side dish of 'mac and cheese' if I hadn't. HAHA! We served this with our favorite garlic bread and a side salad with Creamy Italian Parmesan Dressing. I can not WAIT til leftovers for lunch tomorrow. Or tonight for 2nd dinner 😉 The breadcrumb topping with fresh garlic MAKES this dish. Absolute heaven. This would be a GREAT one to make for company! You could prep it ahead of time and just throw it in the oven right before company arrives with a cleaned up kitchen and a glass of wine 😉
~Italian Sausage & 5 Cheese Baked Ziti~
For the Ziti Sauce
1 lb Sweet Italian Sausage, crumbled and browned
2 (15oz) cans tomato sauce
16 oz jar of Alfredo, (or make your own!)
1/2 cup whole milk ricotta
1/4 tsp crushed red pepper
1/4 cup Fontina Cheese, shredded
1/4 cup Mozzarella Cheese shredded
3 cups mozzarella cheese, shredded
1/2 cup Panko breadcrumbs
1/2 cup Kraft Parmesan Romano Grated Cheese blend
1 TBSP Italian Seasoning
4 Cloves Garlic, finely chopped (The fresh garlic cloves MAKE this dish)
3 tablespoons vegetable oil
3 tablespoons fresh flat-leaf Italian parsley, chopped
1 lb dry Ziti pasta
2 cups mozzarella cheese, shredded
Directions
To prepare the sauce: Brown and drain the Italian Sausage. Add the Tomato Sauce, Alfredo sauce, Ricotta, garlic powder, black pepper, red pepper flakes and stir to combine over medium heat. After combined, remove from heat and add in Fontina and mozzarella shreds. Set aside.
To prepare the topping: In a bowl, add Mozzarella shreds, Panko breadcrumbs, Romano/Parmesan cheese, and Italian Seasoning. Combine well. Add finely chopped garlic, Vegetable Oil and Chopped Parsley.
To prepare noodles, boil them for 2 minutes LESS than the time it says on the box for al dente. This is VERY important, because they will continue cooking in the oven and no one likes mushy noodles. Drain noodles.
Preheat oven to 375 degrees. Spray a 13×9 inch Pyrex dish with cooking spray. Place 1 cup of Ziti sauce in the bottom of the pan. Combine hot noodles with the rest of the Ziti Sauce and pour into pyrex dish. Top with 2 cups of Mozzarella cheese, then sprinkle on the Ziti topping. At this point you could stick in the fridge until ready to bake, or bake right away. Bake at 375 degrees for 30 – 40 minutes, or until bubbling and top is starting to brown. ENJOY!
Adapted Recipe Source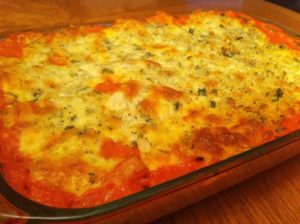 <3 Aunt Bee