No Peek Beef Tips & Gravy
No Peek Beef Tips & Gravy is one of our FAVORITE 5 Ingredient meals! The secret ingredient makes them FALL apart tender and delicious and the BEST gravy you ever put in your mouth!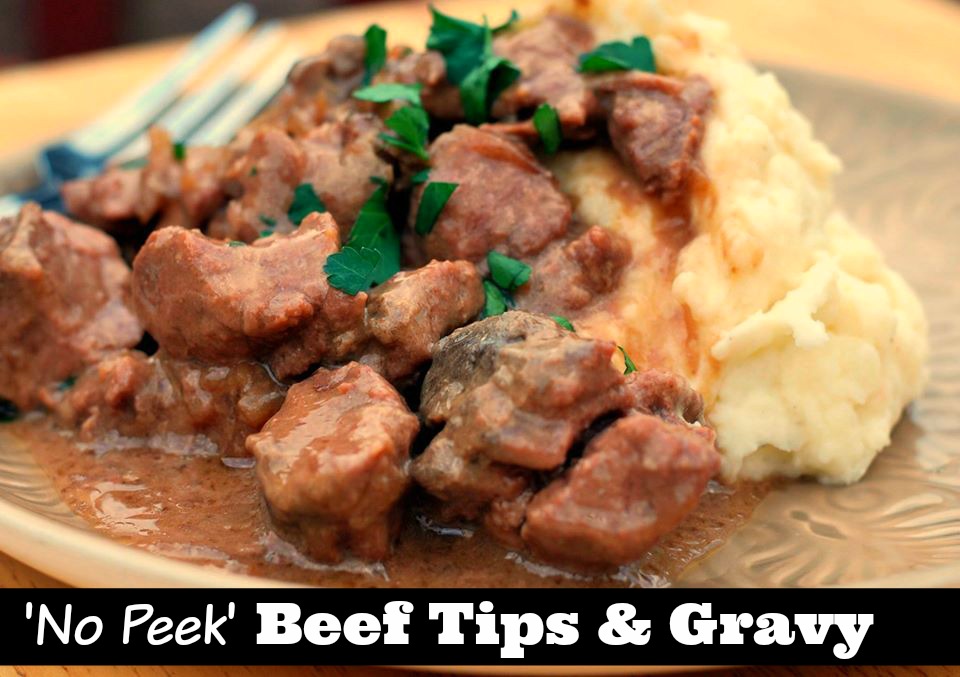 Good morning! Happy Sunday! February is almost over and it has absolutely flown by. I anticipate March will be the same because it is going to be even busier for us. I am still cooking every day, but I find myself gravitating towards more and more simpler recipes, skillet meals, crock pot, instant pot and set it and forget it type meals. I had some leftover mashed potatoes to use up and decided to make some Beef Tips and Gravy. This No Peek version has always been a favorite of Uncle Bee's. I had always made it with ginger ale like the original recipe calls for, but I also had some leftover Coke from when I had made the Mississippi Coke Roast so I decided to make it with that instead.
Y'all, these Beef Tips & Gravy turned out absolutely unbelievable!!! Everyone said they were the best we have ever had! I could drink the gravy and I think Uncle Bee actually did. I served it with leftover mashed potatoes, some of my Granny's green beans and dinner rolls and there wasn't a single morsel left.
These Beef Tips have only 5 ingredients and are as hands off as it gets. They would be incredible over rice or egg noodles as well. We are already planning on making them again next week. I can not wait for you try this!
No Peek Beef Tips & Gravy
Ingredients
2 lbs beef stew meat
1 can cream of mushroom soup
1 packet lipton onion soup mix
1 packet brown gravy mix
1 cup coca-cola (coke)
Instructions
Preheat oven to 300 degrees. Spray a 13x9 casserole dish with pam. Add meat to the pan in a single layer. Combine mushroom soup, onion soup mix, brown gravy and soda. Stir to combine and pour over the beef tips. Cover tightly with foil and cook for 3 hours. Remember, NO PEEKING! Serve over rice, egg noodles, or mashed potatoes. ENJOY!
7.8.1.2
204
https://auntbeesrecipes.com/2017/02/no-peek-beef-tips-gravy.html