Instant Pot Meatball Subs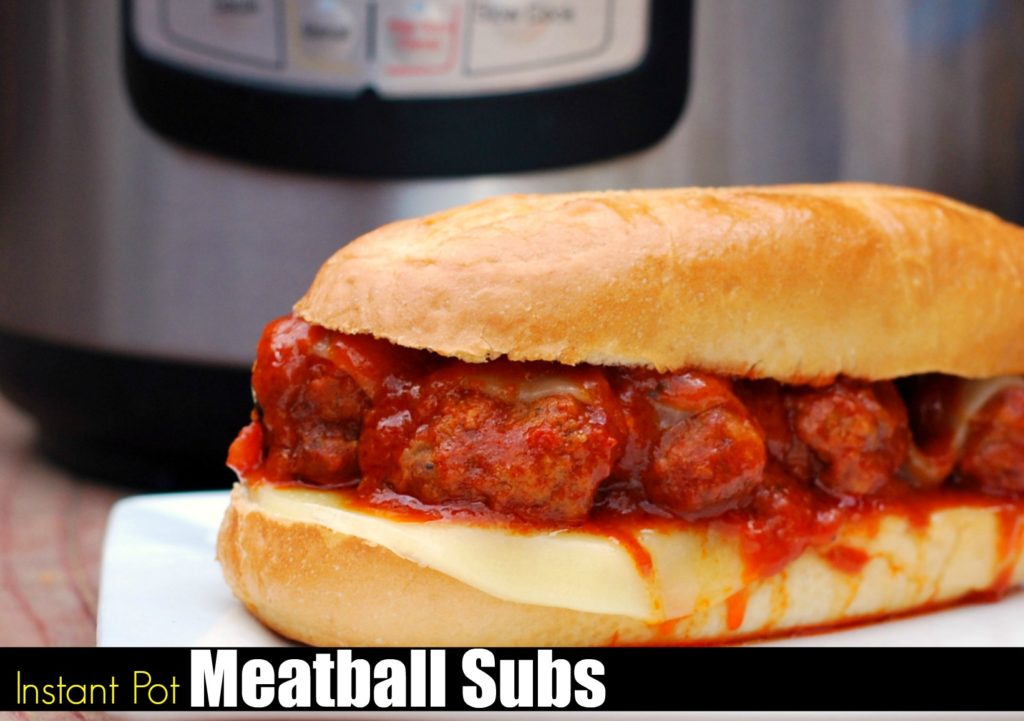 It's been several days since I made these Instant Pot meatballs and I am still in shock at how easy it was.  First of all, let me just say that I absolutely positively HATE HATE HATE frozen meatballs.  I have tried every brand I can find and I can not eat them.  So these meatballs ARE made from scratch.
I wish SO bad I liked frozen meatballs.  If you DO like frozen meatballs, by ALL means, use those. (and increase your pressure cooker time by 3 minutes or so!)  But this recipe is easy FROM SCRATCH meatballs.  The meatballs are probably just your standard meatball mixture.  What makes them incredibly easy is the sauce combination that just WORKS and makes these have such delicious flavor AND the fact that there is no procooking, browning, or broiling of the meatballs.
Correct.  NO PRECOOKING.  You put the raw meatballs directly in the sauce in your instant pot and they cook PERFECTLY in 5 minutes with a 10 minute natural release.  MAGIC, I tell you.
So the secret ingredient for the sauce is a can of manwich sauce.  I know, crazy.  I don't even like sloppy joe's made with canned manwich sauce.  (click here for our favorite homemade sloppy joe recipe!) But these are SO delicious!  You would NEVER guess they had a can of manwich sauce in the ingredients!
Slow Cooking more your speed?  Click here to try the slow cooker version!
Instant Pot Meatball Subs
Ingredients
1 pound ground beef
1 lb sweet italian sausage, casings removed
1/2 cup grated Parmesan Cheese
1 tsp ground oregano
1 tsp dried basil
1 tsp garlic salt
1 Tbsp dried parsley
1/2 tsp white pepper
1 egg
juice from 1 lemon (or 1 Tbsp of the bottled stuff)
1/2 cup breadcrumbs
1 15.5 oz can MANWICH Original Sloppy Joe Sauce
1 15 oz can Hunt's Diced Tomatoes with Basil, Garlic & Oregano, drained
1 15 oz can Hunt's Tomato Sauce
12 sub or hoagie buns
2 packages sliced provolone cheese
Instructions
In a large bowl combine the beef, sausage, cheese, oregano, basil, parsley, garlic salt, white pepper, egg, lemon juice and breadcrumbs, mix well with your hands until all ingredients are combined well. Roll the meat mixture into meatballs 1 inch in diameter. In a separate bowl combine the Manwich sauce, tomato sauce and drained diced tomatoes. Layer the meatballs and sauce in your instant pot.
Lock the lid and cook on high pressure for 5 minutes with a 10 minute natural release, followed by a quick release to let out any remaining pressure.
Serve meatballs on top of spaghetti or in toasted hoagie buns with lots of melted provolone cheese. ENJOY!
7.8.1.2
172
https://auntbeesrecipes.com/2017/01/instant-pot-meatball-subs.html