Meatball Sub Casserole
This Meatball Sub Casserole is the best thing we have eaten all month! It's so easy to prepare and incredibly family-friendly! Everything you love about Meatball Subs you will find in this belly warming Italian casserole.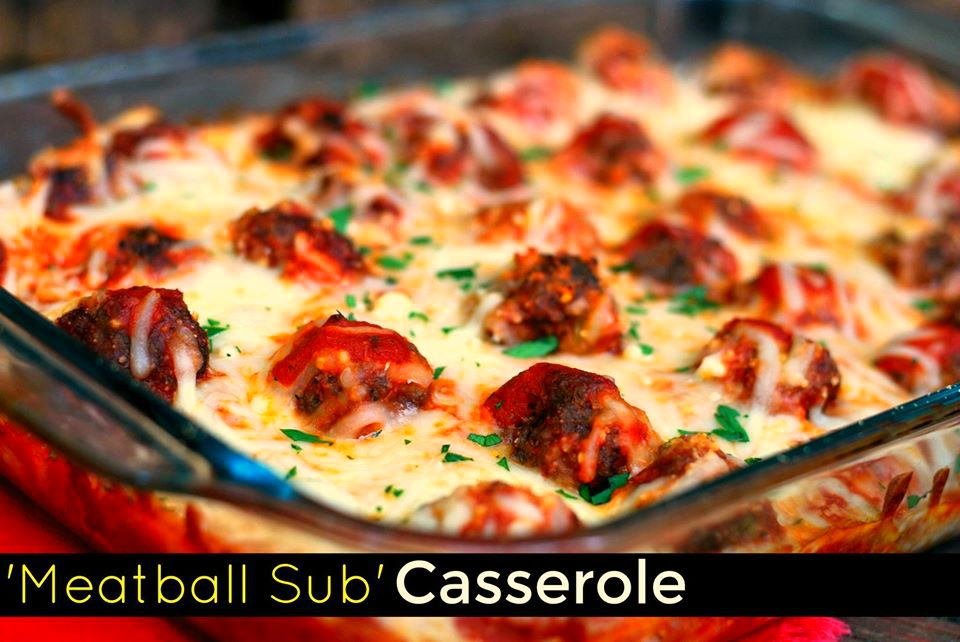 This recipe has been on my radar for YEARS! Meatball Sub Casseroles are crazy popular and something I knew my family would enjoy. The only problem with the recipes I had seen, was they all use cubed french bread pieces in the bottom. I have told y'all several times, I have an 'issue' with soggy bread. I absolutely can not eat anything soggy. So I sorta just put it out of my mind. Every once in a while, I would see it on pinterest and think, gosh that looks good. But that's it.
Well a couple of weeks ago when I was prepping my Chicken Parmesan Casserole, which uses croutons for the 'breading', I had an epiphany: I could swap out croutons for the bread part! You GUYS! It worked. No soggy bread and the flavor was PHENOMENAL! This was THE BEST thing we have eaten all month. Seriously. It's not very often I tell y'all that we have a new top 5 favorite, but we do! We served it up with a salad with our FAVORITE Creamy Italian Parmesan Dressing.
Before I give you the recipe, I have to stress the importance of using homemade meatballs for this recipe. The croutons and cheese add PLENTY of salt themselves so UNSALTED meatballs are a must. The cream cheese/mayonnaise layer is what MAKES this dish. It really sets it apart from any other Italian Casserole recipe I have tried. The little bit that was leftover for my lunch the next day, was even better. SO GOOD!
Ingredients
For The Meatballs

1 lb ground beef
1 egg
1/3 cup chopped green onion
1/4 cup Italian bread crumbs
3 tablespoons grated Parmesan cheese

For The Casserole

5 oz bag of Italian Style Croutons
1 (8 ounce) package cream cheese, softened
1/2 cup mayonnaise
1 teaspoon Italian seasoning
1/2 tsp garlic powder
1/4 teaspoon ground red pepper
2.5 cups shredded mozzarella cheese, divided
1/2 cup Parmesan Cheese, divided
1 (28 ounce) jar spaghetti sauce
1/4 cup water
Instructions
Preheat oven to 400 degrees F
Mix ground beef, green onion, bread crumbs, and Parmesan cheese together in a bowl; form into 1-inch meatballs. Arrange meatballs in a baking sheet and bake for 15-20 minutes or until done.
Reduce oven temperature to 350 degrees.
Pour the croutons into the bottom of a 13x9 casserole dish. Combine cream cheese, mayonnaise, Italian seasoning, garlic powder and red pepper in a bowl; Spoon mixture over croutons. Combine the Mozzarella and Parmesan cheese and sprinkle half over cream cheese mixture.
Combine spaghetti sauce and water in a bowl. Add meatballs. Pour meatballs and sauce over the top of casserole and sprinkle with remaining cheese.
Bake uncovered in the preheated oven until cheese is melted and bubbling, about 30 minutes. Let stand for 10 minutes before serving and ENJOY!
7.8.1.2
49
https://auntbeesrecipes.com/2016/09/meatball-sub-casserole.html