Fried Rice
Hibachi style fried rice at home! We love to throw leftover chicken, pork or beef in it and make it a meal!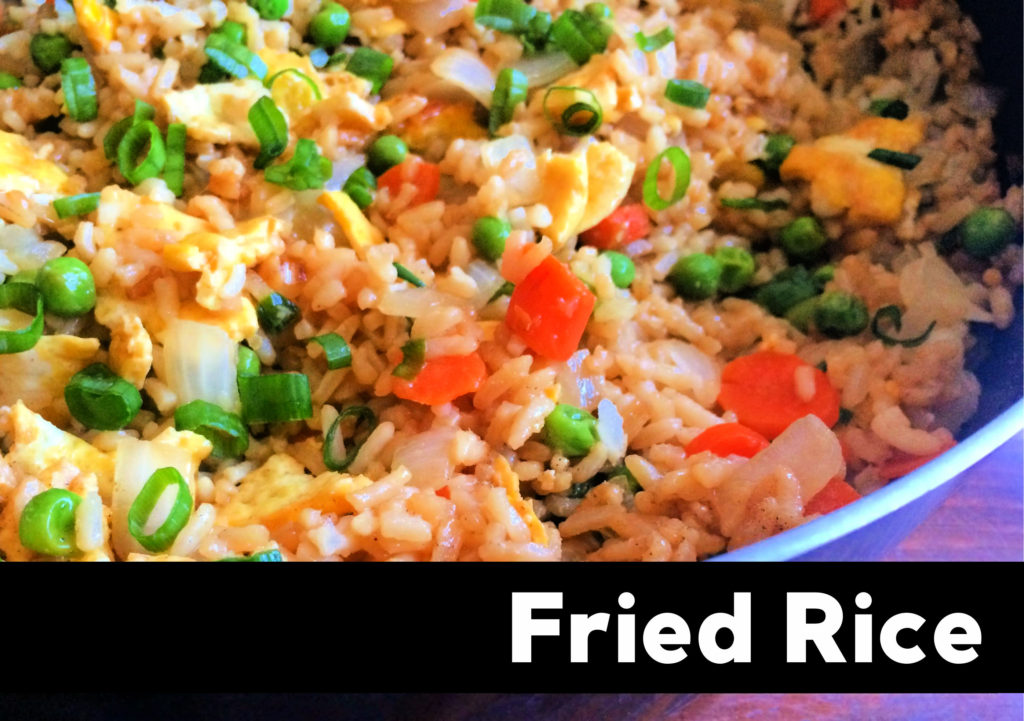 My sister in law taught me her secret to AMAZING fried rice: WHITE PEPPER! It really makes all the difference! We are obsessed with making all of our favorite Chinese, Japanese, Hibachi style recipes at home, and we just about ALWAYS serve this fried rice alongside.
The sesame oil, white pepper, fresh ginger and garlic MAKES this recipe!!! Definitely dont take short cuts with these ingredients and it will pay off in the end result!
Ingredients
4 eggs
1 TBSP water
2 TBSP bacon grease (can sub butter, but bacon grease is the best)
3 TBSP veg oil
1 large onion, finely diced
1 carrot, finely diced
4 cloves of garlic, finely minced 
1 tsp fresh minced ginger
4 cups very cold cooked rice (I make mine the day before or morning of and stick it in the fridge)
4 TBSP reduced sodium soy sauce (or more to taste)
1 tsp Sesame oil ( DO NOT LEAVE THIS OUT )
1 teaspoon white pepper or to taste
1/2 cup frozen peas 
2 green onions, chopped
Instructions
In a small bowl, beat the eggs with water.  
Melt bacon grease in a large skillet over medium heat.  
Add eggs and leave flat for about 2 minutes, or until cooked through.  
After they have cooked for 2 minutes, I flip over one time to brown the other side slightly.
Remove egg from pan, set aside on a paper towel.  
Heat oil in same skillet.  Add the carrots and onions and saute for about 4 minutes, stirring every minute.  
Then add the chopped garlic and ginger, stirring constantly for 1-2 more minutes.  
Add in the cold rice, soy sauce, sesame oil, and white pepper, stir fry and toss for about 3-5 minutes.
Chop cooked egg and stir it in the fried rice mixture as well as frozen peas and green onion.  
7.8.1.2
272
https://auntbeesrecipes.com/2016/04/fried-rice.html