Roasted Brussels Sprouts with Balsamic & Cranberries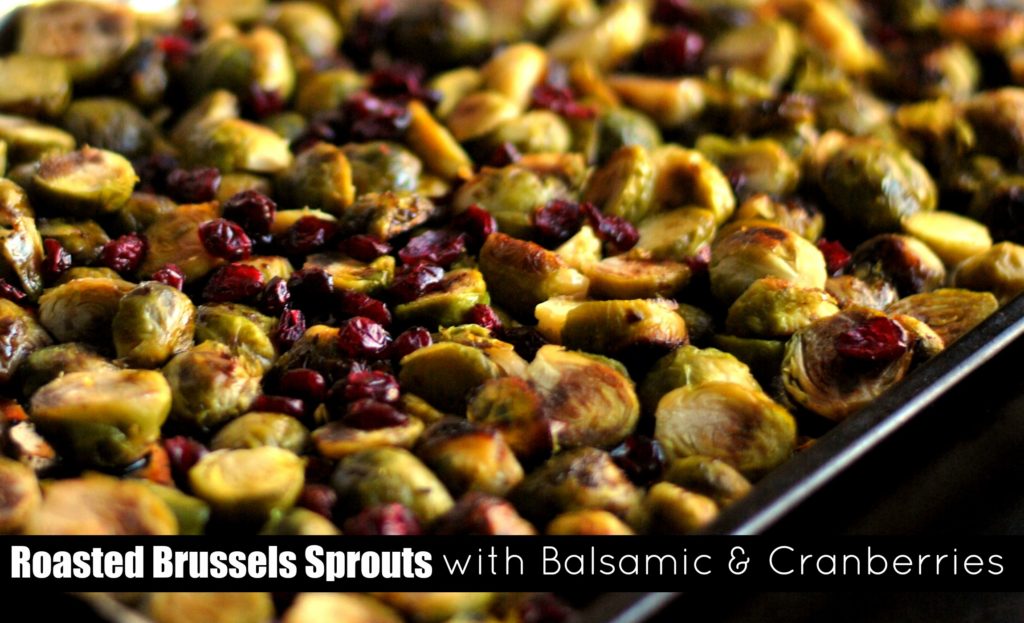 We absolutely LOVE roasted veggies of all kinds at our house.  When I was testing this recipe, it came out of the oven right as my daughter was getting home from school and by golly if her, my 4 year old and I weren't sitting at the kitchen table eating these as our afternoon snack right off the cookie sheet!!!!  I adapted the recipe from The Pioneer Woman and the biggest change I make is I add a ton of garlic powder.  I feel like the original recipe is a little too sweet for my liking and the garlic powder balances that out.  The cranberries really make this feel festive!  My recipe is for 4 lbs of Brussels sprouts, but feel free to half it and adjust your cooking time accordingly.  
Roasted Brussels Sprouts with Balsamic & Cranberries
Ingredients
4 lbs of Brussels sprouts trimmed, cleaned and halved
2/3 cup olive oil
salt & pepper to taste
garlic powder (generous amount)
1/2 cup sugar
1 cup balsamic vinegar
1 cup dried cranberries
Instructions
Toss halved Brussels sprouts with olive oil and place on 2 foil lined baking sheets. Season generously with salt, pepper and garlic powder. Bake at 375 degrees for 30 minutes or until golden brown. Half way through I swap the top and bottom cookie sheet and also stir the Brussels sprouts to get them to brown more evenly.
Meanwhile, combine balsamic vinegar and sugar in a saucepan. Bring to a boil, then reduce heat to medium-low and reduce until thickened, about 15 to 20 minutes.
Drizzle the balsamic reduction over the roasted sprouts, then sprinkle on dried cranberries. Taste to adjust seasonings and serve.
7.8.1.2
137
https://auntbeesrecipes.com/2014/11/roasted-brussels-sprouts-with-balsamic-cranberries.html