Aunt Bee's World Famous Taco Salad
We eat a lot of ground beef.  It is relatively inexpensive and can be used in so many different types of family friendly recipes like some of our favorites: Enchiritos, 3 Meat Chili, Preacher's Macaroni Casserole, and Easy Italian 3 Meat Penne Pasta.  Ground beef is like a blank canvas to us busy home cooks!  The not so glamorous part has always been having to drain the grease from the meat, which is why I was so excited when Michelle contacted me about the Easy Greasy.  Michelle is a mom that got tired of dealing with the grease issue when making meals for her family and she did something about it!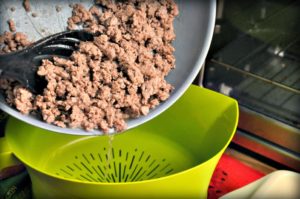 'Easy Greasy™ is a kitchen tool to make draining hot grease from food fast, easy and safe! Its patent pending design consists of a strainer that sits securely in a heat-resistant container. Simply pour cooked food into the strainer and allow draining. Then remove the strainer and easily move your food to a pot or dish. Your hot grease is safely contained! Once your hot grease has cooled, just scoop it into the trash or secure the lid to store it. It's that easy!'
It works absolutely beautifully, and I will not cook ground beef without it!  The Easy-Greasy is available to order from lakeside, QVC, itdcommodities, and Amazon.  
This Taco Salad is one of our family's absolute favorite ways to use ground beef.  My daughter loves it so much she has nicknamed it 'Aunt Bee's World Famous Taco Salad'.  I hope your family loves it as much as ours does! 
Aunt Bee's World Famous Taco Salad
Ingredients
1 (15 oz) can corn (drained)
1 (15 oz) can black beans (rinsed and drained)
2 tomatoes or 2 red bell peppers or 1 of each, diced
1 large head romaine, torn
12 oz package corn chips (the small kind, not scoops)
1 bottle Catalina dressing
Directions
Brown ground beef and drain.  Add taco seasoning and water.  Bring to a boil then reduce heat to simmer until thickened.  Remove from heat.  This is very important.  You want the meat room temperature (or cooler) when you put the salad together.   No one wants soggy lettuce.  While your beef mixture is cooling, prepare your lettuce and chop your veggies.  Once your beef has cooled for 5 minutes, add the corn, black beans, tomatoes and/or bell peppers, and onion to the meat mixture.  If you are preparing your salad to eat right away, go ahead and toss with lettuce and corn chips and drizzle with Catalina dressing.  If you are preparing your salad ahead of time, do not add the lettuce, chips or dressing until you are ready to serve.  This salad was EVEN BETTER the next day.  I prepared half of the salad for our dinner, but left the other half separate because I knew we would have leftovers and wanted to be able to save them.  We didn't warm the ground beef mixture the next day, and it was just as good if not better when we added the lettuce, chips and dressing to it.  Also, feel free to change up the toppings any way your family likes.  Enjoy!  <3