Our Big Night 'IN'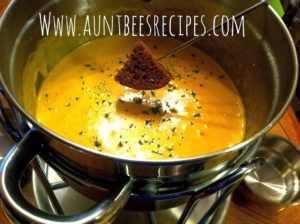 To kick off our daughter's birthday weekend, she requested a fondue night and we went all out. We did a version of our favorite Melting Pot 'Big Night Out' 4 course meal and called it our 'Big Night IN'. Haha! It was a lot of work to prepare, but it was one of our favorite meals in recent memory. There is just something so fun about fondue with loved ones. And being able to sit at home in your pajamas and 'double dip' while eating it makes it even better. 🙂
Our first course was this 'fancy' salad with an AMAZING dressing slightly adapted from
this
recipe. This is my favorite new salad dressing. I am going to be keeping some of this on hand in my fridge at all times.
For the Salad:
Mixed Field Greens
Red onion Sliced into rings
Hard Boiled Egg sliced in half
Shredded Sharp Cheddar Cheese
Bacon, cooked and crumbled
Sweet and Tangy Dressing:
2/3 cup plus 1/6 cup packed Brown Sugar
1/3 cup Powdered Sugar
1-1/4 cups White Vinegar
2/3 cup Vegetable Oil
1 TBSP French's Yellow Mustard
1/4 cup chopped Fresh Garlic
1/2 cup bacon, cooked and crumbled
1/4 teaspoon Kosher Salt, or 1/8 tsp table salt
Directions
Combine all ingredients in a blender or food processor and blend until smooth. Store in fridge until ready to use. Even better the next day!
Our second course was a Cheddar Cheese Fondue with Crusty French Bread, Pumpernickel Bread and Green Apples for dipping!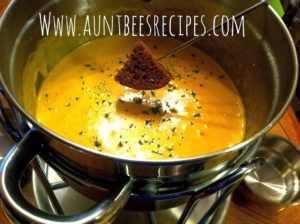 Cheddar Cheese Fondue (Like the Melting Pot)
Ingredients
1/2 cup Coors Light beer
2 teaspoons minced fresh garlic
2 teaspoons dry mustard powder
2 teaspoons Worcestershire sauce
6 ounces medium-sharp cheddar cheese
2 ounces Emmentaler Swiss cheese
2 tablespoons all-purpose flour
If you are using an electric fondue pot, turn it on to medium; otherwise use a double boiler to heat up this mixture. Place beer, garlic, dry mustard, and Worcestershire in the pot and combine well. Shred the cheeses and toss with flour, coating the cheese well. (The flour will help thicken the sauce.) When the beer mixture is warm, add one-third of the cheese and whisk very well. Once the cheese has been incorporated well, add half of the remaining cheese and whisk in very well. Add the remaining cheese and whisk until nice and smooth. Great for dipping your favorite kinds of bread, broccoli or cauliflower, green apples or pears.
For our third course, we had filet mignon,
marinated
chicken breast and whole mushrooms, which we cooked with the 'mojo' cooking style served with 'Green Goddess' dip.
'Mojo' Cooking Style
Ingredients
1/4 cups chicken bouillon
1/4 cup orange juice, fresh-squeezed
1/4 cup chopped fresh cilantro
2 tablespoons ground cumin
2 tablespoons 'perfect pinch' jerk seasoning
1 TBSP Black pepper
1 tsp Salt (or to taste)
2 tablespoons lime juice, fresh-squeezed
1 tablespoon fresh minced garlic
Directions
Combine ingredients in saucepan on stovetop. Bring to a boil. Transfer to a fondue pot with an alternative heat source. Use to cook beef, shrimp, potstickers, chicken, mushrooms, potatoes, broccoli, etc….
Green Goddess Dip
Ingredients
8 ounces cream cheese, cut into slices
1/2 cup milk
1/4 cup sour cream
2 tablespoons finely chopped onions
2 tablespoons finely chopped parsley
2 tablespoons finely sliced chives
Directions
In a microwave-safe container, microwave cream cheese and milk for 1 minute, then stir, microwave for 1 minute more. Stir in sour cream, onion, parsley and chives. Refrigerate until cold. Great as a dip for any kind
of meat or veggies!
For our fourth and final course, we had a White Chocolate Caramel Fondue with a wide array of dessert dippers! Brownies, pound cake, cheesecake, rice crispy treats and graham cracker coated marshmallows. Since we had already spent a good bit of time preparing this meal, we just bought the desserts frozen, except for the brownies which were a box mix, and the marshmallows we coated ourselves. using
this
technique.
White Chocolate Caramel Fondue
12 oz bag of white chocolate chips
1/4 cup heavy cream
1 1/2 tsp caramel syrup
2 tsp caramel liqueur
Directions
Using an electric fondue pot or a double boiler, melt white chocolate chips and heavy whipping cream, stirring until smooth. Stir in caramel syrup and caramel liqueur. Keep warm, stirring occasionally and serve with your favorite dippers!