Burger Sauce
Literally, The Best Burger Sauce! We love to dip our Patty Melts (and fries) in it!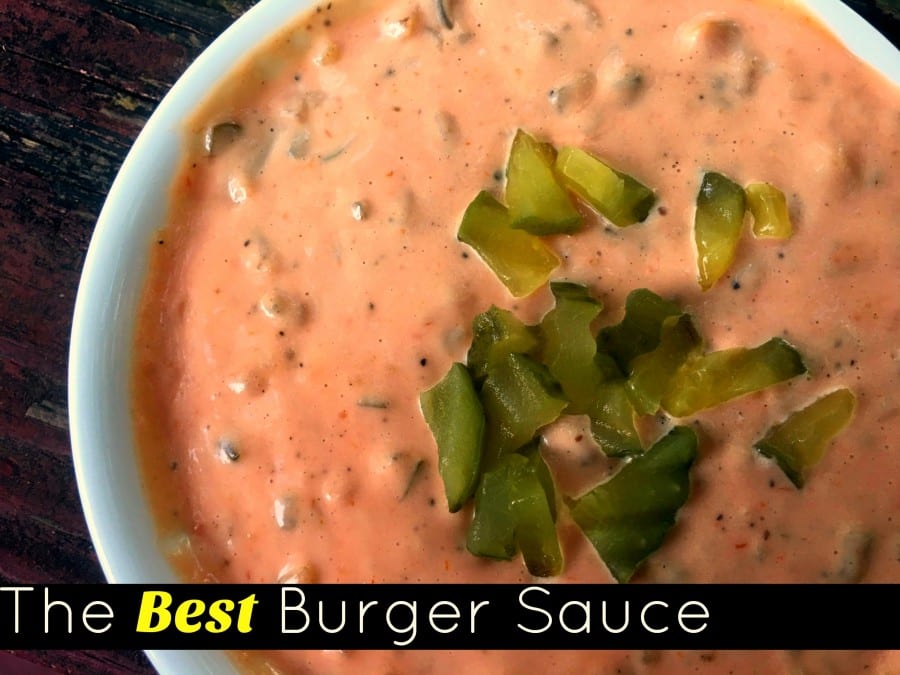 This is LITERALLY the Best Burger Sauce! We love to dip our Patty Melts (and fries) in it!I had no idea what to call this.  I have been making it for years and we have always called it Patty Melt Dip, but as I started to write this post I realized that the name Patty Melt Dip may lead people to believe that this dip has beef, and melt-y cheese and sauteed onions and that you dip little fancy pieces of toasted bread into it.  Then I realized that sounded AMAZING and I am probably going to make a dip like that and name it Patty Melt Dip.  So I had to think super fast and come up with a name for THIS dip and Burger Sauce it is!  😉
Let me tell you a little bit about THIS dip.  Burger Sauce is absolutely fantastic as a dip for patty melts, burgers, french fries, tater tots, corn dogs, chicken fingers, meatballs, pigs in a blanket, sausage balls, hush puppies, potato wedges, spoons, fingers….. I really could go on and on.
It's SO easy to whip up and made with ingredients that EVERYONE has in their fridge and pantry!  Y'all give it a try and see how fast it disappears!
Click here for our favorite burger recipe! 
Ingredients
1/2 cup mayonnaise
1/4 cup ketchup
1/4 cup sweet pickle relish
1 to 2 tsp Worcestershire Sauce
1/2 to 1 tsp garlic powder
1/4 tsp black pepper
Instructions
Combine all ingredients and adjust seasoning to taste. Refrigerate until ready to serve and enjoy!
7.8.1.2
41
https://auntbeesrecipes.com/2016/09/burger-sauce.html