Preacher's Macaroni Casserole
Dinner is a cinch with this Preacher's Macaroni Casserole. It  combines ground beef with your favorite mac and cheese recipes.  A satisfying and savory meal your whole family will love!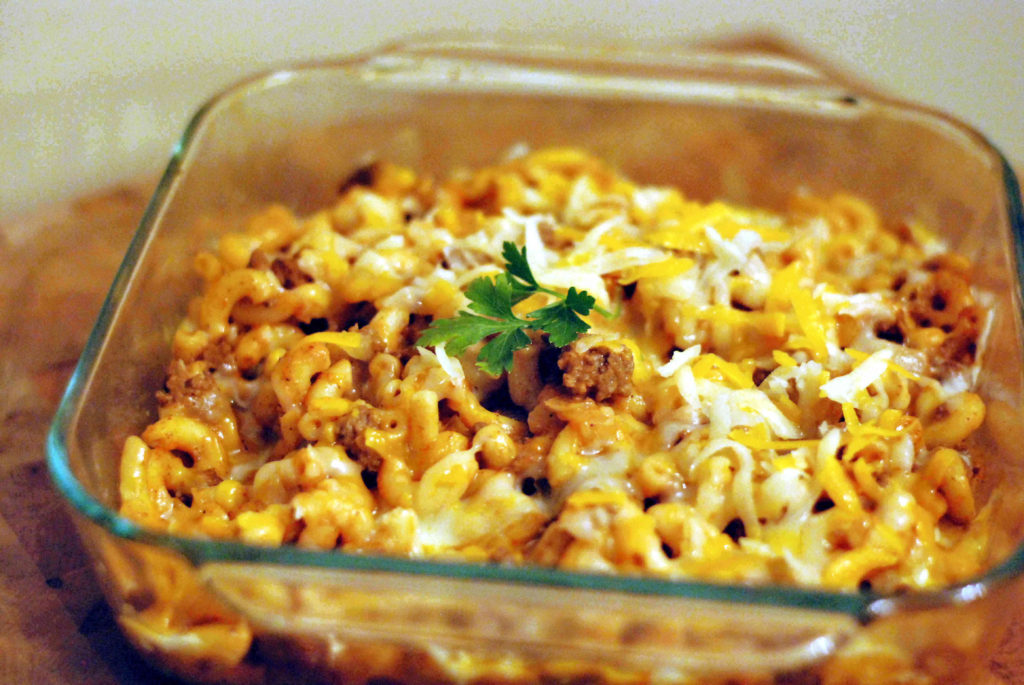 The recipe I am sharing today, is a very delicious and time saving, FRUGAL family favorite!  Every time I make it, Uncle Bee says, 'You need to make this more often!'   Not only is it delicious, but it is one I make using a 'make one freeze one method.'  While you could certainly bake the recipe in a 13×9 pan and feed 8 people, for our family of 4,  I split the casserole up into 2 (9×9) pans, then bake one as normal, and freeze the other one for a busy night!  The trick to freezing noodles, or really for me, cooking any kind of noodles that are then going to be placed in the oven, is to under cook the noodles by 2 minutes.  There is no need to boil your noodles all the way when you are just going to continue baking them for 20 minutes or more.  The noodles will become mushy and noone likes mushy noodles!  The second trick is to never top a casserole with cheese before you freeze it.  If you do, when you cook it, the cheese will burn before the inside of the casserole has a chance to heat all the way through.  I tell you these things from experience LOL 😉
Preacher's Macaroni Casserole
Ingredients
1 lb ground beef
2 celery stalks, finely diced
2 large onions, finely diced
1 can cream of mushroom soup
1 can tomato soup
1 1/4 cup water
1 tsp chili powder
1/2 tsp lawry's seasoning salt
1/2 tsp garlic powder
8 oz macaroni noodles, cooked until al dente and drained
Shredded cheese (we like a combination of sharp cheddar and mozzarella)
Instructions
Brown the ground beef with the finely diced onions and celery, drain. Add the cream of mushroom, tomato soup, water, chili powder, lawry's, garlic powder and cook over low heat for 20 minutes, stirring occasionally. While the sauce is simmering, boil the noodles, until 2 minute less than the lowest cook time on the box, remember you will bake this dish and the noodles will continue cooking. After the sauce has cooked for 20 minutes and you have drained the noodles, combine everything in a pam sprayed 13×9 pan and bake for 10 minutes at 350 degrees. Remove from oven and stir, sprinkle with cheese and put back in oven for 10 more minutes, or until cheese is melting and casserole is bubbly.
To make one, freeze one:! Split the casserole into 2 (9×9) pans and bake one the same way as the instructions above, the other, cover and allow to cool completely, then place it in the freezer. Do not cover it with cheese yet. When you are ready to bake it: The night before remove the casserole from the freezer and put it in the refrigerator to thaw over night. The next day, bake the casserole, covered, for 20 minutes. Remove cover and stir, top with shredded cheese and bake for 10 more minutes, or until cheese is melted and bubbly.
7.8.1.2
19
https://auntbeesrecipes.com/2014/04/preachers-macaroni-casserole.html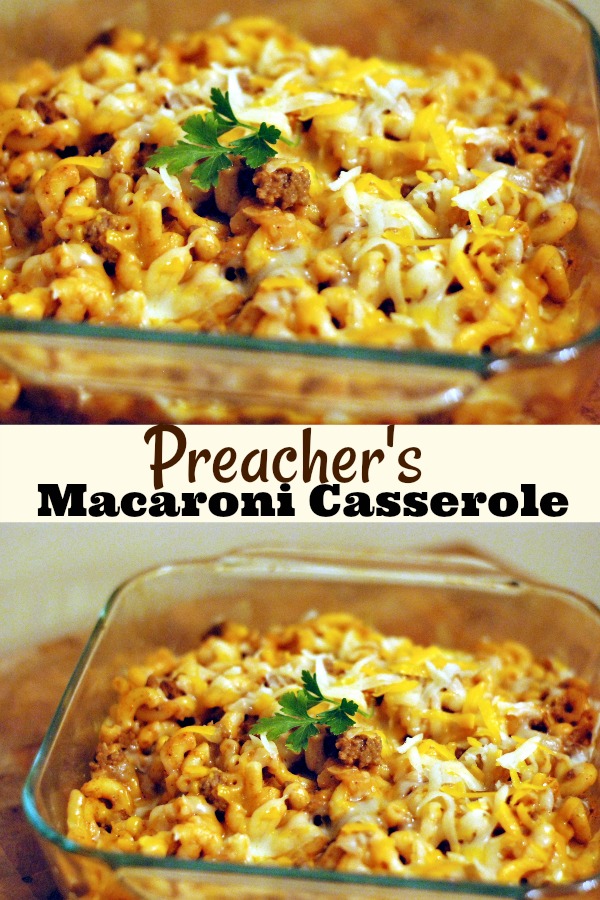 Get 30+ Family Friendly Ground Beef Recipes here! 
Click here for our most popular casserole recipes!