Keto Pizza Chicken Casserole
Keto Pizza Chicken Casserole is hands down our family's favorite casserole! Creamy, cheesy, Italian comfort food that the WHOLE family will devour-whether they are eating low carb or not! Pizza craving FULFILLED!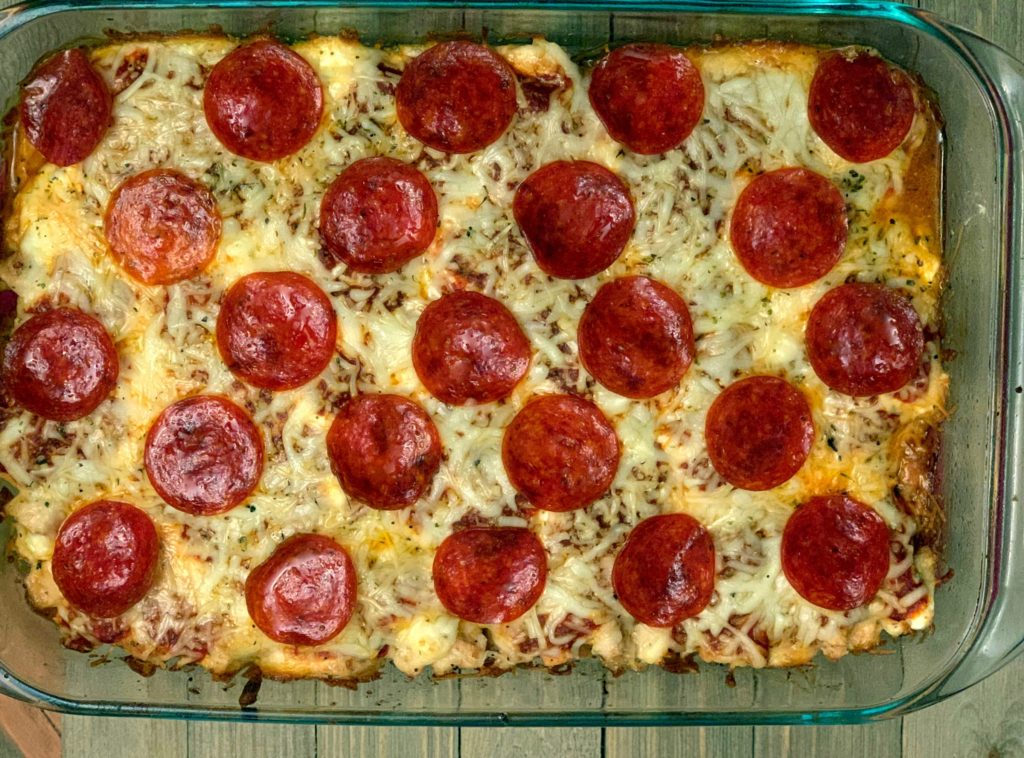 This Keto Pizza Chicken Casserole has been our favorite casserole recipe for over a year and I am ashamed I am just now sharing it on my website!!! I have given the recipe to TONS of friends and families and they have all loved it as much as we have! We seriously have it once a week with sauteed spinach or a side salad and there is NEVER any leftovers.
Before I go any farther, I have to tell you where I got this recipe from! My AMAZING blogger friend, Michaela, from An Affair From The Heart is the DIP QUEEN and has this PHENOMENAL pizza dip recipe. My family is trying to focus more on high protein meals with lots of veggies and lower sugar so I turned her delicious pizza dip into this high protein low carb chicken casserole recipe and it absolutely BLEW US AWAY. I honestly automatically put it on our weekly menu every single week now. That's how much we love it.
This is also a great one to prep ahead of time. Anytime my husband grills chicken, he ALWAYS grills a huge batch for us to use throughout the week in recipes. (This is hands down our FAVORITE chicken marinade for grilling OMG SO GOOD!) When the chicken comes off the grill, I go ahead and dice up 4 chicken breasts and throw them in the bottom of a casserole dish to layer up this recipe and all I gotta do for a quick dinner is bake it for 30 minutes. Saute the spinach for a side or throw together a quick side salad and dinner is done with such easy clean up!
If you aren't watching your carbs, you and your family will STILL love this recipe. Just serve it with some garlic bread and whatever veggie you like and you have an amazing kid and hubby pleasing meal!
While you are here, check out my number 1 all time most popular Keto Low Carb recipe: Keto Low Carb Jalapeno Popper Chicken or scroll to the bottom for Keto Pizza Chicken Casserole recipe you came for!!!
This casserole recipe is so easy to prep. Other than dicing the cooked chicken, and mixing up the cream cheese mixture, you just layer the rest of the ingredients.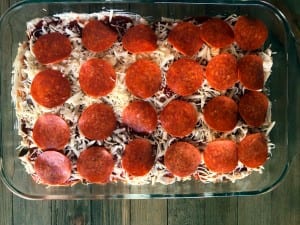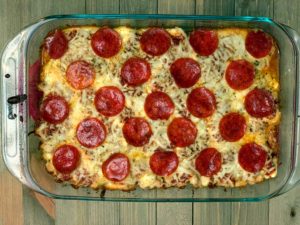 Seriously easy and tasty! I hope your family tries it and loves it as much we do!
Keto Low Carb Pizza Chicken Casserole
Ingredients
4 chicken breast, cooked and diced
garlic powder
salt & pepper
8 oz cream cheese, softened
1/2 cup sour cream
1/2 cup mayonnaise
2 cups shredded mozzarella cheese, divided
2 cups shredded Parmesan cheese, divided
1 teaspoon dried oregano
2 cups pizza sauce
pepperoni slices
Instructions
Make sure your cream cheese is set out at room temperature to soften. I try to do this an hour or 2 before prepping the casserole
Preheat oven to 350 degrees
Spray 13x9 casserole pan with cooking spray
Place 4 cooked and diced chicken breast in the bottom of casserole dish
Sprinkle with garlic powder, salt & pepper to taste
In a medium bowl combine softened cream cheese, sour cream, mayonnaise, 1 cup mozzarella cheese, 1/2 cup Parmesan cheese and oregano.
Spread mixture evenly over chicken.
Top with pizza sauce.
Sprinkle with remaining 1 cup of Mozzarella and 1.5 cups Parmesan cheese.
Top with a layer of pepperoni.
Bake for 30 minutes or until heated and bubbly.
Or place in fridge until ready to bake, up to 4 days.
Enjoy!
7.8.1.2
255
https://auntbeesrecipes.com/2019/12/keto-pizza-chicken-casserole.html