Smoked Sausage & White Bean Stew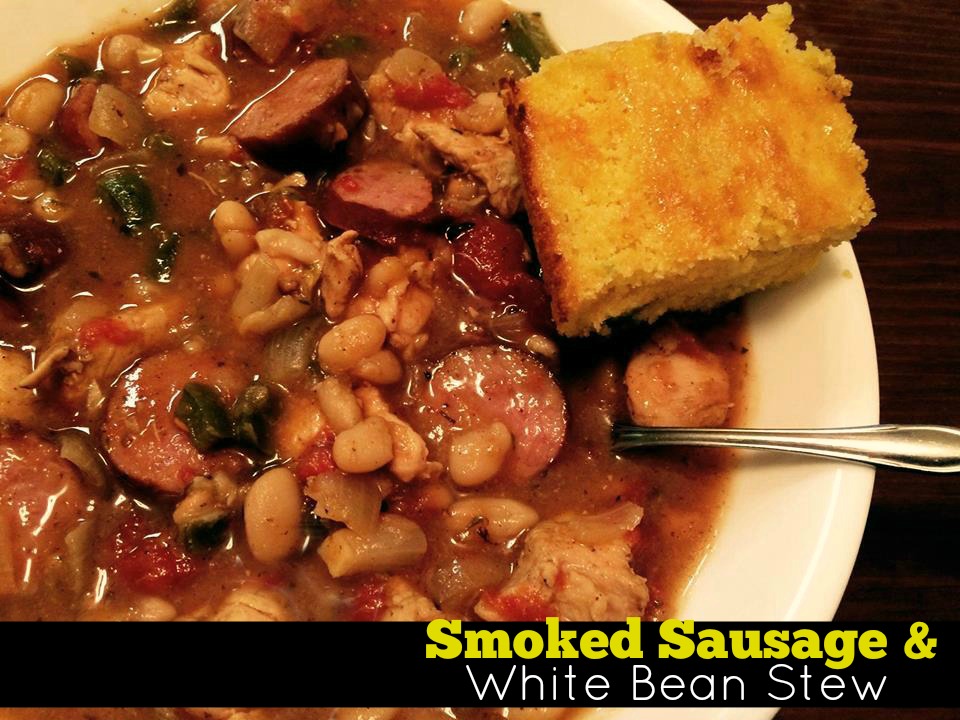 I know I have mentioned it on here before that I collect cookbooks.  I love and collect all kinds of cookbooks except for vegan 😉  I probably have somewhere around 400 cookbooks now plus countless recipe magazines.  I need to count them.  I am like Scrooge McDuck in his gold coin vault when I go through them all. 😉  My sister and mother-in-law get them for me from garage sales, thrift stores and estate sales.  There is nothing that makes me happier than a new box of old cookbooks, a big ol' iced coffee and some 90's country music….. #bliss
        So I was thumbing through an old Southern Living Magazine and a recipe caught my eye.  It was called 'Cassoulet'.  I had never heard of a Cassoulet, so I googled it and found that it is a 'stew made of meat and beans'.  Well, you learn something new every day.  The recipe looks downright delicious so I adapted it based on what I had on hand and made it for lunch on Sunday with a big ol' pan of Sweet Jalapeno Cheddar Cornbread.  Oh my GOODNESS did it turn out amazing!  I hoarded the last little bit away in the very back of the fridge and guarded it with my life because I was making darn sure that I had some leftover for my lunch on Monday 😉
Smoked Sausage & White Bean Stew
Ingredients
1 Tbsp vegetable oil
1 lb smoked sausage, sliced
3 boneless, skinless chicken breast, diced
2 medium onions, chopped
1 green bell pepper, chopped
3 – 4 cloves garlic, minced
1 (14.5 oz) can diced tomatoes, undrained
1 bay leaf
1 tsp dried thyme
2 (16 oz) cans great Northern Beans, undrained
1/4 cup chicken broth
Instructions
Heat oil in a soup pot or dutch oven over medium high heat. Add Sausage and cook until browned, stirring often.
Remove with a slotted spoon, and set aside. Add chicken to hot sausage drippings and cook until done, 8-10 minutes. Remove chicken with your slotted spoon and set aside with the sausage. Add bell pepper and onion to the pot and cook, stirring, until softened, adding garlic the last minute or 2.
Add the sausage and chicken back to the pot, along with the undrained tomatoes, bay leaf, thyme, undrained beans, and chicken broth. Stir and bring to a boil then reduce to simmer and cover. Continue to simmer for 20 minutes, stirring occasionally. Taste to adjust seasonings. Discard bay leaf and enjoy with a big ol' hunk of Sweet Jalapeno Cheddar Cornbread.
7.8.1.2
50
https://auntbeesrecipes.com/2015/11/smoked-sausage-white-bean-stew.html