Copycat Taco Bell Enchiritos
Copycat Taco Bell Enchiritos are so easy to make at home! All you need for this frugal, family favorite meal is ground beef, refried beans, taco seasoning, enchilada sauce, tortillas, cheese and black olives.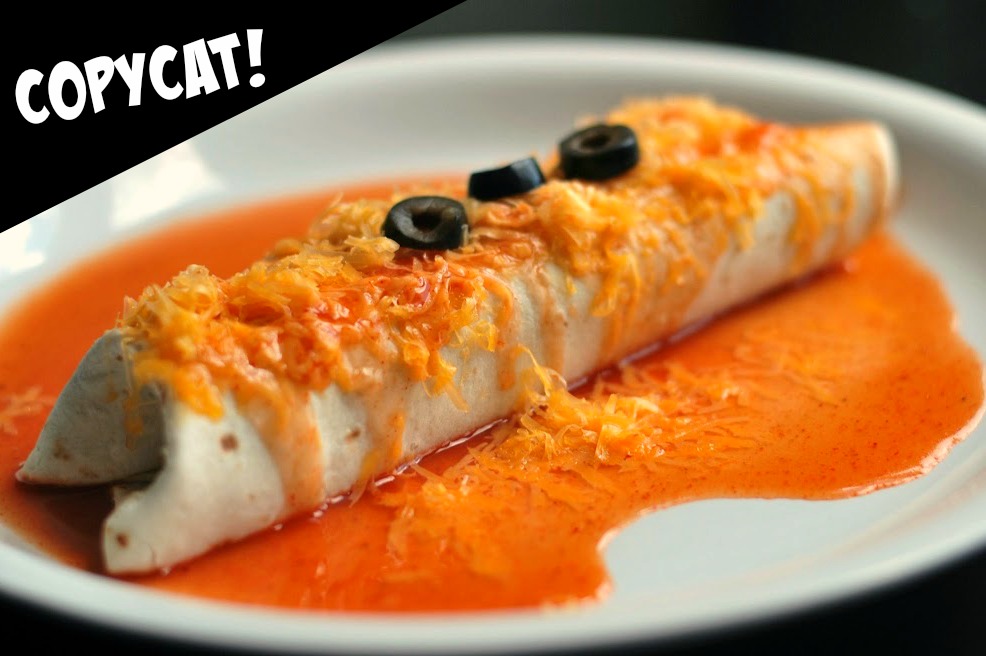 Enchiritos is my husband's all time favorite Taco Bell food! At various times I know they have been taken off the menu. If that's the case, DONT FRET! They are so easy to make! This is a great one to prep and assemble ahead of time then just pop in the microwave when your hungry kiddos walk in the door 'starving to death.'
It's easier to make than tacos really. You just prep the taco meat/bean mixture and roll them up and store in a microwave safe casserole dish until ready to add sauce and cheese and warm up. You can warm them up as many or as few at a time and dont even have to use the oven. Once you have browned your taco meat, you just warrm them up in the microwave so you don't have to even turn your oven on in the hot afternoon.
My husband LOVES to take these to warm up for his work lunches.
If you love easy, frugal, family pleasing, make ahead meals, add this one to your menu.
Copycat Taco Bell Enchiritos
Ingredients
1 lb ground beef
1 packet taco seasoning
1 onion diced
2 cloves garlic, minced
1 (16oz) can refried beans
1 (15oz) can mild red Enchilada sauce
8 Burrito Tortillas
Sharp Cheddar Cheese 
Toppings of your choice:  black olives, green onions, tomatoes, salsa, jalapenos, and sour cream
Instructions
Brown ground beef with onions.
Stir in garlic for 1 minute.
Drain off excess grease and add Taco seasoning and water like you are making taco meat.
Stir in refried beans to the meat and cook over medium heat for 5 minutes.
Remove from heat and prepare to assemble Enchiritos.  
Put a large spoon full of the meat/bean mixture into each tortilla.  
We like extra cheese so we add cheese inside as well.
Roll like you would a burrito.  
Place in a microwave save casserole pan.  
Top with enchilada sauce, shredded cheese and black olives.
Microwave for 1 - 2 minutes, or until cheese in melted.
Garnish with sour cream and green onions and any other toppings you desire.
Enjoy!
7.8.1.2
267
https://auntbeesrecipes.com/2014/06/copycat-taco-bell-enchiritos.html