Low Carb Jalapeno Popper Chicken
Low Carb Jalapeño Popper Chicken is an indulgent tasting, easy recipe and KETO! Chicken topped with a creamy, cheesy sauce with jalapenos and lots of bacon. The crunchy topping just puts it over the top! SO MUCH FLAVOR!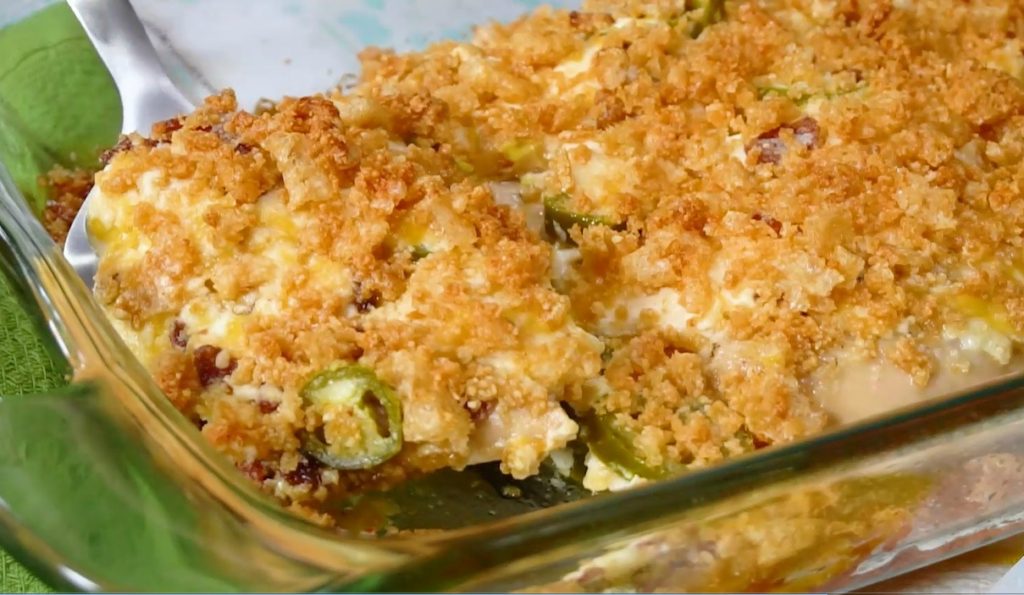 You guys. I never in a million years could have imagined that this low carb, atkins friendly recipe would be so popular! It has been pinned over a quarter million times and I get emails and messages from people every day telling me it is their favorite chicken recipe ever!
SIDE NOTE: I have had several questions about the pork skins in this recipe. You can see what they are here!
Also: If you aren't doing the LOW CARB THANG, you can substitute Ritz Cracker crumbs or Panko bread crumbs for the pork skins…. SO SO GOOD!!
Here are just a couple of the comments and reviews for this recipe:
'OMG… Made this tonight. Simply amazing. I'm glad I made enough for leftovers! I can't wait to make this for friends.'

'Oh my goodness, made this tonight for a quick low carb dish….. So so good!!!! Thank you for a great new chicken dish. Whoop whoop!!!!!'

'My family has been on a low carb diet for a month. They were getting tired of the same food. Got to searching and found this low carb recipe. They loved it. It was delicious. My husband said I can stay on my diet if you continue making food like this. Thank you so much for sharing this recipe. Would love to find more recipes like this'
You guys have shown a LOT of love for this recipe! There are tons of threads on reddit devoted to this recipe. #MyProudestAchievement
Here are a few other recipes that you may like as well, while you are here:
Below is the recipe that started it all! The all time most popular recipe on my entire site! My sister was doing atkins and she came up with a low carb version of the popular Jalapeno Popper Chicken that you could serve to both low carbers and carb lovers alike! (If you really wanted to add a carb-y side as an option, might I suggest serving it over this Mexican Cilantro Rice)
Low Carb Jalapeno Popper Chicken
Ingredients
6 Boneless, Skinless Chicken Breast
salt and pepper to taste

For the Jalapeno Popper Layer

5 slices of bacon, diced
1/4 cup jalapeno slices, diced (the kind in the jar that you put on nachos)
1/4 cup diced onion
1 (8 oz) package cream cheese, softened
1/2 cup mayonnaise
1 cup shredded cheddar cheese
1/2 cup Kraft grated Parmesan

For the Topping

2 oz bag of Pork Skins, crushed
1/2 cup Kraft grated Parmesan Cheese
4 TBSP butter, melted
Instructions
Preheat oven to 425 degrees.
Place chicken breast in a 13×9 casserole dish and bake until juices run clear. 30-40 minutes, depending on the size of the breast.
While chicken is baking, fry bacon pieces until crispy. Remove bacon and add onions and saute until tender.
Remove from heat and add crispy bacon, onions, jalapenos, cream cheese, mayonnaise, cheddar and Parmesan cheese. Mix until well combined.
Remove chicken from oven and reduce to 350 degrees.
Spread jalapeno popper mixture all over each Chicken breast until well covered.
Bake for 15 more minutes or until topping is starting to get brown and bubbly!
For the Crumb topping: mix together the crushed pork skins, Parmesan cheese and melted butter. Sprinkle on top of jalapeno popper topped chicken and place under broiler for a couple of minutes until pork skins are browned. Careful not to burn it!!! Enjoy!
7.8.1.2
3
https://auntbeesrecipes.com/2014/01/low-carb-jalapeno-popper-chicken.html