Family Favorite Meatloaf
This Family Favorite Meatloaf is THE WORLD's BEST Meatloaf! Simple and easy but packs SO MUCH flavor! The diced bell pepper & onion, spices, the 'just right' amount of shredded cheddar cheese and the absolutely delicious ketchup & brown sugar topping will make this your family's favorite meatloaf too!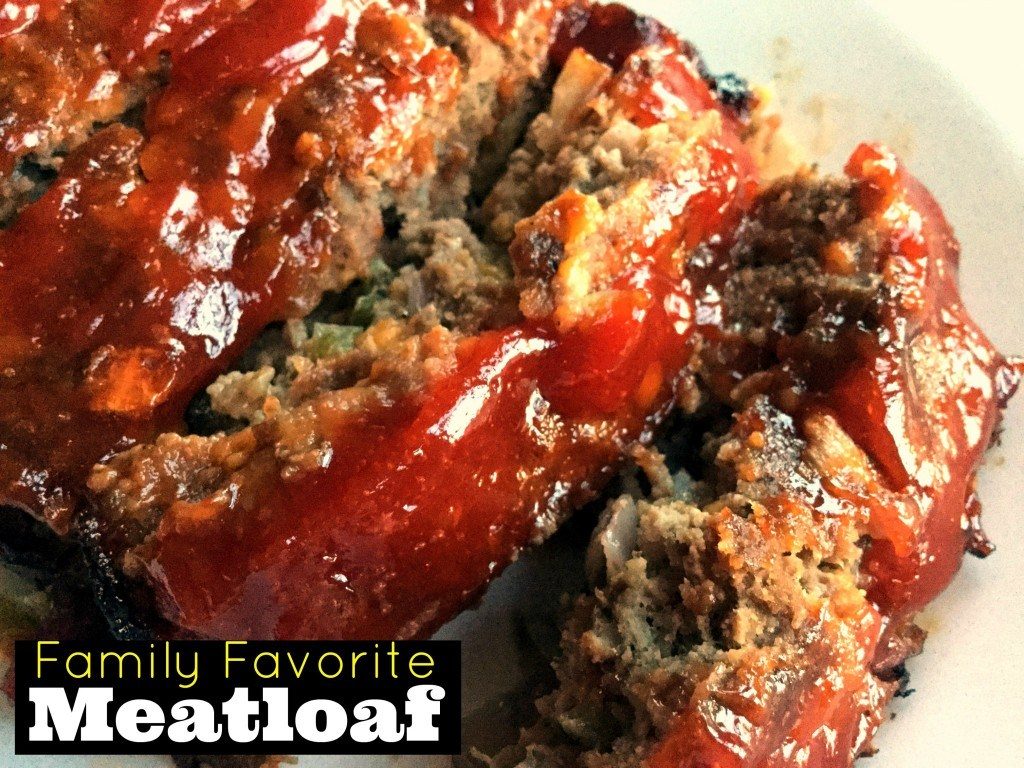 I am so excited to have a guest post and recipe from my dear friend Heather, a fellow Alabama blogger who inspires me every day & shares about healthy living, fashion & delicious recipes over at My Life Well Loved.
To say that I'm a Brandi fan would be an understatement. This girl can cook, y'all! I've been staring at my screen drooling over her recipes for years now! I'm so grateful that she has become not only a blogging friend, but someone who encourages me, asks me about my sweet baby boy and who loves her God and family fiercely. She is worth getting to know if you ever have the chance.
My name is Heather and I'm a healthy lifestyle blogger at
MyLifeWellLoved.com
. I've been blogging for 6 years, married for 7 years and had my first son 5 months ago. I teach at Pure Barre (a ballet barre based exercise) and work part time for the Jamie Goff Real Estate Team in Birmingham along with doing social media and blog consulting.
The last time I was over here on Aunt Bee's Recipes was back in 2014 when I came over to share my
Skinny Funfetti Dip
.
Today, I'm bringing over one of my all-time favorite comfort foods…meatloaf. As a kid, I detested this dish. In fact, I hated it so much that my mom would make me a separate hamburger to enjoy while everyone else gobbled up her meatloaf. I don't know if my taste buds matured or if this recipe is REALLY just that good, but I tried this recipe about 6 years ago and have never looked back.
I got this recipe from a high school friend and the hubs (Eric) and I liked it so much, it became our go-to dish to make for company. In fact, our friends have even titled it, "Eric's Meatloaf." The sauce is delicious and the melted cheese inside combined with the pepper and onion make for a dynamite combination. I hope you and your family will enjoy it soon!
Edited to add: Hey y'all! Aunt Bee here! I just had to let you guys knows that I made this meatloaf tonight and it is OUT OF THIS WORLD delicious and so easy! My whole family gobbled it right up! It is one of our NEW FAVORITE recipes! A huge thanks to Heather for the recipe and awesome guest post! Y'all GO MAKE THIS MEATLOAF!!!!! <3 Aunt Bee
Ingredients
1 lb ground beef
1/2 bell pepper, diced
1/2 small onion, diced
1 egg
1/2 c bread crumbs
1/2 c shredded cheese (any kind)
1/3 c ketchup
1 tsp. dry mustard
1/2 tsp salt
1/4 tsp black pepper
Topping!
1/3 cup ketchup plus 2 Tbsp brown sugar
Instructions
Preheat oven to 375 degrees.
Mix meatloaf ingredients in a large bowl.
Form into a loaf and place on an aluminum foil lined pan.
Bake for 45 minutes.
Combine ketchup and brown sugar for topping and spread over the top.
Bake for 15 more minutes or until meatloaf is cooked through.
Let it rest 10 minutes before slicing and ENJOY!
7.8.1.2
17
https://auntbeesrecipes.com/2016/02/family-favorite-meatloaf.html
And, finally since I like to encourage a healthy lifestyle on my blog, My Life Well Loved, here's a
Whole 30 approved all-natural Mexican Meatloaf recipe
I've fallen in love with lately if you want to check that out! I hope you'll come visit me soon and check out Brandi's guest post on my blog as well as other healthy recipes you may want to add to your meal plan! Thanks so much for having me today, everyone and much love to Aunt Bee herself!
~~~~~~~