Philly Cheese Steak Stuffed Bell Peppers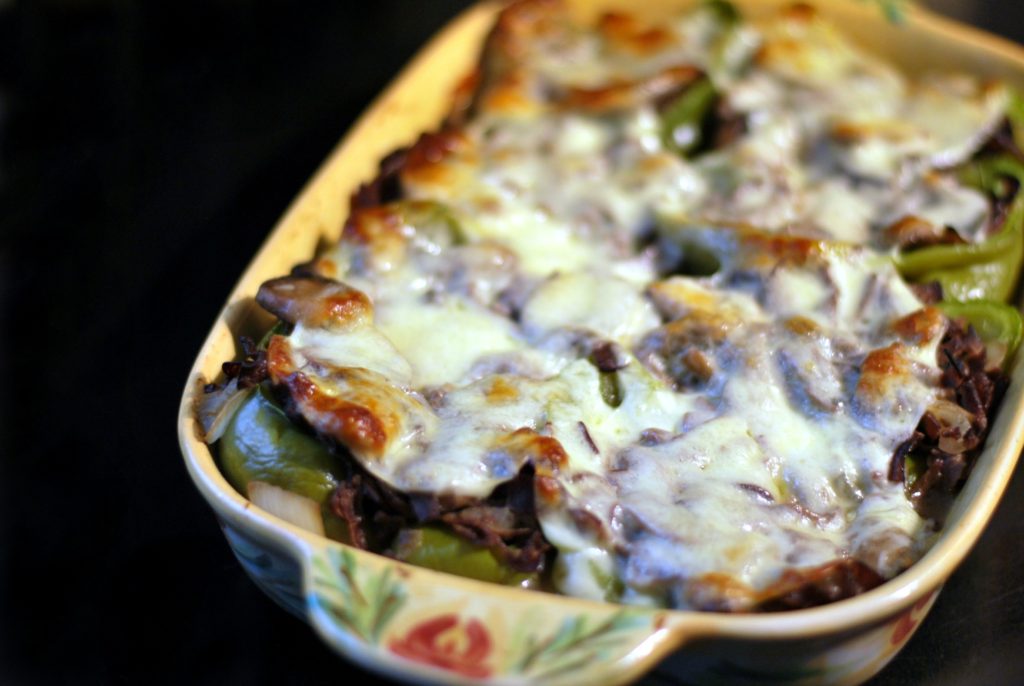 This is a recipe that has been on my list to try from An Affair From The Heart for a while.  Stuffed Bell Peppers are one of my favorite meals, and so are Philly Cheese Steaks.  Combining the 2?  Of course that would be delicious!  Sunday afternoon I had a 5K distance run on my training plan, (which just so happens to be the furthest I have run in my adult life!), so needless to say, Sunday Dinner needed to be quick and easy.  I was tired and hungry!  Ha!
          These Philly Cheese Steak Stuffed Bell Peppers totally fit the bill!   They were quick, easy, delicious and a hit with my whole family.  If you want the original recipe with step by step photos, head over to An Affair From The Hearts Blog.  The only things I did different, is cut mine down the middle because I love a more heavy cheese to pepper ratio, also I boil my peppers for 5 minutes before stuffing and baking because my hubby prefers the peppers a little bit more cooked.  I used 4 peppers (8 halves)  instead of 5 because that is all that would fit in my pan, so I had some extra stuffing, but I was happy about that because we ate the extra stuffing while the peppers baked.  #NoShame
Philly Cheese Steak Stuffed Bell Peppers from An Affair From The Heart
Ingredients
4 Bell Peppers, halved from stem to bottom, insides cleaned out
3 Tbsp butter
16 oz mushrooms, sliced
1 onion, sliced
3 cloves garlic, minced
1 lb deli roast beef, thinly sliced
salt & pepper to taste
Provolone cheese, sliced or shredded
Directions
Preheat oven to 400 degrees.  Bring a large pot of water to boil and add peppers,  Boil for 5 minutes then drain.  Set aside to cool.
Melt butter in a large skillet over medium heat.  Add onion and mushrooms.  Cook for 20 minutes.  The last 3 or 4 minutes, add the minced garlic to the pan.  Add meat and cook for 10 minutes longer.
Place peppers in bottom of a casserole dish.  Place a little bit of cheese in bottom of each pepper, then stuff the peppers with the meat mixture.  I like mine really stuffed, so I crammed a ton of it in each one.  Top each pepper with lots of cheese and bake for 20 minutes or until cheese is starting to brown.