Garlic Butter Baby Brussels Sprouts
Garlic Butter Baby Brussels Sprouts are one of our favorite GO TO veggie side dishes!!!! I always keep frozen veggies on hand! A bag of frozen Brussels Sprouts & a couple pantry ingredients and you have a SIMPLE and DELICIOUS side for any meal!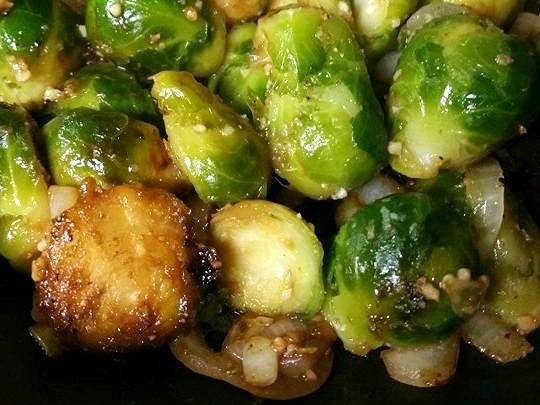 These Garlic Butter Baby Brussels Sprouts may be my new favorite veggie side! Y'all KNOW how much we love Brussels Sprouts. My recipe for Brussels Sprouts with Bacon & Apple Cider Vinegar is one of my favorite veggies. I also love Roasted Brussels Sprouts with Balsamic & Cranberries. My kiddos call Brussels sprouts baby cabbages. I don't care what they call them as long as they eat them! LOL.
According to Wikipedia:
The Brussels sprout is a member of the Gemmifera Group of cabbages, grown for its edible buds. The leafy green vegetables are typically 2.5–4.0 cm in diameter and look like miniature cabbages. The Brussels sprout has long been popular in Brussels, Belgium, and may have gained its name from there.
So maybe my kiddos are onto something calling them little cabbages after all? 😉
And while you're here… if you like Brussels Sprouts, check out another favorite Brussels recipe:
These Garlic Butter Baby Brussels Sprouts are absolutely delicious. I also love that this recipe calls for FROZEN & thawed Brussels sprouts instead of fresh because unfortunately our grocery store does not always have the fresh ones.
My 2 FAVORITE tips for getting my family to eat more veggies:
1) I love to keep yummy, creamy dressings and dips on hands for quick raw veggie snacks. If I have a dip in the fridge I love, I am more likely to eat sliced cucumbers, baby carrots and cherry tomatoes than reach for a bag of chips 😉
2) Have LOTS of frozen veggies on hand in the fridge for quick and easy veggie dishes like these Garlic Baby Brussels Sprouts!!!!!
Garlic Butter Baby Brussels Sprouts

Ingredients

12 oz bag of frozen baby Brussels sprouts, thawed and sliced in half
1/2 onion, sliced
2 T minced garlic
1 Tbsp olive oil
1 Tbsp butter
Garlic salt
Pepper
1 Tbsp Dales seasoning sauce

Instructions

Melt butter and olive oil in a skillet over medium high heat.

Add Brussels sprouts and onions.

Saute for about 8 minutes or until they start to brown.

Add the garlic for the last 2 minutes.

Season with garlic salt & pepper to taste.

Finish off with the Dales & serve.

(This recipe can be easily doubled, just cook it a little bit longer) Enjoy! <3

7.8.1.2

8

https://auntbeesrecipes.com/2015/04/garlic-butter-baby-brussels-sprouts.html