{5 Ingredient} Braised Pork Fettuccine Afredo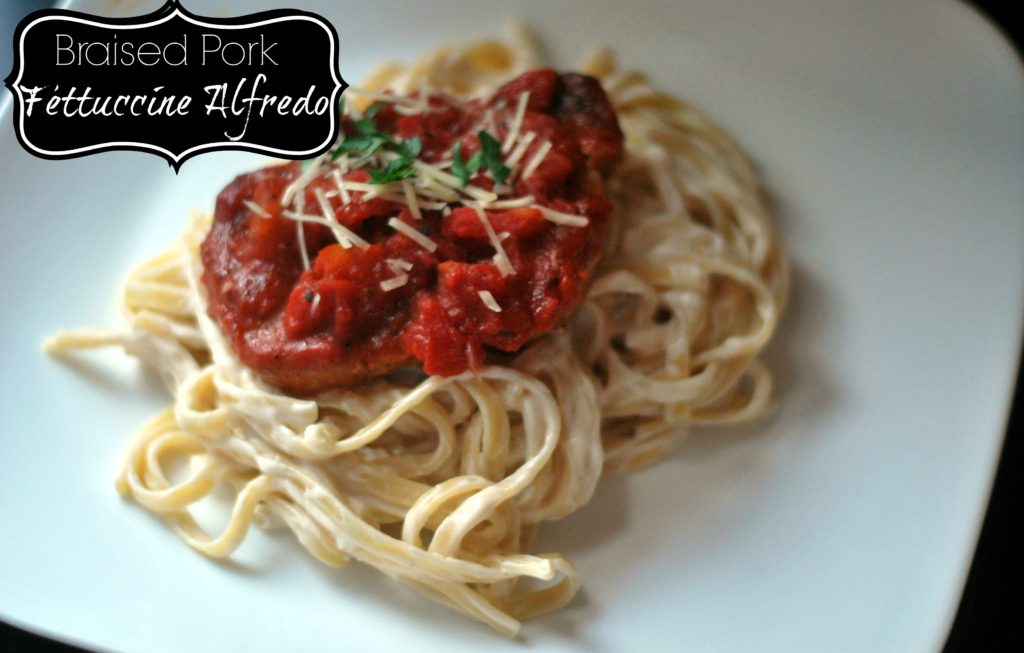 We had these ABSOLUTELY delicious 3 Ingredient Braised Pork Chops the other night and loved them so much, I knew immediately I wanted to try to create a 5 ingredient meal around them.  The slow cooked tomato braised pork paired perfectly with creamy fettuccine alfredo,  In the interest of keeping the ingredients list simple, we used store bought alfredo sauce, but you could definitely use your favorite homemade alfredo sauce as desired.   The pork cooks low and slow, but it doesn't
 require a lot of hands on time, so give this one a try!  I think the flavor is exceptionally good!
5 Ingredient Braised Pork Fettuccine Alfredo 
1 can Italian Style Diced Tomatoes
12 oz fettuccine noodles, cooked al dente
*optional topping of parmesan & fresh basil
In a heavy skillet or dutch oven, heat oil over medium high heat.  Season pork chops with salt & pepper liberally.  Brown on each side for 3 minutes.  Add diced tomatoes with juice.  Cover and simmer on low for 2 hours.  Remove lid and raise heat to medium/low and cook uncovered for 30 minutes or until the liquid is reduced and thickened slightly.  Meanwhile, prepare noodles as directed and drain and toss with alfredo sauce.  Serve braised pork chops with fettuccine alfredo and top with parmesan and basil if desired.  Enjoy!!!!